This Founder Thought Failure Might Be Inevitable — Until He Got Advice From Mark Cuban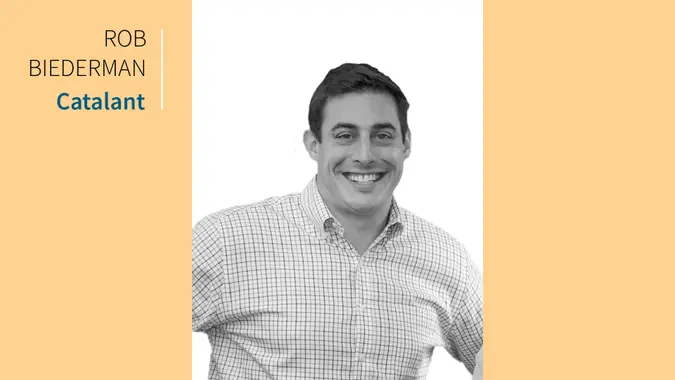 ©© GOBankingRates
Rob Biederman is the co-CEO of Catalant, a software company that provides an agile operating model for businesses looking to identify skilled talent within their networks who could be plugged into projects. Biederman co-founded Catalant — then HourlyNerd — at Harvard Business School in 2013, and has grown the company to now work with more than 30% of the Fortune 100. Catalant has raised $75.6 million in funding, according to Crunchbase, and counts Mark Cuban as one of its investors. 
Each week, GOBankingRates sets out to discover what makes the people behind top companies tick. We like to call this series "Best in Business" — and Biederman really is one of the best. He told us how he overcame initially hearing "no" many times, the business advice he got from Mark Cuban — and shared a few ways that you can find (or build) your own dream job, too.

His Business Started as a School Project
We launched Catalant in a Harvard Business School classroom, the product of an initiative in which students were given six weeks and $5,000 to launch a new business venture. The idea emerged from small businesses' direct need for on-demand external expertise with an inability to afford the larger packages and higher prices typically associated with traditional consulting firms. We saw the opportunity to connect independent consultants and experts to project-based work at these companies.
Like any early-stage company, the road has not always been smooth. When we initially pitched the idea to our first-year classmates, our peers were skeptical and consequently traded our stock in the mock stock market trading that followed down to the single worst price out of 150. We also pitched to more than 25 VC firms from Boston to the Bay Area, and none were convinced of the idea. Pat [Petitti], my co-founder, and I had developed a really exciting business idea and vision, but we didn't necessarily have the technical expertise to make it a reality. Early on, this lack of technical expertise created a fair share of skepticism, making fundraising particularly difficult. Very few of [the venture capital firms] were compelled by a bunch of Harvard MBAs with no technical expertise and limited revenue traction.
Make Your Money Work Better for You
Don't Miss: 7 Surprising Costs That Come With Starting a Business
In the early days, it was also challenging to get companies to rethink the way they tackle their work. There were so many incredible experts on the platform, but trying to convince customers to post their projects was really hard. It was particularly difficult because we were driving an entirely new kind of behavior: utilizing technology to get your most important work done. They were not used to relying on an algorithm to find the person with the most relevant skill set to get the job done.
We ultimately found ourselves fearing that the initial concept was something that businesses would not find useful. With strong criticism from numerous groups, we began to wonder if the business would ever be viable and if it was a good investment of our time and money. As we saw the network of independent consultants grow by word of mouth and started to get inbound interest from small businesses that needed help, our fears started to diminish. Being a founder means my life is always filled with a little fear. It's healthy. It's what drives me to make sure we're always meeting our customers' needs and are moving fast enough to stay innovative and impactful.
Find Out: 16 Entrepreneurs Reveal How They Spend Their Lunch Hour (Hint: It Might Actually Involve Food)
He Cold-Emailed Mark Cuban — and Mark Cuban Wrote Back
After hearing "no" from the first 20 or so meetings, we finally convinced an angel investor to commit to the round. But it wasn't enough to close out the round, and with only $9,000 achieved in revenue to date, we needed to get creative. This was when we sent the cold outbound email to Mark Cuban. Within a few minutes, we had a positive response from Mark and we were off to the races.
Mark Cuban told us, "Get out of the office and go sell stuff." Early-stage founders can have a real tendency to focus on higher-level questions — strategy, etc. — too early. It can be easy to fall into the trap of feeling like you need to architect the perfect business on day one. But what matters most for raising early money is establishing traction. We hit the streets and just started talking to any customers who would give us the time of day. At first, that was small businesses, but over time, we were able to prove incredible success for them and move up the chain.
Make Your Money Work Better for You
Learn: How To Write an Elevator Pitch That'll Score You New Business
He Thinks Every Entrepreneur Needs To Learn These 3 Business Lessons
Since Pat and I had backgrounds in private equity investing, consulting and investment banking, we knew what it was like to work hard. We also had solid core business skills, which helped us to be fairly efficient on topics surrounding accounting, financial modeling, making presentations and organizing our plans. We founded [Catalant, originally named] HourlyNerd, because of the excessive bundling for very small needs we all experienced at the hands of large consulting firms. Now I make it a habit to be a customer first because that information helps me identify weaknesses, increase favorable actions and activities, and create new practices to better meet customer needs.
When working at Bain Capital, it allowed me to gain insight into best-in-class operations and taught me several valuable business lessons that any entrepreneur can apply: Do your homework, focus on the customer and empower your employees. We wanted to bring both that kind of work ethic and high level of execution discipline to Catalant, but also to make sure that the work was rewarding for our employees. By balancing the seriousness of the mission with some good old-fashion fun, we found employees had a strong enthusiasm for the job. Our employees are what make Catalant successful, and making sure they are challenged and valued is incredibly important.
More Advice: Elon Musk's Essential Tips for Aspiring Entrepreneurs
Make Your Money Work Better for You
We knew that we wanted to create a company culture where people felt valued and mission-driven. Making sure our employees know how their work ties back to our company's mission is critical. The team at Catalant is more engaged because of it and not only care about the work they're doing, but also about how they can be most helpful to their coworkers.
We have also tried very hard to maintain reasonable working hours and solid work-life integration for our employee base and for ourselves — though the latter is difficult. We appreciate that building this company is likely to be a decade-long sprint and need to keep people working at a sustainable pace.
See: Stars of 'Shark Tank' Share 47 Lessons for Small-Business Owners
His Definition of Success Has Changed as His Company Evolved
The bumps in the road did not end in 2013. In fact, the willingness to take risks and hear "no" but not give up has remained a critical element to Catalant's culture and a key factor in our success today. Our business is still evolving and with that evolution, there has been a whole new definition of what success looks like to us. We've gone from being a marketplace of highly trained, independent experts, to a technology provider that helps enterprise seamlessly access all of their pools of human capital. Success is no longer about projects done with our expert marketplace, but rather partnering with enterprises to help them operate with agility and meet ever-changing market demands.
Make Your Money Work Better for You
Also See: Warren Buffett Measures Success With This Four-Letter Word
I define success for our company by the amount of opportunity we've created for our clients and for our network of experts. We're giving employees and independent professionals the flexibility to live the lives they've imagined. We are working with enterprises to fundamentally change the way they work, helping them become more agile and stave off disruption.
Keep reading to learn tips for starting a business, from people who've been there.
More on Business
This interview has been edited and condensed.