Disney and 12 More Surprising Companies That Had a Disastrous 2020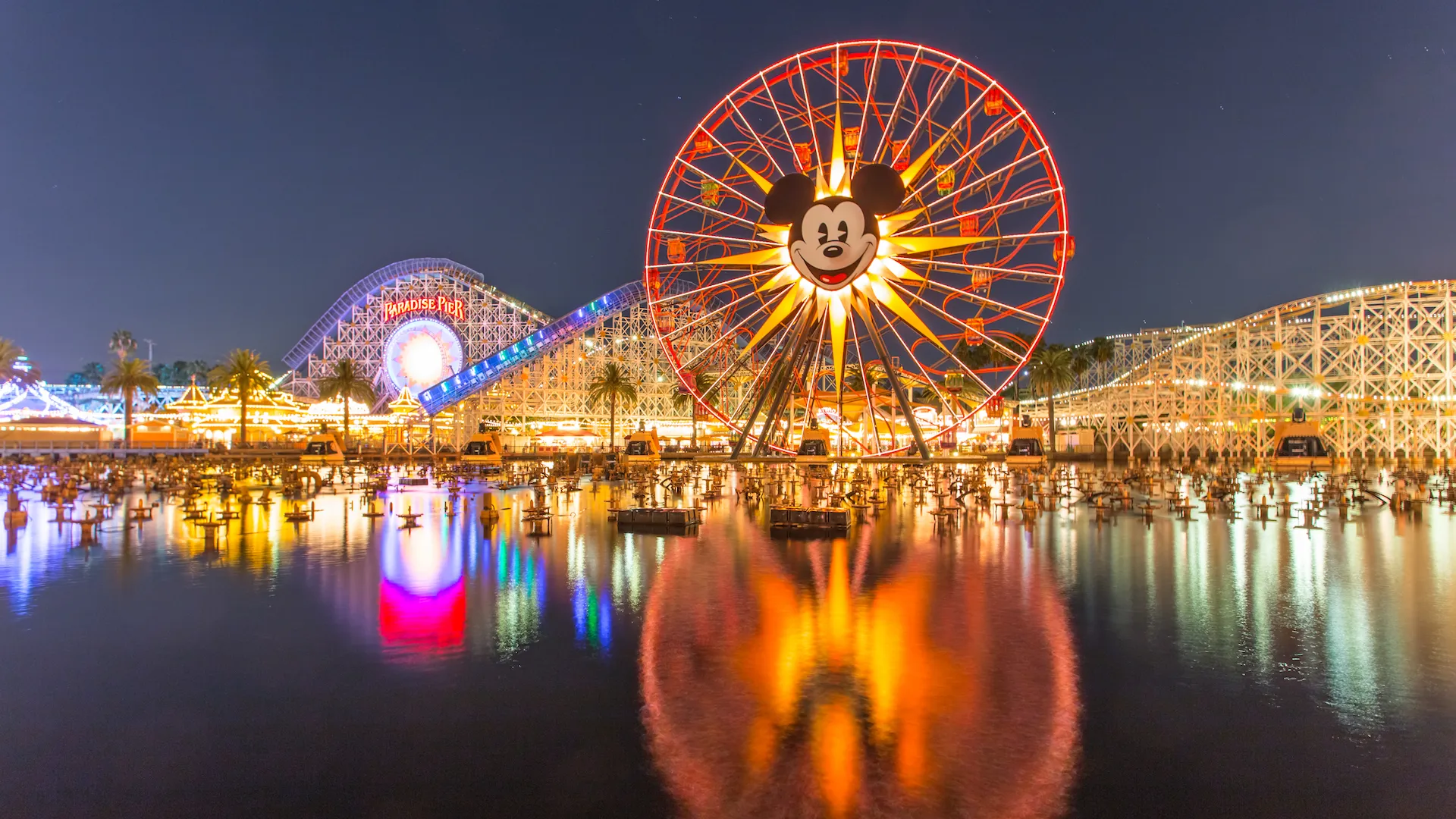 For companies like Disney, 2020 looked to be a promising year. The entertainment conglomerate had just launched the streaming service Disney+ in November 2019, attracting 10 million subscribers in a single day, CNBC reported. And the company had plans to launch a number of new theme park attractions this year, including an Avengers Campus at Disney California Adventure. However, because of the coronavirus pandemic, 2020 has turned out to be a brutal year for Disney — along with several other companies that were previously thought of as "too big to fail."
As 2020 nears its close, see what misfortunes have befallen Disney and other major companies this year.
Last updated: Nov. 19, 2020
Allstate
Allstate is one of America's largest home and car insurers, but it got hit hard by the pandemic shutdowns. With many businesses closed, more drivers stayed off the roads. This led to insurers like Allstate reducing bills and offering refunds, and with fewer drivers on the road, there were fewer accidents and less of a need for claims processors. The combination of the two led Allstate to reduce its staff by 8% — the company laid off 3,800 employees in September, The Wall Street Journal reported.
Amtrak
Amtrak — which receives federal funds but is independently run — has no chance of breaking even in 2020, The New York Times reported. Ridership on the national rail agency has fallen by 95% since March and projected revenue for 2021 has declined by 50%. Congress has bailed out the rail network with $1 billion in emergency funds, but Amtrak's leadership said in September that those funds are not enough to keep its routes running as is. Without additional funding, Amtrak will have to decrease its workforce and reduce service on long-distance routes, the company said.
Make Your Money Work Better for You
Cisco
Although telecommunications companies have largely been immune to losses caused by the coronavirus pandemic, Cisco said in August that it expects its revenues to fall in the range of 9% to 11% in the first fiscal quarter of 2021. As a result, Cisco shares fell 30%. The drop is unexpected, as shares had risen 25% earlier this year.
CommonSpirit Health
CommonSpirit Health — an organization formed after the merger of Dignity Health and CHI in February 2019 — is the largest not-for-profit hospital operator in the U.S. Because it performs charity and uncompensated care, the organization found itself in the red for its first full fiscal year, Healthcare Dive reported. CommonSpirit posted a total loss of $524 million for the 2020 fiscal year.
Disney
Shortly after the coronavirus pandemic forced Disney to shutter its theme parks around the world, the company announced that it was furloughing 100,000 employees, The Los Angeles Times reported. Then, in September, Disney said it would be laying off 28,000 domestic employees at its parks, experiences and products division, which includes Disneyland Resort, Disney California Adventure Park and Walt Disney World.
With Disneyland remaining closed, Disney announced in early November that it would be furloughing an additional undisclosed number of employees at the Anaheim resort. Overall, revenues for its parks, experiences and products division is down 85% year over year based on third-quarter results, CNBC reported.
Another area the company is losing big in is studio entertainment. Revenue dropped 55% from last year as Disney has been unable to release new films in theaters since mid-March.
Make Your Money Work Better for You
ESPN
You might not have known it, but even before the coronavirus pandemic hit, ESPN was struggling.
"Prior to the pandemic, we had been deeply engaged in strategizing how best to position ESPN for future success amidst tremendous disruption in how fans consume sports," Jimmy Pitaro, the network's chairman, wrote in a memo to employees that was obtained by The New York Times. "The pandemic's significant impact on our business clearly accelerated those forward-looking discussions."
ESPN — which makes most of its money from airing live sports — had almost no games to air from March to July. In early November, Pitaro announced that ESPN would be laying off 300 employees — about 6% of its worldwide staff — and letting 200 open positions go unfilled.
Exxon Mobil
In 2019, Exxon Mobil earned 75 cents per share on $65.05 billion in revenue. During the second quarter of 2020, it lost 70 cents per share on an adjusted basis, with $32.61 billion in revenue, CNBC reported.
In October, the oil and gas company reported its third straight quarter of losses, a result of a decrease in demand sparked by the coronavirus pandemic. Due to its losses, Exxon Mobil announced that it would be reducing its U.S. staff by around 1,900 employees and its global workforce by as much as 15%.
iHeartMedia
When you turn on the radio, there's a good chance you're listening to a station owned by iHeartMedia — it operates the country's largest string of radio stations. But the coronavirus pandemic has disrupted several of its revenue streams.
With many businesses suffering, they're spending less on marketing and advertising, including radio ads. In addition, iHeart typically puts on numerous live events throughout the year which have had to be done virtually instead. The company's revenue dropped 50% in the second quarter of this year, according to Radio + Television Business Report.
As a result of its revenue decreases, iHeartMedia began rolling out an extensive reduction in force beginning earlier in November, All Access reported.
Make Your Money Work Better for You
NBCUniversal
NBCUniversal's wide portfolio of entertainment properties has suffered due to the coronavirus pandemic. Revenues dropped 25% to $6.1 billion in the second quarter of 2020, a result of theme park closures, the postponement of movie releases and advertising decreases at its TV properties, The Wall Street Journal reported. The company began rolling out layoffs in August, though cuts were expected to affect less than 10% of its workforce.
Pizza Hut
Food delivery and takeout have been on the rise due to the pandemic, so it's surprising that 2020 has not been a good year for Pizza Hut — or at least not for one of its major franchisees. The restaurant franchisee NPC International Inc. owns 900 Pizza Hut locations, and it's currently looking for bids to take over those restaurants after previously declaring bankruptcy, The Wall Street Journal reported.
Raytheon
With commercial air travel down, Raytheon has seen a reversal of fortune in 2020. The company's Pratt & Whitney division posted a $520 million profit in the third quarter of 2019; but in 2020, it posted a $165 million operating loss during that same period, Defense News reported. With profits down, Raytheon Technologies announced in October that it would be cutting 15,000 staff and 4,000 contractor positions.
"We don't expect commercial air traffic to return to 2019 levels until at least 2023," CEO Greg Hayes said during a company earnings call.
Subway
You might think of Subway as a fast-food staple, but traffic to stores has been declining since 2013 — and the coronavirus pandemic has only made the situation more dire, Restaurant Business reported. In May, the sandwich chain's parent company announced that it was laying off about 150 employees, Nation's Restaurant News reported.
"The COVID-19 pandemic has forced us to accelerate a restructuring plan for which we had been preparing," Alan Marcus, senior director of public relations for Subway, told the trade publication at the time.
Make Your Money Work Better for You
Wells Fargo
Although bank profits across the board have, for the most part, been on the decline this year, Wells Fargo's profit drop is more severe thanks to its years of scandals and the resulting fallout.
In October, the bank reported a 56% decline in profits driven in part by nearly $1 billion of expenses linked to refunds for customers harmed by "widespread consumer abuses," CNN Business reported. The bank has cut 2,200 jobs since 2019.
More From GOBankingRates
Photos are for representational purposes only.

BEFORE YOU GO
See Today's Best
Banking Offers