New China-Imposed Tariffs Hit Tesla Hard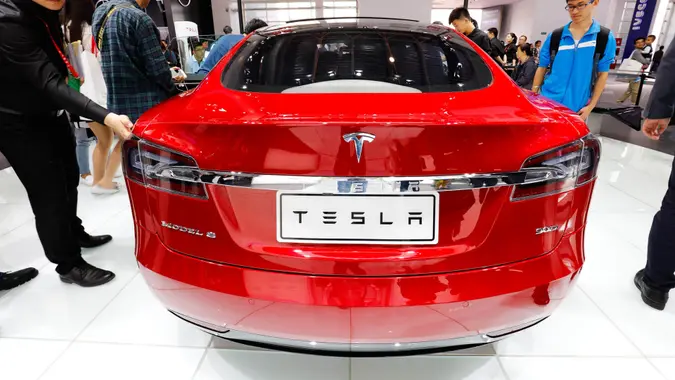 humphery / Shutterstock.com
Tesla prices have surged thanks to the trade war between the U.S. and China.
CEO Elon Musk revealed plans to open a Tesla factory in China.
Tesla is feeling the heat in the ongoing trade battle between the U.S. and China. On Tuesday, the electric automaker surged prices in the country by approximately 20 percent, as a direct response to new tariffs imposed on American automobiles, CNN Money reported.
In May, the company lowered its sticker price in China when the country revealed plans to reduce tariffs on car imports from 25 percent to 15 percent, according to Reuters. The reduction was imposed on July 1, so Tesla and other U.S.-based automakers that export to the country had only a few days to benefit from it.
Read: 11 Troubles Tesla Faces If It Wants to Succeed
At present, Tesla is the only major U.S. automaker to raise prices due to higher tariffs. Most other major American automakers avoid high tariffs by having jointly-owned factories in the country.
In March 2018, Tesla CEO Elon Musk replied to a tweet from President Donald Trump praising the relationship between the U.S. and China. Musk asked the president if he believed the two countries should have the same rules for cars, citing that China imposed a 25 percent tariff on imported American automobiles, whereas cars imported from China received only a 2.5 percent tariff in the U.S.
For example, an American car going to China pays 25% import duty, but a Chinese car coming to the US only pays 2.5%, a tenfold difference

— Elon Musk (@elonmusk)

March 8, 2018
Make Your Money Work Better for You
Similarly, automobiles imported to Europe from the U.S. are subject to a 10 percent tariff, but vehicles shipped from Europe to the U.S. pay only a 2.5 percent tariff. On top of this, the European Union typically imposes a value-added tax of 19 percent to 22 percent on imported vehicles, depending on the country.
Don't Miss: Elon Musk Net Worth: His Fortune Skyrockets to $20B at Age 47
It seems the U.S. is getting crushed on automobile imports, so one could argue additional tariffs against the EU and China might be a good thing. If successful, it could even the playing field.
The process likely won't be an easy one. On Friday, the U.S. imposed a tariff of 25 percent on roughly $34 billion worth of Chinese imports.
China responded by instituting tariffs on $34 billion worth of U.S. exports. In retaliation, Trump has directed the U.S. Trade Representative to start imposing 10 percent tariffs on an added $200 billion worth of Chinese imports.
For its part, Tesla has moved to ensure China-imposed tariffs won't be a problem in the future. On Tuesday, Musk revealed plans to build the company's first factory in the country.
It won't function at full capacity for four to five years, but if tariffs are still in place when the Shanghai plant begins producing cars, it's unclear if the electric vehicles will be taxed.
Click through to read more about businesses changing the world.
More on Making Money and Business
Make Your Money Work Better for You