Walmart Warns of 'Higher Prices' Due to Inflation in 2023 — Makes Moves To Lower Costs 20%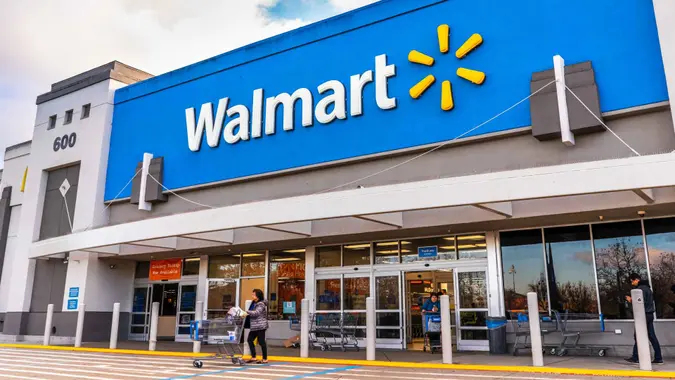 Sundry Photography / Getty Images
Although inflation has been trending lower in the U.S. in recent months, the world's biggest retailer has warned that it might still have to raise prices to deal with higher costs. The warning was issued by Walmart CFO John David Rainey during an investor's meeting this week, Reuters reported.
"We're assuming that this year is going to be somewhat anomalous… Still feeling the effects of higher prices," Rainey said.
What that means for Walmart shoppers is hard to gauge right now. Rainey didn't offer details on what items might be marked up in the coming months, other than saying that inflation continues to impact Walmart's operations, according to Fox Business. Shoppers have added more lower-margin groceries to their carts over higher-margin apparel and home goods, Rainey said.
The Walmart CFO also said he expects inflation to be about 3% by the end of the year. That's half of what it is now but still above the Federal Reserve's target of 2%. The overall inflation rate rose 6% for the 12 months ending February 2023, according to the latest data from the U.S. Bureau of Labor Statistics. That was the smallest 12-month increase since the period ending September 2021 and well below the 9.1% rate seen last summer.
Make Your Money Work Better for You
Despite the recent dip, prices remain historically high for many consumer staples — including food and other grocery items, some of which are still rising in double digits.
As previously reported by GOBankingRates, a study from the value investing site ValueWalk found that Walmart grocery prices climbed by 21.5% between 2019 and 2022, with much of the increase coming during the inflation spike that started in late 2021.
The prospect of more price hikes this year comes amid a move by Walmart to cut costs through automation and payroll reductions.
Take Our Poll: Would You Move for a Job That Paid You a $10,000 Signing Bonus?
The retailer suggested that roughly two-thirds of its 5,000-plus stores are expected to employ some form of automation by the end of its 2026 fiscal year. This should help Walmart reduce excess inventory, which was a major problem for retailers last year as consumers curbed spending.
The automation initiative, expected to lower average unit costs by about 20%, will also likely lead to fewer employees at Walmart. The company recently announced that it will lay off hundreds of workers at five Walmart.com fulfillment facilities and also said it will close 10 U.S.-based stores this year.
Make Your Money Work Better for You
More From GOBankingRates
Make Your Money Work Better for You