Inflation 2022: How Walmart Shoppers Were Affected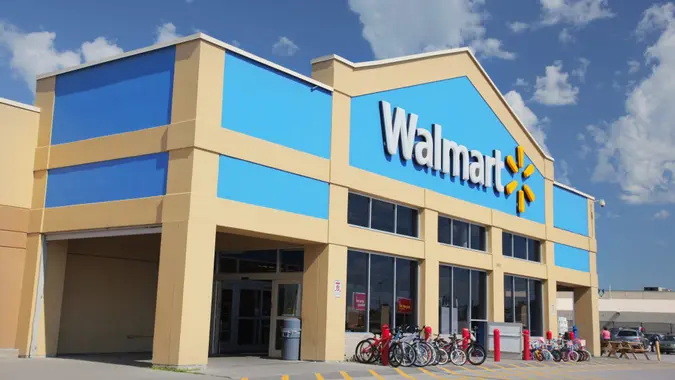 buzbuzzer / Getty Images
During a mid-August call between Walmart brass and industry analysts, the word "inflation" came up 60 times.
Just as shoppers all over the country were stressing about how to make ends meet in the face of rising prices, Walmart leaders were stressing about how to keep the customers they had and compete for those who were looking to replace their regular store of choice.
Both Walmart and the people who shop there were forced to adapt in the face of the highest inflation in 40 years. And adapt they did. 
Supercenter Shoppers Opted for Cheaper Stores Closer to Home
During the early summer, when gas prices were at their highest, Walmart's massive Supercenters saw weekly declines in foot traffic that culminated in a nearly 5% drop by mid-July. At the same time, Dollar General and discount grocer Aldi experienced double-digit gains.
Reuters said it was the result of a double whammy for the world's largest retailer.
First, as inflation squeezed household budgets, traditional Walmart shoppers opted instead for budget options like dollar stores. Second, record-high gas prices convinced cash-strapped families to shop closer to home, as most Supercenters are located outside of major population hubs and often require shoppers to drive several miles to get to one. 
The inflation-driven change in shopping habits spelled bad news for Walmart. Even as gas prices dropped by 20% in the waning days of summer, there was no evidence that shoppers were returning to its Supercenters.
Buyers Had To Budget a Whole Lot More for Groceries
The Reuters report showed that Aldi gained far more foot traffic than even Dollar General when Walmart traffic slowed, with the German discount food store seeing gains as high as 15.8%. It wasn't hard to understand why.
Make Your Money Work for You
A study from the value investing site ValueWalk found that Walmart grocery prices climbed by 21.5% between 2019 and 2022, with much of the increase coming during the inflation spike that started in late 2021.
In the meat and seafood department, the price of hot dogs jumped by more than 30%, sausages by more than 20%, chicken by more than 31% and ground beef by nearly 19%. In the produce department, the price of onions soared by an eye-popping 165.15%. At nearly 48%, olive oil was the hardest-hit condiment, and in the dairy department, eggs were up by more than 126% and the price of milk rose by more than 150%.
Even the cost of canned goods soared. Tomato sauce, for example, jumped by nearly 57%.
High-Income Consumers Traded Down to Walmart
According to Winsight Grocery Business, Walmart typically caters to lower- and mid-income shoppers. When they lost portions of that market share to retailers like Aldi and Dollar General, they replaced at least some of those customers with higher-income shoppers.
Just as regular Walmart shoppers were forced to trade down to dollar stores, wealthier consumers downgraded to Walmart from expensive alternatives like Whole Foods, where they had shopped before inflation whittled away their buying power.
Those Who Stayed Flocked to Store Brands and Low-Cost Items
The same Winsight report showed that shoppers adapted to inflation by opting for cheaper alternatives to their usual purchases. The growth rate for Walmart's private brands doubled in the second quarter of 2022 alone. On top of that, shoppers began forgoing things like expensive deli meat for cheaper alternatives like canned tuna and hot dogs.
According to the New York Times, Walmart customers also saved money by pulling back from the purchase of discretionary items like clothing, electronics and non-necessity household goods.
Make Your Money Work for You
Investors Took a Wild Ride That They Ultimately Survived
According to CNN, the wealthier shoppers that sought refuge at Walmart stuck with their new store of choice. By November, high-income customers had helped the retailer increase its sales by 8.2% in the third quarter, beating analyst expectations and boosting the company's stock by 6.5%. According to the New York Times, it was the biggest one-day increase since 2020, and Walmart reported that revenue increased to a better-than-expected $153 billion.
Just a few months earlier, none of that would have seemed possible.
In a single week in May, Walmart stock lost 19.5% of its value — 11% in just one day. It was the result of disappointing first-quarter results that missed analyst expectations.
Walmart wasn't alone. Target and other big retailers suffered losses that spooked investors throughout the industry. The reason was beyond dispute — fast-rising inflation was forcing consumers to rein in spending.
In the second quarter, however, Walmart's fortunes were rising. It posted better-than-expected revenue and earnings results. While its sales were up, profits were down because Walmart had slashed prices to increase foot traffic and spur buying.
In the end, Walmart weathered the storm. At the start of the year, its stock was trading at $144.65. As of Dec. 21, it's right around the same price. By comparison, the S&P 500 is down by more than 20%.
More From GOBankingRates
Make Your Money Work for You