9 Warning Signs of a Franchise Scam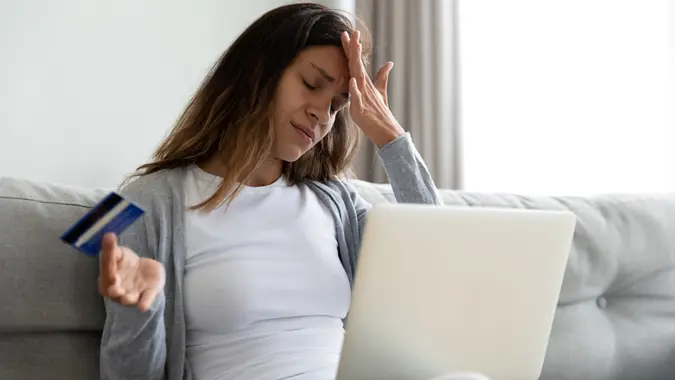 fizkes / iStock.com
If you're looking to purchase a franchise, you need to be on the lookout for franchise scams. Buying a franchise can be a great way to generate income, as you're most likely building on an already successful business and there is plenty of training and support to keep you afloat. However, there are scammers who are only looking to make money off you, rather than the other way around. Here's what experts say to be careful of before you're about to invest a chunk of change in a franchise. 
High-Pressure Sales Tactics
Do you feel a bit under the gun when you talk to those running the franchise? Casey Jones, founder and head of growth at CJ&CO, said this a clear sign you could be part of a scam.
"Legitimate franchisers are selective about who they go into business with. If a franchiser is pushing you to make a quick decision or is promising guaranteed profits, it's a red flag," Jones said. 
Lack of Transparency
You might be asking some questions that are mysteriously going unanswered. Franchisers should be able to be honest and direct with you. You shouldn't be left guessing.
"A genuine franchiser will be open about its business model, financial history, and the challenges you might face," Jones said. "If they're unwilling to share this information or if the provided documents are incomplete or confusing, proceed with caution."
Make Your Money Work Better for You
Lack of Clarity 
Are you parsing through paperwork trying to find out exactly what it is you're selling? This is a red flag. If you can't do an elevator pitch for the product or service you're selling, it might be a sign that the franchisers are being purposefully vague because there actually is nothing being sold. This can verge into pyramid scheme territory, which not only loses you capital, but is illegal. 
Unrealistic Earnings Claims
If you're being promised instant millions, Jones said to take a step back. "While franchising can be profitable, it's not a get-rich-quick scheme. Be wary of franchisers who make exaggerated or unsupported claims about potential earnings." 
Poor Online Presence or Reputation
Jones said it's important to vet your franchise before you get involved with it. You can find out a lot about them from their online presence.
"In today's digital age, a strong online presence is crucial for any business. If a franchiser has a poorly designed website, negative online reviews, or no online presence at all, it could be a sign of a scam," Jones said. 
No Documented Experience
Does it seem like the franchise sprung up out of nowhere? This could be a sign that there actually is no infrastructure for the franchise, and the franchiser is trying to milk you for cash. Ask if they've had any proven successes with their franchise thus far before you become a franchisee. 
Make Your Money Work Better for You
Legal Issues
"Check if the franchiser has been involved in any legal disputes, especially those related to fraud," Jones said. You can find this information in the Franchise Disclosure Document (FDD).
If the franchise is tied up in ongoing lawsuits, it's best to not get involved. 
Withholding the FDD
Joel Libava of Franchise Selection Specialists Inc. said that if a franchiser doesn't want to hand over the FDD until you meet them in person for "Discovery Day" (the day when aspiring franchisees travel to franchise headquarters to meet the team and learn more about the operation), that's a red flag.
"It usually means there are one or more negative bits of information in the FDD, and the rep wants to explain them in person. In other words, the company wants to put its spin on something that looks bad. For example, there may be a huge number of lawsuits, or worse, a high number of franchisees who 'have left the system,'" Libava said. He advises that if a franchiser does this, walk away. "There are well over 4,000 other franchises to choose from," Libava said. 
Inadequate Support 
If you're feeling like a fish out of water going into the franchise, that's not normal. "A legitimate franchiser will offer comprehensive training and support to its franchisees. If a franchisor is vague about the support they provide, it's a warning sign," Jones said. 
More From GOBankingRates