Biden To Deliver 'Vision for Growing the Economy' This Week — 6 Ways His Term Has Affected Your Wallet So Far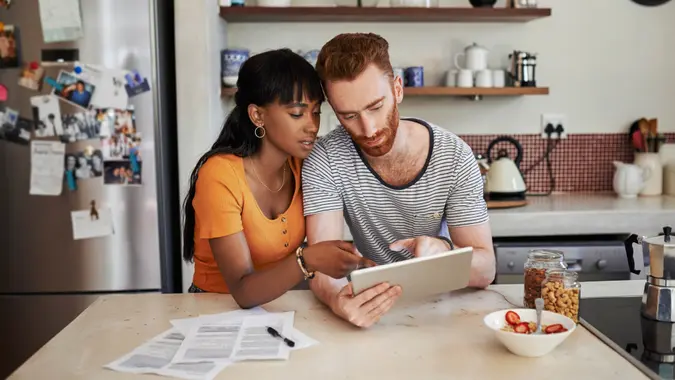 mapodile / Getty Images
President Joe Biden is scheduled to travel to Chicago this week to deliver a speech on the economy and the role "Bidenomics" has played.
The speech is slated for Wednesday, June 28, The Hill reported. The theme will be Biden's "vision for growing the economy from the middle out and the bottom up, not the top-down," according to the White House.
More than two years into his term, Biden has had plenty of time to put his stamp on the economy. Here's a look at six ways his term has affected your wallet.
1. Stock Market
A president's impact on stock market performance is questionable at best (although that hasn't prevented them from taking credit when the markets rise and avoiding blame when they sink). Biden's term has been marked by periods of boom and bust, with the stock market rising sharply in 2021 but then falling nearly as sharply in 2022.
As of June 19, 2023, the Dow Jones Industrial Average has climbed about 8% on Biden's watch. The Dow was valued at 31,188 when he took office and closed at 33,727 on June 19, according to Yahoo Finance. That performance helped investors notch a decent gain (so far) — though the markets will have to do much better to match their performances under former presidents Donald Trump (up 56% during his term) and Barack Obama (up 148%).
Make Your Money Work for You
2. Inflation
There has been very little joy for Biden on this front — or for consumers who've been stuck with historically high prices. When Biden entered the White House in January 2021, the U.S. inflation rate was a miniscule 1.4%, according to Statista Research. It is currently about three times that much — and that's after a recent decline.
Inflation soared above 7% one year into Biden's term and hit a four-decade high of 9.1% by June 2022. In response, the Federal Reserve has implemented an aggressive series of interest-rate hikes to tame inflation. The strategy has worked well enough to bring inflation back down to 4%, which is still above the Fed's target rate of 2% but less than half the rate a year ago.
While political opponents blame Biden for high inflation, there's probably not much he could have done to battle it other than rate hikes. Inflation is a problem everywhere. Global inflation hit 8.8% in 2022 and is expected to still be 6.6% at the end of 2023, according to the International Monetary Fund. In that respect, the U.S. inflation rate looks good in comparison.
3. Jobs
This has been a strength during the Biden administration thanks to low unemployment, which has given workers more bargaining power to demand higher pay and better benefits. The unemployment rate has been below 4.0% since February 2022, the American Independent reported. More than 13 million jobs have been added since Biden took office, according to Labor Department data.
Make Your Money Work for You
Not everyone is impressed with those numbers, however. Earlier this month, the Republican-led U.S. House Budget Committee issued a press release claiming that nearly 72% of all job gains since 2021 "were simply jobs that were being recovered" from the COVID-19 pandemic — not new job creation. "In fact, when looking at today's economy compared to pre-pandemic levels, employment is up only by 3.7 million," the press release added.
4. Wages
For nearly all of Biden's presidency, the U.S. inflation rate has exceeded average wage growth, meaning most Americans have fought a losing battle against inflation. According to Statista Research, the rate of inflation first exceeded wage growth in April 2021, just a couple months into Biden's term. Things remained that way for about two years, mainly because inflation was running at 40-year highs.
The tide finally turned in March 2023, when the growth of wages surpassed that of inflation. That pattern has remained in the months since. With inflation continuing to fall, American workers could be on the winning side of the equation through the end of Biden's current term.
5. Gas Prices
This year's rapid decline in gasoline prices is good news for consumers, but overall, this is not a strong category for Biden. The average retail gasoline price across all grades in the U.S. has risen by more than 50% since his term began, going from $2.420 a gallon in January 2021 to $3.666 a gallon in May 2023, according to the U.S. Energy Administration. Average retail prices hit a record high of $5.032 a gallon in June 2022. They have since fallen about 27%.
Make Your Money Work for You
It's hard to blame Biden (or any president) for high gas prices because so much depends on global oil supplies — and those have been hurt by war, supply-chain disruptions and OPEC policies. Biden has tapped into emergency oil reserves to address the problem. Some critics say the administration should accelerate new drilling in the U.S., but others counter that will only be a temporary fix that mainly exacerbates the climate change problem.
6. Home Prices
There's no question that home prices have ballooned on Biden's watch. The average sales price of houses sold in the U.S. rose each quarter during the first two years of his term, according to the Federal Reserve. Prices climbed from an average of $403,900 at the end of the 2020 fourth quarter to $552,600 at the end of the 2022 fourth quarter — a gain of 37%.
To put that Q4 2022 price in perspective, a decade earlier the average sales price was $297,700, meaning prices have nearly doubled since then. Of course, the impact on your wallet depends on if you're a buyer or seller. For sellers, you probably made a big profit. For buyers, you could be looking at a hefty mortgage payment for the next few decades.
On the bright side, the average home sales price dipped to $516,500 during the 2023 first quarter, marking the first quarter-over-quarter decline in more than two years.
More From GOBankingRates
Make Your Money Work for You