The Unofficial Voter's Guide to Trump 2020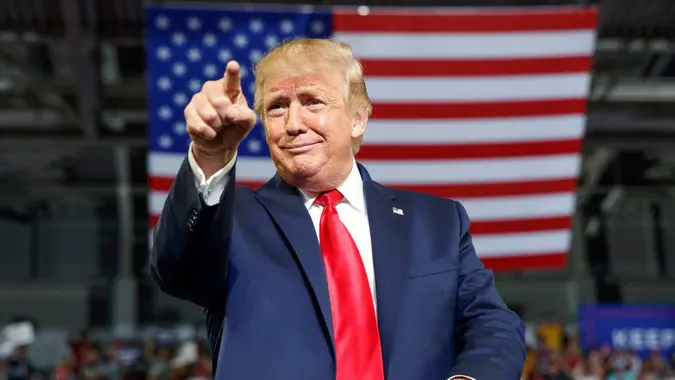 Carolyn Kaster/AP / Shutterstock.com
The Donald Trump 2020 campaign will seek a second term for the 45th president of the United States. Trump, who won the White House in 2016 despite losing the popular vote, has generated controversy and faced stiff opposition from Democratic leaders, Hollywood professionals and social activists.
Here's a look at Donald Trump on the issues.
Who Is Donald Trump?
Donald Trump is the son of Fred Trump, a prominent American real estate developer who built a fortune in New York City. Trump followed in his father's footsteps and developed his own real estate empire in the 1970s after graduating from the University of Pennsylvania.
Prior to his election, the billionaire mogul was the host of the business reality show "The Apprentice." He launched his 2016 campaign on June 16, 2015, at Trump Tower in New York City.
Trump won the 2016 election against Democratic nominee and former Secretary of State Hillary Clinton. His campaign primarily centered on economic issues, immigration and global trade.
Despite losing the popular vote, Trump won 304 electoral votes to Clinton's 227. His victory resulted from his ability to carry Florida and win working- and middle-class voters in the Rust Belt states.
Accusations of collusion with Russian officials to influence the 2016 election have long dogged this White House and led to several leading Democrats in Congress to call for impeachment.
Make Your Money Work for You
Donald Trump's Views on Current Policies
As the 2020 election approaches, Trump and his political rivals will debate a host of issues. At the moment, there are other challengers for the Republican nomination, but Trump will almost certainly be the Republican nominee. Mike Pence is likely to serve again as the Republican vice presidential nominee.
Interpreting Trump's behaviors and statements can be a challenge, especially when faced with mixed messages from the media. This breakdown provides a direct assessment of facts and policies that reflect Trump's record. A Trump second term would likely center on additional tax cuts and a heightened trade dispute with China.
Donald Trump's View on Taxes
The Trump 2020 campaign will focus on preserving the president's signature legislation, the Tax Cuts and Jobs Act of 2017. Signed in December 2017, the law was the largest tax reform since 1986. Former Speaker of the House Paul Ryan spearheaded the overhaul of tax policy.
Trump's economic doctrine centers on the belief that tax cuts pay for themselves through a process known as dynamic growth. This logic suggests that tax cuts stimulate greater economic activity and thus generate more tax revenue. Right-leaning and Libertarian think tanks have endorsed this strategy.
Critics argue that the tax cuts favored the wealthy. According to the Tax Policy Center, the top 20% of U.S. earners gained 90% of the taxable gains from the new law. In addition, more than 50% of those tax gains went to the wealthiest households.
Democratic opponents like Sen. Elizabeth Warren, former Vice President Joe Biden and Sen. Bernie Sanders want to repeal the tax reform law. They argue that the tax cuts disproportionately favor the wealthiest Americans and increase the national debt.
Make Your Money Work for You
Donald Trump's Plans for the Environment
Trump has claimed his policies promote clean air and fresh water while balancing an expansion of the U.S. economy. Trump previously argued that the Obama administration's environmental policies constrained the oil and gas industry and the potential for broader economic growth.
The Trump administration pulled the United States out of the Paris Climate Accord, an international agreement that aims to curb greenhouse gas production. In addition, Trump has promoted fossil fuel development, rolled back environmental regulations and recently finalized a sweeping overhaul of the Endangered Species Act.
According to a July ABC News-Washington Post poll, 62% of Americans disapprove of Trump's approach to climate change.
Democratic contenders have made climate change a primary issue in the United States. Not only do these opponents view climate change as a crisis, but they also see the issue as a path toward other more progressive policies like wealth redistribution, Medicare for All and federal jobs programs.
Some of the Democratic nominees endorse the Green New Deal, a top-down environmental plan that would radically reorganize the U.S. economy to address climate change. They plan to pay for the new deal with higher taxes, the closure of tax loopholes and more subsidies for alternative investment. But only Sen. Bernie Sanders has gone on the record to admit that higher taxes on the middle class are necessary to achieve the common goals of Democrats on Medicare for All and other programs.
Make Your Money Work for You
Find Out: How Much Climate Change Will Cost in Each State
Donald Trump's Approach to Healthcare
President Trump's 2016 platform included a plan to repeal the Affordable Care Act, the signature legislation of the Obama administration. Trump had previously called the law — also known as Obamacare — a "disaster" and a "catastrophe."
But Republicans failed to pass a new law called the American Healthcare Act. Trump said in June 2019 that he would unveil a new healthcare bill in the summer. The statement suggests that Trump plans to make healthcare a central issue in the 2020 campaign.
"We almost had healthcare done. Healthcare's a disaster, Obamacare," Trump said in an interview with ABC News. "If we win back the House, we're going to produce phenomenal healthcare. And we already have the concept of the plan, but it'll be less expensive than Obamacare by a lot." Trump wants to keep private insurance plans and maintain the profit motive in the medical industry in order to spur innovation.
But Democrats have pushed for single-payer healthcare, or Medicare for All. The government-run insurance program was started in 1965 and covers Americans ages 65 and older. The program is funded through Social Security taxes withheld from your paycheck.
"We remain the only major country on earth that allows chief executives and stockholders in the healthcare industry to get incredibly rich, while tens of millions of people suffer because they can't get the healthcare they need," Sanders wrote in The New York Times in 2017. "This is not what the United States should be about."
Sanders' plan would likely be phased in over a four-year period. Sanders has said that his plan would require higher taxes to fund the program. This includes a 4% income-based premium on households making more than $29,000 per year.
Make Your Money Work for You
Sen. Kamala Harris, who has advocated for Medicare for All with some private insurance involvement, has said that a plan can be funded by taxes on Wall Street transactions as well as a higher income-based premium on households making more than $100,000. Given that Medicare for All would likely cost tens of trillions over a decade, it's unclear if Wall Street transaction taxes and higher taxes on wealthier Americans alone could cover the bill.
Explore: Could HSAs Be the Cure for Costly Healthcare?
Donald Trump's Views on Student Loan Debt and Education
The Trump administration recently proposed additional cuts to the Department of Education. The 2020 budget plan calls for a $7.1 billion cut equaling roughly 10% of the department's budget. The budget would cut a number of programs, including Public Service Loan Forgiveness. It has also called for cuts in teacher development under Title II of the Every Student Succeeds Act.
On the issue of student loan debt, the Trump administration has pushed for an accountability system that would put universities on the hook for the outcomes of student loan repayments and borrowing schedules. But it remains unclear from the proposal what a "risk-sharing" program between students and schools would look like in the future.
In March 2019, President Trump released a 10-point plan to reform the Higher Education Act. Trump's plan calls for a limit on student loan borrowing to reduce the cost of education, reduce the amount of student loan debt and halt the increase in borrowing.
While the Trump administration has sought cuts to education spending, Democratic challengers have called for significant increases in education spending. Sen. Elizabeth Warren wants to eliminate $50,000 of student loans for all households with an income under $100,000. The Warren campaign argues it can pay for these plans with an annual wealth tax on all estates worth more than $50 million.
Make Your Money Work for You
Donald Trump's Immigration Plan
Trump's presidency has drawn significant controversy due to his frequent attacks on immigrants. It's hard to argue that any issue has divided Trump supporters and his opponents more than his stance on immigration. Trump's 2016 campaign carried a message that it would build a wall along the U.S.-Mexico border to stop illegal immigration.
The Trump administration has altered the rules that make it more difficult for migrants to claim asylum in the United States. His border detention policies have generated immense controversy.
Democratic Congresswoman Alexandria Ocasio-Cortez has compared detention centers to concentration camps, and other members of Congress have railed against family separation policies that have divided detained families at the border.
The Trump administration has continued to advocate for a border wall, but the project has been locked up in litigation.
Donald Trump on the Minimum Wage and Income Inequality
Although the trend long predated Trump's first term as president, the 2017 Tax Cuts and Jobs Act heavily benefited the richest Americans. More than half of the taxable gains went to the wealthiest 0.1% of families in the United States, according to the Tax Policy Center.
The Trump administration has resisted any increase in the federal minimum wage. The president's top economic advisor, Larry Kudlow, said in 2018 that a "federal minimum wage is a terrible idea. A terrible idea…. And I would argue against state and local but that's up to the states and localities."
Make Your Money Work for You
The current federal minimum wage is $7.25 per hour, but many states, including California, and municipalities like New York City have raised their wage floors in recent years.
Democratic candidates have embraced a $15 per hour federal minimum wage. On the broader issue of income inequality, Democratic contenders have proposed the immediate rollback of the tax law. Former Vice President Joe Biden has vowed to repeal the 2016 Tax Cuts and Jobs Act. He has also vowed to close $1.6 trillion in tax loopholes, including the stepped-up basis rule that allows heirs to reduce their inheritance taxes.
More progressive candidates like Bernie Sanders have campaigned on Medicare for All as well as higher tax rates on America's wealthiest 1%. The Sanders campaign has focused many of its talking points around the issue, repeatedly citing a survey that shows the "three wealthiest people in the U.S. own more wealth than the bottom 50% of Americans — 160 million people."
Sanders has proposed much higher estate taxes. His so-called "For the 99.8% Act" would cut the estate tax threshold from $11 million to $3.5 million. The plan would tax every dollar from $3.5 million to $10 million at 45%. His plan grows more progressive for wealthier estates. The proposed tax rate on every dollar over $1 billion in inheritance would be 77%.
Donald Trump's Views on Climate Change and Sustainability
Climate change has become a central political concern among younger American voters. But Trump's policies incentivize the production of oil, natural gas and coal. Trump famously tweeted in 2012, "The concept of global warming was created by and for the Chinese in order to make U.S. manufacturing non-competitive." He later said he was joking.
But then on the campaign trail in 2015, Trump told a crowd in South Carolina, "Obama's talking about all of this with the global warming … a lot of it's a hoax," he said. "It's a hoax. I mean, it's a money-making industry, okay? It's a hoax, a lot of it." 
The Trump administration dramatically rolled back Obama-era environmental rules on air pollution, infrastructure planning, animal safety, water pollution and drilling and extraction.
Harvard University tracked the reversal of more than 60 different environmental rules and projected a dire outcome for public health. Researchers suggest that a rollback of the Clean Power Plan rule, for example, would lead to tens of thousands of deaths and hundreds of thousands of new respiratory infections in children alone.
Critics have argued that the Trump administration has largely ignored sustainability programs and cut incentives for companies to invest in alternative energy systems. Trump has implemented 30% tariffs on imported solar panels from China. The administration withdrew from the Paris Climate Accord. And the president advocated for a 72% cut to the Energy Department's Office of Energy Efficiency and Renewable Energy.
Democratic candidates have endorsed a Green New Deal and environmental plans that go beyond the Obama-era climate policies. Joe Biden, for example, wants to bring the U.S. economy to net-zero greenhouse emissions by 2050. The Democratic front-runner plans to invest $1.7 trillion in clean energy infrastructure over 10 years. He said he would pay for it by repealing the 2017 Tax Cuts and Jobs Act.
Donald Trump and Women's Rights
Trump's first term has coincided with the rise of the #MeToo movement. Trump's highly controversial statements about women prior to the election raised immediate concerns about his stance on women's rights, unwanted advances and allegations of sexual assault.
In 1999, Trump told NBC that he was "very pro-choice" on abortion rights. But Trump's stance changed during the 2016 election. He sided with conservatives and evangelicals who oppose abortion. The Trump administration has restricted federal research that uses fetal tissue. Meanwhile, Trump's presidency has also coincided with the uptick of "heartbeat" bills at the state levels. Recent laws in Alabama and Georgia have dramatically restricted access to abortions.
The Trump administration has also forced federally funded family clinics to stop referring women for abortions. Religious conservatives have argued that family planning spending can provide an indirect subsidy to groups like Planned Parenthood.
Meanwhile, Democratic front-runner Joe Biden has seen his stance on abortion evolve over the decades. Biden recently denounced the so-called Hyde Amendment, which limits the use of federal taxpayer money to fund abortions. Biden was a long-time supporter of the amendment but changed his position earlier this year after the passage of the heartbeat bills passed in Alabama and Georgia.
"If I believe healthcare is a right, as I do, I can no longer support an amendment that makes that right dependent on someone's ZIP code," Biden said in June.
More progressive candidates like Bernie Sanders have also opposed the Hyde Amendment. The advocate of a Medicare for All nationalized healthcare system said in a tweet that abortion is healthcare and would be protected under his plan.
Donald Trump's Approach to the National Debt
In 2016, President Trump argued that the nation's large national debt was a problem. He said he could erase the nation's sizeable debt within eight years.
Three years later, his top economic advisors have said that the national debt is not "a huge problem right now at all." Larry Kudlow has argued that the U.S. government can properly manage the debt burden. This is a stark reversal from Kudlow's position in 2009 when the Obama administration engaged in large amounts of deficit spending to stimulate the economy.
Trump's signature 2017 Tax Cuts and Jobs Act added $1.7 trillion to the U.S. national debt, according to the nonpartisan Committee for a Responsible Federal Budget. The watchdog has pegged Trump's addition to the national debt at $4.1 trillion.
Democrats have largely ignored conversations about the federal debt given their spending proposals like the Green New Deal, student loan forgiveness, universal child care and free public college. But Elizabeth Warren recently warned of a coming economic crash in a lengthy Medium post. She cited rising household debt and corporate debt levels as harbingers of a pending financial downturn.
Donald Trump's Plans for Unemployment
President Trump's first term has seen the U.S. official unemployment rate fall to 3.6% — its lowest level in nearly 50 years. Critics argue that Trump inherited economic progress from the Obama administration.
The Trump administration has emphasized the return of manufacturing and energy jobs to the United States. His policies of hitting China, Europe, Mexico and Canada were rooted in the belief that unfavorable trade policies have driven U.S. jobs out of the country.
Democratic contenders have tried to shift the conversation away from the broader macroeconomic numbers to a focus on the quality of jobs, training, student loans and healthcare.
For example, Kamala Harris argued in a June debate that too many people were working multiple jobs in the Trump economy. That statement proved misleading due to the fact that just 5% of American workers have more than one job, according to the Bureau of Labor Statistics. That figure is nearly identical to the number of Americans with two or more jobs under the Obama administration.
Donald Trump's Views on Social Security
The issue of Social Security has taken a backseat to immigration, the economy and healthcare. But the Trump administration has taken steps to alter the future of Social Security.
In March 2019, Trump unveiled his fiscal 2020 budget proposal. Although Trump had made promises during the 2016 election not to cut spending on entitlement programs, his budget plan featured significant cuts to disability and Medicaid. The budget included $1.5 trillion in Medicaid cuts over 10 years. The plan also called for an $845 billion reduction in Medicare spending.
The president said he wants to achieve these goals by reducing prescription drug costs and shifting Medicaid payments to block grants. In 2000, Trump advocated in his book "The America We Deserve" that privatization would be good for the United States economy.
"Privatization would be good for all of us. As it stands today, 13.6 percent of women on Social Security live in poverty," Trump wrote. "Harvard University researchers studied almost two thousand American women who retired in 1981 and found that virtually every woman — single, divorced, married or widowed — would probably be better off financially under a system of fully private investment accounts."
Who Is Most Likely To Support Donald Trump in 2020?
Heading into August 2019, Donald Trump held an approval rating of 42%. That figure matches President Obama's approval rating of 42% during the same period during his first term in August 2011.
Trump will face a different electoral map in 2020. Political pundits anticipate a much higher turnout than in the previous election. Voters most likely to check Trump's name in 2020 are male, older, Caucasian and Protestant.
Although white female voters helped propel Trump's 2016 victory, a series of interviews by The Associated Press revealed that suburban females are turning against Trump due to his "polarizing insults" and "unpresidential treatment of people."
Keep reading to find out what you need to know about the Democratic primary debates.
More on Presidential Candidates, Policies and Issues