2020 Democratic Primary Debates: Everything You Need To Know for Round 2
Find out about the lineup and how to watch the event.
The 2020 Democratic primary process moves forward with the second round of debates set to close out the month. Currently, 24 candidates are competing for the party's nomination. These debates will match the top 20 Democratic candidates in two groups of 10 spread across two nights.
This guide to the Democratic debates will cover:
Democratic Debates: Event Details
Here's what you need to know about round two of the Democratic presidential debates.
When will the event take place?
The debates are set to take place over two nights:
Night one: Tuesday, July 30, at 8 p.m. Eastern time, 5 p.m. Pacific time
Night two: Wednesday, July 31, at 8 p.m. Eastern time, 5 p.m. Pacific time
Where will the debates be held?
The debates will take place in Detroit at the Fox Theatre.
Who will moderate the debates?
Dana Bash, Don Lemon and Jake Tapper will host the debates on CNN.
What are the rules of the debates?
CNN aired a live draw on July 18. The Democratic candidates for the 2020 election were divided into three groups based on poll numbers. The drawings determined which night each candidate would debate as well as their positions on the stage.
During the debates, each candidate will receive an opportunity for an opening and a closing statement. The moderators will allow them 60 seconds to answer a question from a moderator. Candidates will also receive 30 seconds to answer rebuttals. Additionally, candidates will have 30 seconds to respond should another candidate attack them by name. Those who "consistently interrupt" will have their time reduced, according to CNN.
Unlike other debates, this round will not feature questions requiring a show of hands or one-word responses. Moderators' questions will appear at the bottom of the screen for the convenience of viewers.
Related: Guide to the 2020 Presidential Candidates
The Lineup for the Democratic Debates
Here's a look at the lineup of participating candidates for each night of the two-part event.
Which candidates will debate on the first night?
The first night of this round of the 2020 Democratic primary debates will likely focus on Bernie Sanders and Elizabeth Warren. As of July 29, Sen. Warren holds the second-place position, with Sen. Sanders trailing behind her by only 0.5 percentage points, according to the RealClearPolitics average of polls from July 15 to July 28. The debate will also feature Mayor Pete Buttigieg, whose campaign has been overshadowed by escalating racial tension in his hometown of South Bend, Indiana. Beto O'Rourke will also participate on the first night. The former Texas congressman's campaign has struggled despite his near-upset of Sen. Ted Cruz in last year's Senate election.
The following candidates will debate on night one of the event:
Democratic Debate Lineup: Night One
Candidate
Title
Steve Bullock
Governor of Montana
Pete Buttigieg
Mayor of South Bend, Indiana
John Delaney
Former U.S. representative from Maryland
John Hickenlooper
Former governor of Colorado
Amy Klobuchar
U.S. senator from Minnesota
Beto O'Rourke
Former U.S. representative from Texas
Tim Ryan
U.S. representative from Ohio
Bernie Sanders
U.S. senator from Vermont
Elizabeth Warren
U.S. senator from Massachusetts
Marianne Williamson
Lecturer, author
Which candidates will debate on the second night?
The second night of the debates will feature a rematch between front-runner and former Vice President Joe Biden and the junior senator from California, Kamala Harris. Her showdown with Biden in the first debate helped propel her to the top tier of candidates. Cory Booker, the junior senator from New Jersey, also looks to face Biden after feeling disrespected by the former vice president. Booker objected to Biden citing work with segregationist senators as an example of working together. Much of the focus will also likely center on former San Antonio mayor and HUD Secretary Julián Castro. Castro received praise for his performance in the previous debate.
These candidates will participate in the second night of the event:
Democratic Debate Lineup: Night Two
Candidate
Title
Michael Bennet
U.S. senator from Colorado
Joe Biden
Former vice president 

of the United States

Cory Booker
U.S. senator from New Jersey
Julián Castro
Former secretary of housing and urban development
Bill de Blasio
Mayor of New York City
Tulsi Gabbard
U.S. representative from Hawaii
Kirsten Gillibrand
U.S. senator from New York
Kamala Harris
U.S. senator from California
Jay Inslee
Governor of Washington
Andrew Yang
Entrepreneur, attorney, philanthropist
How do candidates qualify for the presidential debates?
Both polling and fundraising determine who qualifies for debate appearances. Candidates needed at least 1% support in three polls. The rules also required them to raise money from 65,000 people, with at least 200 supporters in 20 different states.
Which candidates did not qualify for the debates?
Rep. Seth Moulton of Massachusetts, former Rep. Joe Sestak of Pennsylvania, Mayor Wayne Messam of Miramar, Florida, and billionaire Tom Steyer failed to meet the minimum debate requirements.
Neither Sestak nor Steyer expected to meet the qualifications since they recently entered the race. Messam failed to meet the donor and poll qualifications.
The strongest objections came from Moulton as he spoke out against the standards. He submitted 12 polls that stated that he had at least 1% support. But the Democratic National Committee did not consider those to be approved surveys. Moulton also argued that he raised more money than five of the candidates who made the debates.
Find Out: Which 2020 Presidential Candidates Believe Women Deserve an Equal Wage?
Where the Candidates Stand on Key Issues
For the candidates, standing out from the crowd while discussing their signature policies will be a top priority during the debates. Here's an overview of the issues the candidates have been focusing on during their campaigns.
Michael Bennet


Wilfredo Lee/AP / Shutterstock.com
Sen. Bennet favors increasing the child tax credit and the earned income tax credit to ease burdens on the middle class. He also proposes a public option called Medicare-X, which would increase competition and lower costs, particularly on prescriptions. Bennet also plans to address the affordability of housing and child care.
Joe Biden


Wilfredo Lee/AP / Shutterstock.com
Vice President Biden's focus is to "restore the basic bargain" for American workers. His proposals to return workers to the middle class include a $15 per hour minimum wage, removal of unnecessary occupational license requirements and fighting wage-suppression strategies.
Cory Booker


Wilfredo Lee/AP / Shutterstock.com
Sen. Booker largely mirrors his opponents on policy, with minor differences. Booker wants a path to debt-free college as well as tuition-free community colleges. His other proposals include a "massive expansion" of the earned income tax credit and a cap on rental costs for working- and middle-class families at 30% of income.
Steve Bullock


Charlie Neibergall/AP / Shutterstock.com
Gov. Bullock has made fighting big money his signature issue. For the average family, that means a tax system that is "fair for all." He would also like to provide universal healthcare and retirement security, as well as ensure the affordability of both housing and child care.
Pete Buttigieg


Wilfredo Lee/AP / Shutterstock.com
Mayor Pete, as he likes to be called, opposes what he calls the "Reagan consensus" on tax cuts and increasing wealth inequality. He wants to consider increased taxes for higher earners or on larger amounts of net worth. He also expressed openness toward more taxes on the middle class, assuming that revenue is invested in healthcare and improved infrastructure.
Julián Castro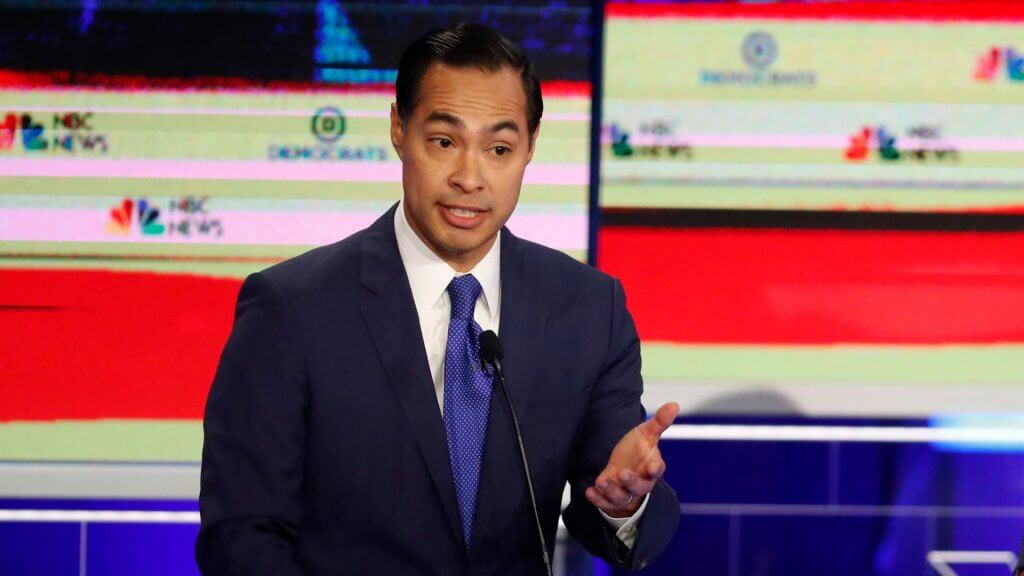 Castro would introduce a combination of rent vouchers and zoning proposals to make housing more affordable. He also proposes federal tax credits for keeping worker skills up to date. Additionally, he favors offering access to various accelerated college credit programs to provide at least one year of college credit at no additional cost.
Bill de Blasio


Wilfredo Lee/AP / Shutterstock.com
Mayor de Blasio's website discusses what he has done for New York City but does not offer specifics on what he would do as president. Instead, it states that the city added over 500,000 jobs during his tenure. He also added 122,000 affordable homes since he took office. In the healthcare arena, de Blasio created NYC Care to "guarantee universal quality healthcare for all New Yorkers."
John Delaney


Wilfredo Lee/AP / Shutterstock.com
Rep. Delaney advocates a universal health plan called "BetterCare." It would replace employer-sponsored insurance but leave private supplemental plans intact. He also endorses the $15 per hour minimum wage as well as earned income tax credits. Under his proposal, higher taxes for high-income earners would fund these reforms. He would also offer two years of free college and lower student loan interest rates.
Tulsi Gabbard


Wilfredo Lee/AP / Shutterstock.com
Rep. Gabbard explicitly stated she was running primarily to advance her views on foreign policy. She has said little about economic issues, but she came out in favor of "Medicare for All" and endorsed the $15 minimum wage.
Kirsten Gillibrand


Wilfredo Lee/AP / Shutterstock.com
Sen. Gillibrand has focused on affordability for average workers. She proposed a "Family Bill of Rights," which includes affordable child care. She also supports an array of plans, including a $15 per hour minimum wage, Medicare for All and two years of free community college.
Kamala Harris


Wilfredo Lee/AP / Shutterstock.com
Like many of her colleagues, Sen. Harris supports Medicare for All. She also advocates a $15 per hour minimum wage, tax cuts for the middle class and tuition-free higher education. Additionally, she mentions a desire to address the high cost of rent affecting many Americans.
John Hickenlooper


Wilfredo Lee/AP / Shutterstock.com
Gov. Hickenlooper's proposals echo those of his opponents in many respects. He pledged support for a $15 per hour minimum wage, two years of free community college and an expanded earned income tax credit. He differs from his opponents by explicitly stating that he opposes Medicare for All yet supports universal coverage.
Jay Inslee


Wilfredo Lee/AP / Shutterstock.com
As someone who has centered his campaign on combating climate change, Gov. Inslee has spoken less on economic issues. But he has backed minimum wage increases in his home state. Inslee has also supported a universal healthcare option in the form of a government-funded public option.
Amy Klobuchar


Wilfredo Lee/AP / Shutterstock.com
Sen. Klobuchar's economic proposals revolve around "shared prosperity." This includes family-oriented ideas such as affordable child care, housing policy reforms and a higher minimum wage. To address medical costs, she supports universal healthcare and lower drug prices but stops short of supporting Medicare for All. She also favors tuition-free community college and lower student loan rates.
Beto O'Rourke


Wilfredo Lee/AP / Shutterstock.com
Rep. O'Rourke advocates for a universal healthcare plan focused on affordable prescription drugs, lower premiums and a greater focus on affordable mental health care. He also emphasizes debt-free college and proposals to foster small-business entrepreneurship.
Tim Ryan


Wilfredo Lee/AP / Shutterstock.com
As someone who represents a working-class district in Ohio, Rep. Ryan emphasizes the plight of the American worker. He would like to see rising wages as well as workers sharing more in the prosperity of American business. His healthcare proposals center on a public option that eventually transitions into Medicare for All.
Bernie Sanders


Wilfredo Lee/AP / Shutterstock.com
Sen. Sanders proclaims himself to be a democratic socialist. With healthcare spending accounting for around 17.9% of gross domestic product, Sen. Sanders expands on this theme by supporting a Medicare for All healthcare plan. He also backs both jobs for all and college for all as well as the cancellation of all student debt.
Elizabeth Warren


Wilfredo Lee/AP / Shutterstock.com
Sen. Warren's policy positions on education and addressing high housing costs often mirror those of her opponents. But she also proposes less-mentioned policies to help families, such as universal child care. She also wants an "ultra-millionaire tax" on households with more than $50 million in net worth.
Marianne Williamson


Wilfredo Lee/AP / Shutterstock.com
Williamson feels that "short-term profit maximization" has come at the expense of the American family. Hence, her economic policies center on closing the wealth gap. Her proposals to accomplish this include universal healthcare, a higher minimum wage, permanent middle-class tax cuts, reducing student debt burdens and government support for child care.
Andrew Yang


Wilfredo Lee/AP / Shutterstock.com
Yang's campaign focuses on what he calls a "freedom dividend." This is a universal basic income proposal that would pay every adult U.S. citizen $1,000 per month. He also echoed many opponents in supporting policies such as Medicare for All and lowering the cost of higher education.
Check Out: Bernie Sanders Beats Beto O'Rourke in Campaign Fundraising With $10 Million
How To Watch the Democratic Debates on TV and Online
Viewers can choose from several options to tune in to the debates.
Which channels will air the debates?
The debates will air on CNN and CNN en Español.
Where will the debates be available for streaming?
Viewers will be able to stream the debates on the CNN website as well as on CNN's iOS and Android apps. The debates will also stream on CNNgo apps for Roku, Apple TV, Amazon Fire, Chromecast and Android TV.
Will Healy is a freelance business and financial writer based in the Dallas area. He holds degrees in journalism and business and has covered a variety of topics, such as stocks, real estate, insurance, personal finance, politics and macroeconomics.
More on Presidential Candidates