Spiritual Adviser, Best-Selling Author and Next POTUS? A Look at Marianne Williamson's Wealth
Oprah's spiritual adviser joins a crowded 2020 field.
Perhaps the next best thing to Oprah Winfrey running for president is her spiritual adviser and friend, Marianne Williamson, running for president.
It was with Williamson's announcement earlier in January that she joined the ever-growing field of Democrats all too eager to defeat President Donald Trump in the 2020 presidential race. As of Feb. 5, there are ten confirmed Democratic hopefuls with at least a dozen more candidates speculated to join the field, the New York Times reported. Meanwhile, not a single Republican has stepped forward to challenge the incumbent Trump.
Birthdate: July 8, 1952
Net worth: $1.1 million
Primary source of income: Book sales
Career highlights: Best-selling author, Oprah's own guru
Related: A Look at Kirsten Gillibrand's Finances as She Joins the 2020 Presidential Race
Marianne Williamson's Net Worth: $1.1M
From sales of her books, lecture earnings and fees from celebrity clients including Katy Perry, Nicole Richie and Laura Dern, Williamson's fortune is estimated to be around $1.1 million.
Don't Miss: How Much Is Cory Booker Worth? A Look at the Presidential Candidate's Finances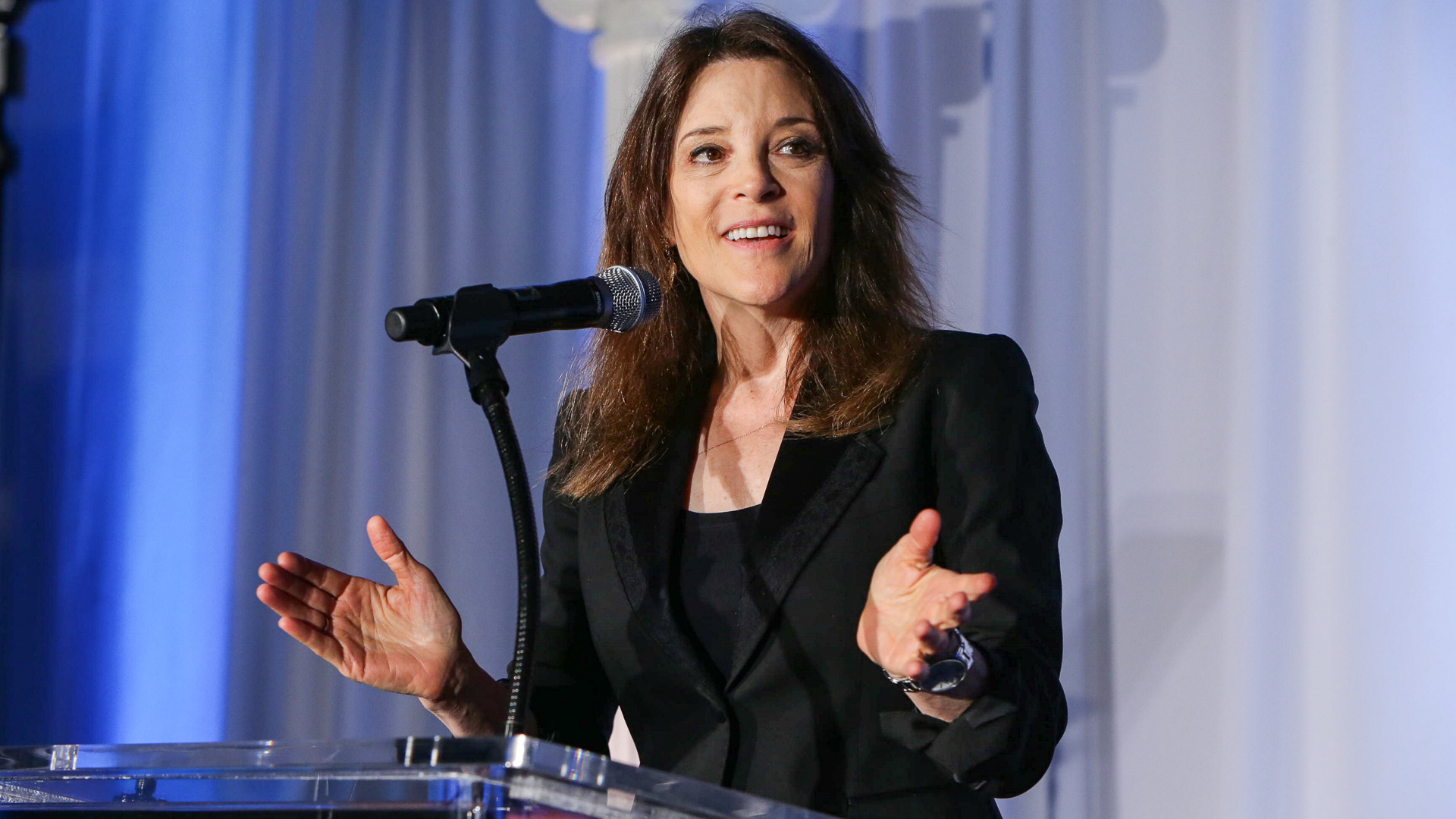 Marianne Williamson's Political Platform
As demonstrated by the 2016 presidential election, Americans are desperate for Washington outsiders to govern. As a self-help author and new-age lecturer, Williamson fits that bill. The spiritual guru who surrounds herself with the likes of Oprah Winfrey and the Kardashian family wants to provide Americans with a "moral and spiritual awakening" and resonates with the voter who wants "to dig deeper into the questions we face as a nation."
Platitudes aside, chief among Williamson's campaign issues is a proposed $100 billion in slave reparations, with $10 billion to be distributed annually over a decade for economic and education projects. But don't think that Williamson's bid is a lark — the celebrity made an unsuccessful play for Congress in 2014 and has spoken at length about her displeasure for Trump.
See: It's Trump's 2-Year Anniversary in Office — Here's How American Finances Have Changed
Marianne Williamson's Personal Life and Career
The Houston, Texas, native is the daughter of an immigration lawyer and a stay-at-home mom. Despite her seemingly nuclear upbringing, Williamson's 20s could be characterized as wayward and adrift: She spent just two years at Pomona College before dropping out and moving to a New Mexico commune. While crisscrossing the country, Williamson developed dependencies on "food, drugs, people, or whatever else I could find to distract me from myself," she later wrote in her book "A Return to Love." Oprah promoted the title through her book club.
Settling in Los Angeles, Williamson began studying new-age Christianity texts and teaching spirituality in 1983. Since gaining notoriety, she's famously rebuked Western medicine while maintaining a firm commitment to social justice and non-profit activism.
Oprah and 35 Other: Celebrities Who Use Their Wealth to Pay It Forward
Williamson was briefly married and has one daughter, India Emma, who was born in 1990.
Check out fellow presidential candidate Kamala Harris' net worth.
More on Government and Net Worth
We make money easy. Get weekly email updates, including expert advice to help you Live Richer™.