How Much Is Vice President Kamala Harris Worth?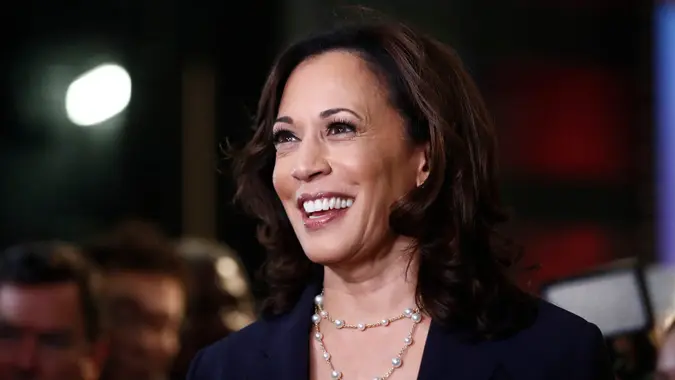 Brynn Anderson/AP / Shutterstock.com
Kamala Harris made history on Jan. 20, 2021, when she was sworn in as vice president, becoming the first woman and the first person of color to hold the position. It was a muted inauguration for Harris and President Joe Biden, who took their offices amid the COVID-19 pandemic and in the aftermath of the attack on the U.S. Capitol just two weeks earlier. Instead of having everyday Americans in the crowd at the National Mall to witness the transfer of power, about 191,500 U.S. flags covered the area to represent the people who couldn't attend the invitation-only event.
Find Out: Just How Rich Are Oprah, Bill Gates and Other Big Names?
Learn More: These 47 Billionaires Got Richer During The Pandemic
Many women who watched the inauguration from home opted to do so while wearing pearls, which Vice President Harris has worn to mark all big events since her college days at Howard University.
Check Out: How Much Is President Joe Biden Worth?
Make Your Money Work Better for You
After graduating from Howard, Harris got her law degree from the Hastings College of the Law at the University of California. Harris, who is of Indian and Jamaican roots, was the first Black person and first woman elected district attorney of San Francisco (2004-11) and attorney general of California (2011-16). In 2017, Californians elected her to the U.S. Senate, the first Black person to hold the office from the state.
As vice president, Harris earns an annual salary of $235,100 and lives at Number One Observatory Circle, a Victorian mansion on the grounds of the U.S. Naval Observatory. But what does the rest of her financial portrait look like?
Kamala Harris' Net Worth
Kamala Harris and her husband, Douglas Emhoff, have an estimated $7 million in assets, Forbes reported. That includes real estate, two California government pensions for Harris and at least $1.2 million in Emhoff's retirement accounts. Harris married Emhoff, an attorney, in 2014. He recently left his position as a partner at the international law firm DLA Piper to fulfill his duties as Second Gentleman.
The couple's 2020 tax returns show income of $1.9 million, almost three-fourths of it coming from Emhoff's pay. Harris earned about $150,000 as a U.S. senator and close to $300,000 as a writer. In 2019, when Emhoff wasn't on the campaign trail, the couple earned $3.3 million, per Forbes.
Make Your Money Work Better for You
Check Out: The 5 Highest- and Lowest-Paying Jobs in Government
Kamala Harris' Potential Future Earnings
At 56, Harris could have years ahead of her in politics. Whenever she decides to leave elected office, however, she likely has a big payday ahead of her. In the four years between his time as vice president and being elected president in 2020, Joe Biden and his wife, Jill, earned about $16.7 million, largely in speaking fees and a book deal.
In April, Harris' predecessor, Mike Pence, signed a two-book contract with publisher Simon & Schuster worth between $3 million and $4 million, CNN reported. Since leaving the White House, Barack and Michelle Obama also have inked deals with Netflix and Spotify for an undisclosed amount.
More From GOBankingRates
Jami Farkas contributed to the reporting for this article.
Financial figures are accurate as of July 21, 2021.
Last update: July 21, 2021
Make Your Money Work Better for You