15 Foods Hit Hard by Inflation

4 min Read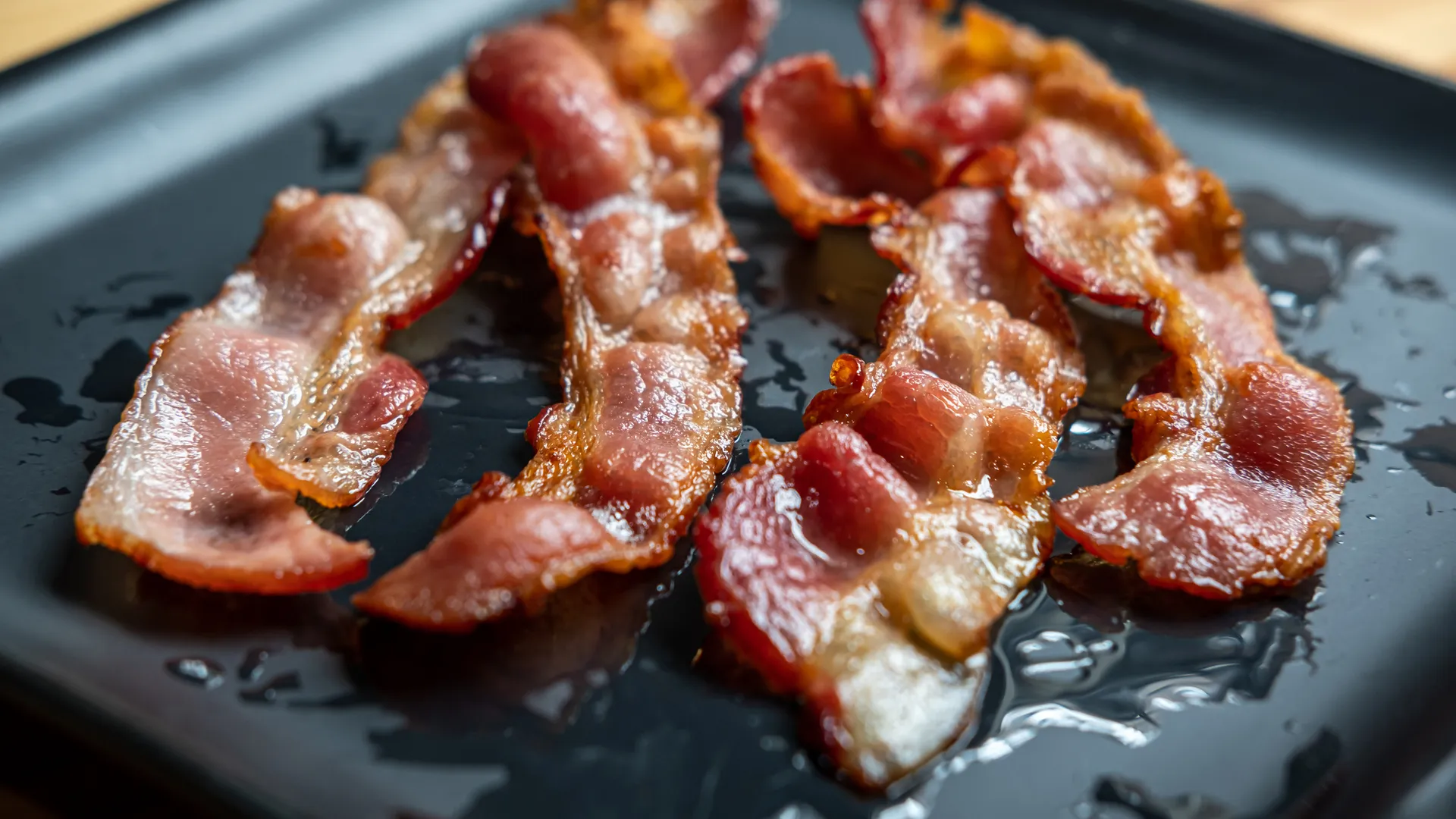 Make Your Money Work for You
Bacon
Inflation rate: 17.7%
A BLT sandwich might have fallen off the lunch menu in many households, given the rising cost of bacon. It went up 17.7% to $7.32 per pound in April, making it more expensive than ground beef.
Coffee
Inflation rate: 14.7%
Making your own coffee remains cheaper than stopping at a coffee shop, but the price got higher in April. A 1-pound bag of coffee rose from $4.75 to $5.45 year over year.
Chicken Breast
Inflation rate: 16.4%
The inflation rate of 2 pounds of chicken rose more than ground beef, but chicken sandwiches still cost less to make than hamburgers. Consumers paid $7.93 in April, up $1.12 in the past 12 months.
Oranges
Inflation rate: 16.6%
Oranges have experienced one of the highest price increases at 16.6%. Prices for a 3-pound bag climbed to $4.62, an increase of 66 cents year over year.
Milk
Inflation rate: 14.7%
If your kids chug through milk, you've noticed the price hike. A year ago, milk averaged $3.45 per gallon. Now, it's $3.95.
Potato Chips
Inflation rate: 9.80%
Potato chips might have gone the way of the BLT in your household. In April, they were up nearly 10% to $5.59 for a 16-ounce bag.
Eggs
Inflation rate: 22.6%
Eggs, a standalone dish or an ingredient in so many recipes, saw the biggest price increase of items on the list: 22.6%. Still, at an average price of $1.99 per dozen, they remain the cheapest protein on the list.
Potatoes
Inflation rate: 7.2%
Instead of buying potato chips, creative cooks might try making their own oven-baked chips, which are a healthier alternative. A 5-pound bag of potato chips increased 7.2%, ringing up at an average of $4.15 in April.
Make Your Money Work for You
Ice Cream
Inflation rate: 4.7%
A refreshing dish of ice cream will cost more this summer. A half-gallon increased to $5.21 on average, up about a quarter over 2021.
Cheese
Inflation rate: 6.5%
Maybe a grilled cheese sandwich can take the place of a BLT on the lunch menu. A half-pound of cheese rose 6.5%, but the cost increased just 13 cents to $2.18.
White Bread
Inflation rate: 8.6%
Bread rose about 13 cents per loaf, year over year, to $1.64.
Rice
Inflation rate: 9.2%
A pound of rice increased by 9.2%, but it remains one of the more affordable side dishes for a family meal. It's still less than a dollar a pound at an average of 86 cents.
Bananas
Inflation rate: 4.2%
Bananas had the lowest percentage increase on the list, rising just 4.2% due to inflation. A big bunch of 2 1/2 pounds went up six cents.
Sugar
Inflation rate: 6.7%
If the price keeps increasing, be sure to stock up this holiday season, when sugar always is on sale. Sugar has a "use by" date on the packaging of about two years but can last longer than that, according to Utah State University Extension.
More From GOBankingRates
Methodology: For this piece, GOBankingRates used the Bureau of Labor Statistics "Average Retail Food and Energy Prices, U.S. City Average" dataset to find (1) the price of various grocery items as of April 2021 and then looked at the Bureau of Labor Statistics "Table 2. Consumer Price Index for All Urban Consumers (CPI-U): U. S. city average, by detailed expenditure category" to find each grocery item's (2) unadjusted percent change in price from April 2021 to April 2022. With these two factors, GOBankingRates then found (3) April 2022 price and (4) difference in price ($) for each item year-over-year. All data was collected and is up to date as of May 24, 2022.
About the Author