Arizona's Minimum Wage For 2021 and 2022: What You Need To Know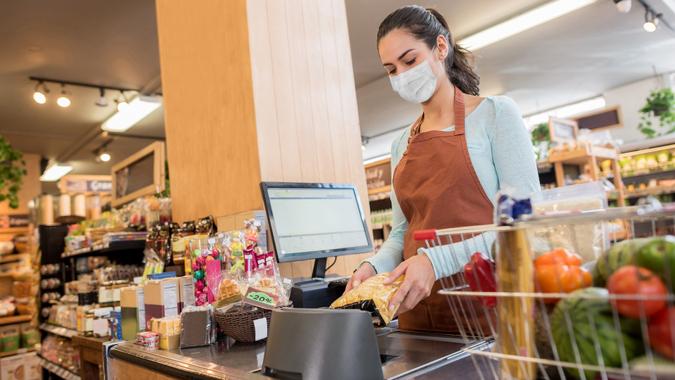 andresr / iStock.com
Arizona is one of the many states that automatically increments its minimum wage over time. Currently, at $12.15, the hourly rate is already nearly $5 more than the federal minimum wage — which, as of today, remains at $7.25. Effective Jan. 1, 2022, the Grand Canyon State's standard minimum wage will increase to $12.80 an hour.
Breaking Down Arizona's Minimum Wage
In the past few years, Arizona has sustained its minimum-wage-related decisions on the Fair Wages and Healthy Families Act (Proposition 206), which is a ballot initiative approved by 58% of voters back in 2016.
These are the historical minimum wage increases since Arizona passed the Fair Wages and Healthy Families Act:
| Date | Rate |
| --- | --- |
| Jan. 1, 2017 | $10.00 |
| Jan. 1, 2018 | $10.50 |
| Jan. 1, 2019 | $11.00 |
| Jan. 1, 2020 | $12.00 |
| Jan. 1, 2021 | $12.15 |
From 2021 onward, the minimum wage increase in Arizona is calculated based on the cost of living, and at the beginning of 2022, it'll reach $12.80. However, with many cities across the country reaching the $15 threshold, some Arizona legislators are taking action. For instance, the Flagstaff locality has already passed its own $15 minimum hourly wage initiative, and Tucson seems to be following close behind.
Make Your Money Work for You
Types of Minimum Wages in Arizona
Not all minimum wage employees in Arizona make the same amount of money. Some people might earn a lower wage based on particular conditions. Here are some examples.
Standard Minimum Wage in Arizona
As mentioned above, the regular minimum wage in Arizona is currently set at $12.15. Employers subject to the Fair Wages and Healthy Families Act must pay this amount for all hours worked regardless of the agreed payment frequency. Arizona's minimum wage laws have some exemptions, though, including:
Workers employed by their parents or siblings
Workers employed by the local or federal government
Workers employed by small businesses that make less than $500,000 in annual revenue
Student Minimum Wage in Arizona
Federal law states that young workers under 20 years old can be paid a minimum wage of $4.25 an hour during their first 90 consecutive workdays. Additionally, the U.S. Department of Labor allows full-time students to be paid no less than 85% of the federal minimum wage.
Furthermore, students over 16 years old who are enrolled in vocational education can obtain at least 75% of the federal minimum wage. However, Arizona makes no distinctions between adults and minors in its minimum wage law, so anybody in Arizona in one of the above circumstances can expect to earn at least $12.15 an hour.
Make Your Money Work for You
Tipped Minimum Wage in Arizona
According to the Fair Wages and Healthy Families Act, workers who receive tips and gratuities may be paid a maximum of $3 less than the state's minimum wage for each hour they work. However, that is only if the employer can prove that, after adding the tips received to the wages paid per week, the employee earned no less than the current minimum wage for each hour worked.
Minimum Wage FAQ
Here are some of the most common questions asked by employers and employees regarding minimum wage laws.
Who regulates wage-related issues in Arizona?

The standards for wages are regulated by the Fair Labor Standards Act, which is overseen by the Wage and Hour Division of the U.S. Department of Labor. The Wage and Hour Division oversees Arizona's minimum wage and earned paid sick time requirements.

What happens if an employer doesn't comply with minimum wage regulations?

By law, the minimum wage obligation can't be waived by any verbal or written agreement. Employees who are victims of a Fair Wages and Healthy Families Act violation can file a civil lawsuit.

Why is there a minimum wage in Arizona?
Takeaway
Employers and employees must know their respective rights and obligations under local and federal laws. Learning the details on minimum wage laws in Arizona can help citizens of the Grand Canyon State defend themselves from exploitative labor practices.
Good To Know

Under federal law, Arizona and any other state may require employers to pay their workers a minimum wage that exceeds the national rate.
Make Your Money Work for You
Our in-house research team and on-site financial experts work together to create content that's accurate, impartial, and up to date. We fact-check every single statistic, quote and fact using trusted primary resources to make sure the information we provide is correct. You can learn more about GOBankingRates' processes and standards in our editorial policy.