PGA Pulls Event from Trump Golf Course, Shopify Terminates Trump's Online Stores, Banks Cut Ties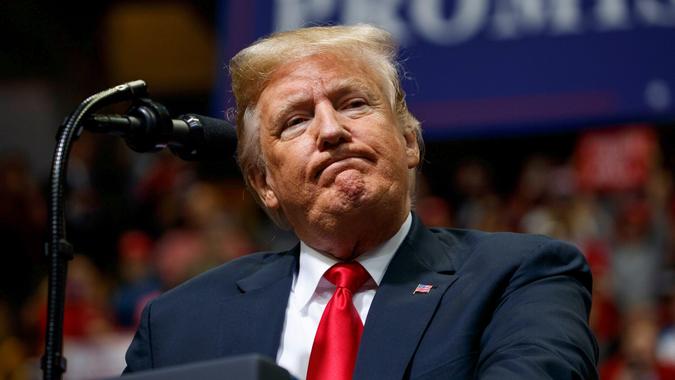 Evan Vucci/AP/REX / Shutterstock.com
If the events of last Wednesday taught rioters anything, it's that their actions have consequences. Many were fired from their jobs, with employers sharing the terminations on Twitter and other social media outlets. President Donald Trump was not immune to the financial fallout, either.
See: The First Step of Impeachment Is Officially Underway — And It's Actually Cheaper for Taxpayers
Find: Wall Street Journal Latest Financial Powerhouse to Call for Trump's Resignation
Last Thursday, e-commerce firm Shopify closed online stores run by the Trump Organization and Trump campaign. Of the decision, Shopify said it "does not tolerate actions that incite violence," The New York Times reported.
Then, the PGA Tour announced that it pulled its 2022 championship from Trump's golf course in New Jersey. The New York Times reported that Trump was "said to be 'gutted'" by the decision. The tournament doesn't deliver much profit to its host courses, but the publicity and marketing value can lead to untold increased revenue.
Additionally, members of Trump's golf club in Bedminster, New Jersey and 15 others around the world are deciding if it will be safe to maintain their membership amidst the possibility of vandalism and protests.
Make Your Money Work for You
See: CEOs Send Strong Rebuke of Capital Riot as Multiple Trump Staffers Resign
Find: As Trump Loses Access to Facebook and Beyond, Social Platforms Brace for Drop in Revenue
Losing the PGA did not turn out to be the worst of the financial consequences for the Trump family businesses a mere six days after the Capitol Hill riot.
Banks that have done business with Trump also stood up in condemnation of his actions. Signature Bank began closing Trump's two personal accounts, which held approximately $5.3 million. Deutsche Bank, to which Trump owes more than $300 million, also said it will no longer do business with Trump in the future once the loans are paid.
Meanwhile, NBC reported that Trump approved a District of Columbia Emergency Declaration, which will give D.C. supplemental federal assistance through the Department of Homeland Security, Federal Emergency Management Agency through Jan. 24, 2021. The declaration authorizes FEMA to mobilize resources to "avert the threat of a catastrophe" in the days leading up to and following President-Elect Joe Biden's presidential inauguration.
More From GOBankingRates:
Make Your Money Work for You
Make Your Money Work for You