These Were the Most Popular Places to Move in the Pandemic, According to U-Haul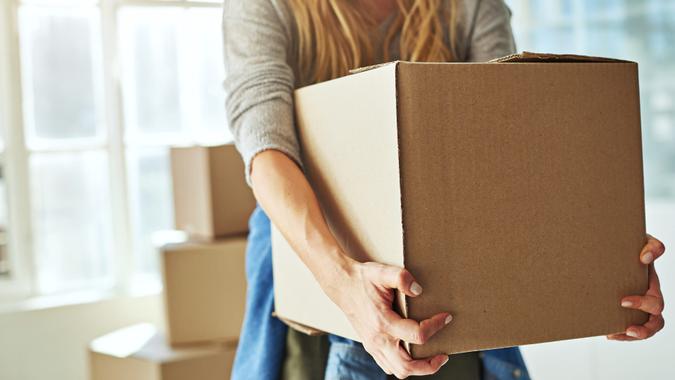 kupicoo / Getty Images
The combination of job losses and remote working due to the pandemic led many Americans to pack up their belongings and move to other states in 2020. The states that saw the most migration last year include Tennessee, Texas, Florida and Ohio, according to a new report by U-Haul.
See: The 10 Cheapest, Safest Places to Buy a Home in the Pandemic
Find: These Cities Have the Most People Moving in During the Pandemic
U-Haul's annual migration trends report calculates how many one-way U-Haul vehicles enter a state compared to how many leave it each calendar year. Annual migration trends data is compiled from more than two million one-way customer transactions involving U-Haul trucks.
The influx of Americans migrating to Tennessee represents the first time since 2015 that a state other than Florida or Texas tops the growth rankings. North Carolina led the way in 2015, according to the report.
Texas is second for growth in 2020, and Florida is third. Ohio, Arizona, Colorado, Missouri, Nevada, North Carolina and Georgia round out the top 10 states for 2020 growth, as self-movers continue to migrate to the Southeast and to markets in the Southwest, Midwest and Rocky Mountain regions.
Make Your Money Work for You
See: Do You Live in a 'Pandemic Destination City'? Your Rent Might Be Going Up
Find: These Places Will Pay You to Live There — But There's a Catch
California ranks last by a wide margin, replacing Illinois as the state with the greatest net loss of U-Haul trucks, according to the report. California has ranked 48th or lower since 2016. Illinois has been 49th or 50th since 2015, when U-Haul began ranking states based on annual net gain.
"I'm seeing a lot of people from California move to Tennessee because they're attracted to our lifestyle," Jeff Porter, U-Haul Company of Nashville president said in a press release. He added that the state also has no income tax, has plenty of jobs and is business-friendly.
More From GOBankingRates: