How Much Will the Fed Raise Interest Rates in 2023?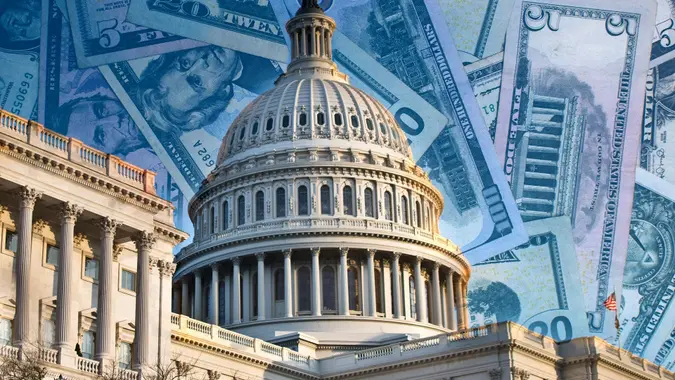 Douglas Rissing / iStock.com
In an attempt to stem inflation, the U.S. Federal Reserve raised interest rates seven times in 2022 and then again in February 2023. At the most recent Federal Open Market Committee meeting (FOMC) in March 2023, the Fed raised rates again.
In March, the quarter of a percentage hike brought rates from 4.75% to 5%. Many experts believe that could be the end of rate hikes for the time being. With the next FOMC meeting right around the corner on May 3, 2023, consumers and economists alike are wondering whether the interest rate increase will continue.
When Will the Fed Raise Interest Rates Again?
Fed forecasts show one more rate hike could be possible for 2023, likely at the May 3 meeting. But Federal Reserve Chair Jerome Powell emphasized they "may" hike rates one more time, suggesting that increase might not happen.
So far in 2023, the Fed raised rates 0.25 percentage points twice. If they hike rates at the May meeting, it is likely to be another 0.25% jump, meaning interest rates will have increased by 0.75% in 2023, up to 5.25%.
Is the Fed Going To Raise Interest Rates Again?
At the post-FOMC press conference in March, the majority of officials predicted one more rate increase for this year, while seven officials saw two more rate hikes on the horizon. But it remains uncertain when — or even if — they will come to fruition.
The bank failures earlier this year could drive a decision to keep rates stable at the May meeting, just as they drove the decision to raise rates by only a quarter percentage point in March.
Make Your Money Work for You
Bank Failures
When Silicon Valley Bank and then Signature Bank had to pause withdrawals in the midst of a bank run, and, ultimately collapsed, it sent waves of fear through consumers. It also led some Federal Reserve officials to begin considering a pause on rate hikes, Powell noted in a press conference.
In a statement following the rate hike, the Fed said, "Recent developments are likely to result in tighter credit conditions for households and businesses and to weigh on economic activity, hiring and inflation. The extent of these effects is uncertain."
Inflation
Ultimately, while the Fed recognizes the danger of additional bank failures, it is also watching inflation. The goal is to return inflation to 2%, but that will put additional strain on the U.S. banking system. CPI data shows inflation at roughly 6% this spring.
"We'll be focused on incoming data and the evolving outlook, and in particular on our assessment of the actual and expected effects of credit tightening," Powell said at the press conference following the March FOMC meeting.
Analyzing The Fed's Intentions
When the Fed issued a statement saying additional rate hikes "may be" on the horizon, Powell emphasized the importance of the word "may."
Previous messaging from the Fed had pointed to ongoing increases, but that thought process seems to have shifted as the Fed now has more factors to consider, including the stability of the banking system, tighter credit conditions and a looming recession.
Additionally, Powell noted that slowed inflation does not have to come from rate hikes, but can come from tighter credit conditions, as well. Experts at Apollo Academy pointed out that tighter credit conditions could have the same effect on inflation as a 1.5% fund rate increase.
Make Your Money Work for You
Experts Weigh In: Will the Fed Raise Interest Rates Again in 2023?
As Powell continues to seek a "soft landing" for the economy, experts believe the bank failures, tighter credit conditions and the cooling housing market could lead to a pause in interest rate hikes.
"[W]hatever we collectively believed the future path of interest rate increases was going to be, the trajectory is lower and shallower and it is comforting to know the Fed agrees," Jeffrey Rosenkranz, portfolio manager at Shelton Capital Management, previously told GOBankingRates.
In the same article, Orion Advisor Solutions investment research analyst Ben Vaske agreed. "The Fed will likely consider pausing now with some economic data finally slowing and the banking system showing signs of weakness. The Fed will need to focus attention on limiting economic fallout as inflation hopefully continues to cool without further hikes," he said.
What Is The Date of the Next Federal Reserve Meeting?
With the next Federal Reserve meeting coming up on May 3, 2023, it's uncertain if the Fed will keep interest rates in a holding pattern through the spring. Both the Fed and experts are predicting another 0.25% rate hike for May.
But if that hike plunges the U.S. into a recession, the Fed could begin cutting rates as soon as the FOMC meeting in July, Forbes reports.
The next Fed meetings with interest rate decisions are slated for:
May 3, 2023
June 14, 2023
July 26, 2023
Sept. 20, 2023
Nov. 1, 2023
Dec. 13, 2023
No rate decisions are scheduled for August or October 2023.
Housing Market Crash of 2008: Learning From the Past
Although these are, indeed, unprecedented economic times following a global pandemic, the Fed does have historical data to guide interest rate decisions this time around. The last time interest rates were this high was in 2007, just before the housing market crash. In September 2007, rates stood at 4.75%. The Fed dialed back over the following year, with six consecutive, aggressive rate cuts of up to 0.75% through March 2008, and a 0.25% cut in April 2008.
Make Your Money Work for You
In 2022, the Fed raised the fund rate from 0.25% – 0.50% in March up to 4.25% – 4.50% in December. Those decisions mirror the rate hikes from 2007. However, it's likely, in pursuit of a soft economic landing, that any additional hikes or cuts will be less aggressive than those in 2007 and 2008.
Final Note
Many factors go into creating a stable economy. While inflation is a key consideration, employment rates, the housing market and bank stability also drive the economy. With unemployment rates stable in 32 states, lower in 18 states and higher in Washington, D.C., based on the April Jobs report, another rate hike could be on the horizon. But it's likely to be the last for some time.
Our in-house research team and on-site financial experts work together to create content that's accurate, impartial, and up to date. We fact-check every single statistic, quote and fact using trusted primary resources to make sure the information we provide is correct. You can learn more about GOBankingRates' processes and standards in our editorial policy.