Grant Cardone: 8 Things You Need To Focus on To Boost Your Company's Revenue by $10 Million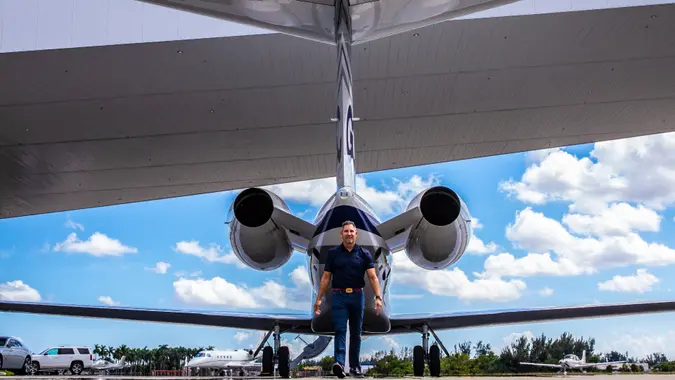 ©Grant Cardone
Grant Cardone, author of "The 10X Rule," has built a business empire that generates nearly $100 million in annual sales, and he's now on a mission to empower other people to reach high levels of success through entrepreneurship. Cardone believes any well-run business can generate tens of millions of dollars — but you have to focus on the right things.
"Any worthwhile business can find another $10 million in revenue once they start looking for it," he told GOBankingRates. "That is my belief."
Cardone will be hosting the 10X Your Business summit Sept. 15-17, with the goal of having every attendee add $10 million of revenue to their business — and he said it really comes down to these eight things.
1. Leadership
"Finding great people" is key to any business's success, Cardone said.
2. Finances
"I don't mean the kind of finance you learn in college, but I'm talking about multiple flows of income, recurring revenue flows, inventory choices and pricing," Cardone said. "A lot of people have prices that are not keeping up with inflation in their own stores. They're getting charged more for everything they buy, but they're selling their products and services for the same price they did 10 years ago."
3. Sales
Cardone, one of the top sales trainers in the world, believes focusing on sales strategy is the way to get ahead.
Make Your Money Work Better for You
4. Marketing
Cardone said the key to marketing in the 21st century is to utilize social media platforms and AI.
"Millions of people see my products and services online," he said. "It costs me no money to convert and follow up with those clients online, which most people are doing a terrible job at. They're having people hit their website and their landing pages, but they don't know how to actually convert the interest that was shown."
5. Culture
Cardone said building a culture focused on success is essential to reach revenue goals.
6. Mindset
Cardone said business owners need to adopt a "10X mindset."
"Have this mindset that keeps going for this bigger goal," he said.
7. Scale
Learning how to scale through breakpoints is a skill that every business owner needs to master.
"There are major [revenue] breakpoints that companies have — going from zero to $250,000, from $250,000 to $3 million, $3 million to $10 million, and $10 million and above," Cardone said. "There are certain things that happen in every company as they move through those cycles."
8. Motivation
Entrepreneurship isn't easy, so it's common to lose motivation along the way.
Cardone said you need to learn "how to handle burnout and stay motivated about growing your business."
Make Your Money Work Better for You