This Lendio CEO Started a Billion-Dollar Business That Helps Other Entrepreneurs Get Their Start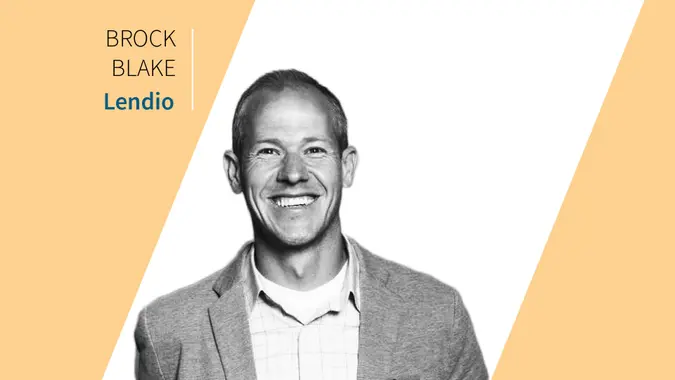 As an entrepreneur himself, Brock Blake knows how frustrating it can be for aspiring business owners to get the loans needed to turn their ideas into a reality. That's why he started Lendio, which aims to simplify the small business loan process. Under his leadership as CEO, Lendio has funded $1 billion in business loans, and the company was named one of the Top Fintech Startups of 2018 by CB Insights. 
Each week, GOBankingRates sets out to discover what makes the people behind top companies tick. We like to call this series "Best in Business" — and Blake really is one of the best. He told us why he was OK with losing $10 million in revenue overnight, the pitfalls every aspiring entrepreneur should avoid and ways that you can find (or build) your own dream job, too. Below, find our favorite moments from the story of how Blake launched such a successful venture.
Up Next: This State Is Home to the Best Cities for Entrepreneurs, Study Finds
He Shut Down a $10M Company To Launch His New One
Before Lendio, my co-founder Trent Miskin and I had launched a company in 2006 called FundingUtah. The business model was fairly simple: we connected Utah business owners looking for capital with Utah VCs and angel investors. The business did well in Utah and we decided to take it to a national level, officially becoming FundingUniverse. Horrible name, I know! Within a few years, we reached $10 million in annual revenue. However, at that same time, we noticed a few problems. First, the FundingUniverse business model wasn't scalable beyond that point because we had very little technology. We relied heavily on employees behind the scenes writing business plans and creating financial models for our customers. And more importantly, we had learned that only a very small portion of the startups that came to us looking for cash was ever going to raise capital from an investor.
Make Your Money Work Better for You
What we noticed is a large number of Main Street businesses in need of small-dollar loans (less than $500k) was growing. We became more intrigued by banks — their cumbersome application processes and rigid lending guidelines — and we knew we could build a better process. Trent Miskin and I, along with a few others, began designing the framework for new technology and began connecting with alternative lenders. In January 2011, we shut down FundingUniverse — going from $10 million in revenue to zero overnight — and launched Lendio.
Check Out: Kylie Jenner and 19 Other Extremely Successful Celebrity Entrepreneurs
He's Not Only the CEO But Also the 'CCO'
It's one thing to be able to conceptualize a great business idea or plan on paper, but setting it in motion takes a whole different set of skills that many entrepreneurs don't realize they need. The concept of Lendio was born out of my own obsession with fueling the American dream for small business owners. I started this business to provide entrepreneurs just like myself with better access to growth capital. But none of what we've built would have come to fruition without a large group of people willing to buy into and share my obsession, starting with the talented group of people who make up the executive team.
Over the years building this business, I've learned that not only am I the CEO, I'm also the CCO or Corporate Culture Officer. A lot of executives claim employee experience is important to them, but very few excel at building a company culture that takes into account the collective vision, values and desires of the employees. I believe that doing so has largely contributed to Lendio's success.
Read: The First Thing These Famous and Successful People Do Every Morning
He Embraces All the Emotions That Come Along With Starting a Business, Including Fear
Building a business can be wrought with all kinds of emotions including stress, sadness, anger, happiness, joy and satisfaction. I have experienced the highest of highs and the lowest of lows with Lendio. Particularly when we shut down FundingUniverse and started Lendio in 2011, fear was very real. What I've learned through the process is how to embrace the power that comes from facing fear instead of letting it control you or determine your outcome. Put the fear of failing to work for you and turn it into an advantage. When you look back, you'll see that fear and anxiety are often signs you're on the right track. It's just a matter of understanding what's causing those emotions and then acting.
Make Your Money Work Better for You
Related: How I Avoid Burnout as an Entrepreneur
He Believes That Success Is Just a Sign That You Can Do More
As an entrepreneur, anytime you have the feeling that "We've made it!," there should be an alarm telling you it's time to evaluate the business plan again. There's a risk you'll miss a chance to grow or expand your business when you're too busy celebrating your success. Over the years, I've learned the importance of using your view at the top to see new opportunities. For Lendio, our recent success has allowed us to deepen our relationships and help our customers in new and innovative ways.
Lendio has grown into the nation's largest marketplace for small business financing and has facilitated over $1 billion in loans — incredible success by all accounts. Yet, I still feel like we're just getting started, and I never want to get complacent about our success. We want to be constantly innovating and iterating.
Words To Live By? 16 Successful Entrepreneurs on the Worst Advice They Ever Received
He Advises Aspiring Entrepreneurs To Avoid These Pitfalls
I've observed many business owners who are so passionate about and invested in running their operations, they often miss the pitfalls lurking around every corner. This could be anything from making a bad hire to bootstrapping for too long, or being unable to pivot when the original plans fail — ideas are easy, implementation is hard.
Running a business is tough and requires long hours. Candidly, I think many people underestimate this and do not have the passion it takes to pull it off long-term. One of the best ways to protect yourself from these pitfalls is to get experience in the industry or profession before starting your own business. The lessons I learned while building — and ultimately shutting down — FundingUniverse have been critical to the success of Lendio.
Make Your Money Work Better for You
My advice to those who want to start their own business is to remember that very few companies become overnight successes, but many companies do overcome significant challenges and defeats to emerge triumphantly. That's important to keep in mind when the going gets tough.
Learn: Where These 51 CEOS Went to College
I love a good startup success story: companies like Amazon, Mattel and Apple that started from humble beginnings in garages across America and eventually became Fortune 500 companies. As an entrepreneur, it's good to be reminded that success stories are years in the making, and most of the time it takes years just to get on the path to success. You may spend the majority of your career feeling like you're just getting started.
I love being an entrepreneur because I love embracing all that comes with it. There are few things in life more fulfilling than building something from the ground up and watching it succeed. But to me, being a successful entrepreneur is about more than winning or making a lot of money. Seeing the impact my business is having — through the accomplishments of my team members and the customers we serve — is the sweetest success.
Click through to read how one divorced, single mom became a successful entrepreneur.
More on Entrepreneurs
Make Your Money Work Better for You