7 Ways To Make Money Off Unwanted Gifts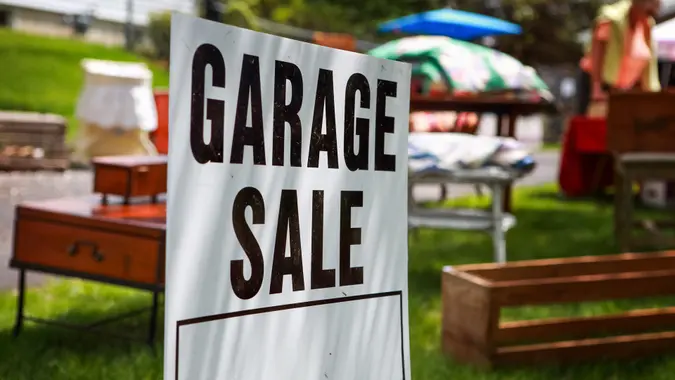 Suzanne Tucker / Shutterstock.com
Holiday shopping was, for many, an expensive affair — to the extent that some of us got in over our heads. According to a new LendingTree report, 35% of Americans took on yuletide debt, with the average amount being $1,549.
Take a Look Back: 2022 Year in Review
Explore: Your Biggest Money Etiquette Questions Answered
Alas, much of that debt may have gone toward purchasing gifts that nobody wanted. According to a new survey from Magestore, 57% of Americans will re-gift or donate unwanted gifts. 
But why not make money off unwanted gifts, instead of re-gifting or donating them? It's a perfectly viable plan. Let's explore what you can do to make some fast cash off those undesirable gifts, and ideally pay down some of that holiday debt. 
Host a Yard Sale 
"You can never go wrong at a yard sale," said Carl Grande, the founder and lead advisor of Grand Capital Management. "An unwanted Christmas gift makes a great Saturday yard sale [find]. Start high and sell at the highest price you can. Remember, it's 100% profit."
Make Your Money Work Better for You
Take Our Poll: How Do You Typically Split the Restaurant Bill?
Sell Items Online
"Sites like eBay are still good for unloading gifts you don't want or need, but you'll have to do a little research first," said Julie Ramhold, consumer analyst with DealNews.com. "See if others are selling the same item. If a lot of people are trying to get rid of the exact same thing, you may be better off waiting for now. When you do get ready to list your unwanted gift, make sure to factor in shipping so that you receive the best value possible."
Sell Items to a Consignment Shop 
"Consignment shops are perfect places if you have designer clothing or accessories that you want to get rid of," said Mark Joseph, founder of ParentalQueries. "You can take them to the shop. They will assess their condition and value and then put them up for sale on your behalf. I recently took my fur coat to a local consignment store and made a few hundred dollars from it."
Rent Items Out 
"If the gift in question was expensive and reusable, a good idea that is worth considering is renting it out," said Lucia Jensen, CEO of WeLoans. "For instance, if you were gifted a musical instrument, DJ equipment, camera equipment, outdoor equipment or designer clothing/products, you have the option of renting it out through sites like Rentmyinstrument.com, Renttherunway.com or Fatllama.com.
Make Your Money Work Better for You
"This can be a great way to continuously profit from an unwanted gift, rather than selling it or giving it away outright. Plus, it enables you to retain ownership for your own personal use should the time come that you actually need it."
Upcycle and Resell 
"Homes aren't the only things you can flip for a profit," said Laura Adams, MBA, a personal finance expert with Finder.com. "Take unwanted goods and refresh, redesign or embellish them to resell for a higher price."
Use Them for Gifts Next Year
"This won't really make you any money, but it will help you save cash," Ramhold said. "Hold on to any gifts that are nice but just aren't what you're looking for and try to re-gift them in the coming year.
"However, if you're going this route, it's a good idea to create a spreadsheet noting what the gift is and who it came from — and potentially even when you received it — in order to make sure you don't accidentally re-gift it to the person who gave it to you in the first place. Noting who gave it to you and when will also help if you decide to try to re-gift it within the same social circle as the original giver. If you try to re-gift too soon after you received it, friends you have in common may notice and someone could tell the original giver what's up."
Make Your Money Work Better for You
Donate Items (Potential Tax Write-Off) 
"This is another way that won't really make you any money; but, since donations are tax write-offs, it could help you save when you're getting ready to file taxes," Ramhold said. "It's also just a great thing to do in general; so, if you're not having success any other way, consider just donating so that those in need will be able to use your unwanted items."
More From GOBankingRates
Make Your Money Work Better for You