'Shark Tank' Winners: Did These 15 Get Rich or Go Broke?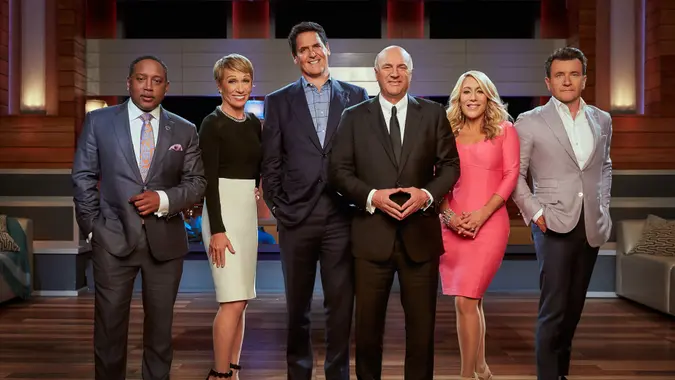 Patrick Ecclesine / ABC
"Shark Tank" is a show on ABC that enables scrappy entrepreneurs to pitch their big ideas to a panel of possible investors for a chance at that extra push to get their businesses off the ground.
Over 14 seasons, this show has launched a number of incredibly successful businesses, some of which you likely have heard of or even purchased products from. But there also have been a number of companies that bombed even after the support of their investors.
We look at 15 "Shark Tank" winners — those who secured funding from the investors — to see which ones got rich and which ones went broke.
Rich: Bombas
You've probably heard of or seen the ads for this "Shark Tank" winner from Season 6, Episode 1, in 2014. The sock brand Bombas has a charitable mission to donate a pair of socks for every pair purchased to a person experiencing homelessness.
Founders Randy Goldberg and David Heath received a successful offer of $200,000 for 17.5% equity in their company from Daymond John.
Make Your Money Work Better for You
It has gone on to be one of the highest-grossing companies to come off "Shark Tank," according to Leaders.com, with a net worth of around $100 million. Goldberg and Heath have donated more than $50 million in clothing.
Broke: Toygaroo
Pitched as "The Netflix for toys," Toygaroo is a subscription service aimed at allowing consumers to rent toys each month. It was founded by Hutch Postik, Nikki Pope, Phil Smy, Rony Mirzaians and Young Chu, and pitched in Season 2, Episode 2, according to Failory.
Mark Cuban and Kevin O'Leary invested $250,000 in two separate funding rounds. Though the company saw an initial spike in subscriptions after the episode, the company ultimately failed because of cost-related issues, such as being unable to source the toys at an affordable price or to offer free shipping.
Rich: Everly Health 
Everlywell founder and CEO Julia Cheek sought additional funding for her at-home testing company, which makes tests for STIs and cholesterol screenings, to name a few. In 2017, Lori Greiner invested in Everlywell and the company grew quickly, bolstered by the COVID-19 pandemic. The company has done so well, it's now valued at around $3.45 billion.
Make Your Money Work Better for You
In March 2021, Everlywell purchased PWNHealth and Home Access Health Corporation and formed a new umbrella company, Everly Health.
Broke: Body Jac
In Season 1, Episode 5, a man who went by the moniker "Cactus Jack" Barringer pitched a fitness product known as the Body Jac. It was designed to make push-ups easier for people who struggled to do the exercise, whether due to lack of fitness or joint problems.
Investor Barbara Corcoran made Jack a deal that if he would lose 30 pounds to prove the machine did indeed work, she would invest. He did so, and ultimately Kevin Harrington and Corcoran invested a total of $180,000 for a stake of 50% equity. 
The company didn't make it very far, however. While there aren't any specific details of why, Corcoran has referred to it as the worst business deal she ever made.
Rich: Blueland
With more consumers being concerned about sustainability and reducing waste, the cleaning brand Blueland was perfectly poised for a deal on Season 11 in 2019. The company's goal is to eliminate single-use plastic that most cleaning products are packaged in.
All of the Sharks wanted in, and a series of negotiations ensued, with the final deal coming from O'Leary, who invested $270,000 for a 3% stake in the company and a 50-cent royalty on products until he earned his money back.
Make Your Money Work Better for You
Today, the company is worth $10 million.
Broke: CATEapp
In Season 4, Episode 2, founder Neal Desai pitched his privacy app that was designed to hide calls and messages from selected contacts. He was able to raise $70,000 with a 35% equity stake from O'Leary and John. It looked like a success, as the app received more than 10,000 new downloads after the episode's airing. However, the app didn't maintain popularity and was out of business by 2013, according to Failory.
Rich: Aira FreePower
On Season 11, in 2019, Aira founders Eric Goodchild and Jake Slatnick pitched their wireless charging technology FreePower, which enabled consumers to charge multiple devices on any surface.
They had already lined up over 33,000 orders for their product by the time of the episode, which probably sealed the deal, and Sharks O'Leary, Robert Herjavec and Greiner invested $500,000 collectively for a 15% stake in the company. This is probably one of the better deals the Sharks have made — today the company is valued at more than $150 million.
Broke: ShowNo Towels
This very simple concept, a poncho-shaped towel that would enable kids to change in public places while preserving their modesty, seemed like it would be a big hit. In Season 3, Episode 4, founder Shelly Ehler pitched it and interested Greiner, who offered $75,000 for a 25% stake in the company. There are varying reports about whether Greiner actually ever gave Ehler the money, however.
Make Your Money Work Better for You
Shelly was able to get the towel into the water park at Disney World and other water parks, according to the SharkTank Blog, but Disney never placed a second order, and the concept didn't seem to catch on. Today, Ehler has made a career pivot to hypnotherapy.
Rich: Poppi
Though the soda market may appear to be saturated, apparently there was room for one more company with a twist. Poppi is a "soda alternative company" whose healthy sodas are full of prebiotics made with apple cider vinegar and contain 5 grams of sugar or fewer.
On Season 10, in 2018, the founders, married couple Allison and Stephen Ellsworth, received $400,000 in funding from shark Rohan Oza, for a 25% stake in the company. They call Oza their "Brandfather" for helping them redesign and refine their brand. Today the company is valued at more than $50 million.
Rich: Dude Products
Most hygiene products on the market are geared toward women. Enter founders Sean Riley, Ryan Meegan and Jeff Klimkowski of Dude Products. They made a pitch for a sanitary wipe aimed at men on Season 7 in 2015. They asked for $300,000 for 10% equity, and Cuban ultimately gave them that investment for 25% equity. It was a worthy investment, as the company is today estimated to be worth around $300 million.
Make Your Money Work Better for You
Broke: Breathometer
Investors are always looking for products that can quickly, conveniently and portably solve a problem. When Breathometer founder Charles Michael Yim pitched his portable breathalyzer that connects to a smartphone app in Season 5, Episode 2, he raised a stunning $1 million for 30% equity from O'Leary, Cuban, John, Greiner and Herjavec.
The product's demise came about when the Federal Trade Commission sued it for advertising the product as "law enforcement grade" and encouraging consumers to use the device as a judgment on whether it was safe for them to drive, according to Mobile Health News. Ultimately, the FTC won the suit, and Breathometer had to refund all customers, putting it out of business.
Rich: Beatbox Beverages
In Season 6 in 2014, business school friends Justin Fenchel, Aimy Steadman and Brad Schultz pitched their idea of a beatbox-shaped box containing a mixed drink — or "portable party punch," as they called it — that is lower in calories and sugar than other cocktails.
They were hoping for $200,000 for a 10% stake in their company, but they got a lot more than that. They ultimately settled on Cuban's offer of $1 million for a 33% stake, according to Mashed. Today the company is valued at around $200 million
Make Your Money Work Better for You
Neither: Sweet Ballz
Founders of a cake ball company called Sweet Ballz, James McDonald and Cole Egger pitched their idea in Season 5, Episode 1. The concept was simple: cake in a bite-sized ball, perfect for parties or kids' snacks.
They scored $250,000 for 25% stake in the company from Cuban and Corcoran. Not days after the episode aired, McDonald and Egger got into a dispute when McDonald found out that Egger was actually redirecting Sweet Ballz customers to a different site, called CakeBallz.
While no one knows exactly how that played out, Sweet Ballz still exists, with McDonald listed as the sole founder. CakeBallz does not appear to exist any longer, according to Mashed. SweetBallz is said to have annual revenue of around $5 million.
Rich: Squatty Potty
Even if you don't have children, you've probably heard of the Squatty Potty, because it's just that famous of a product. This is a "toilet stool" that is supposed to make bowel movements easier; it went viral in 2015 and got mentions on shows hosted by Dr. Oz and Howard Stern.
In Season 6, Episode 9, mother and son Judy and Bobby Edwards took an investment from Greiner for $350,000 for a 10% stake in the company. It has sold over $175 million of its product and is valued at around $50 million today.
Rich: Lovepop
Who would have thought that a greeting card company could disrupt the market enough to make any money? Well Lovepop has been able to do that by creating 3-D popup cards for all occasions, according to Failory.
Founders Wombi Rose and John Wise sold shark O'Leary on their card company in Season 7, Episode 11. O'Leary invested $300,000 for a 15% stake in the company, which has gone on to make over $22 million in sales.
More From GOBankingRates
Make Your Money Work Better for You