This Founder Got the Idea for a Multimillion-Dollar Company After Being in a Car Wreck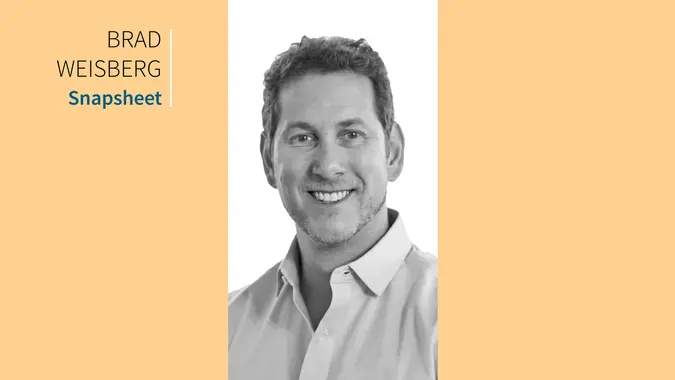 In 2011, Brad Weisberg co-founded Snapsheet — which uses technology to streamline the auto insurance claims process — and has led the company through multiple stages of rapid growth as its CEO. Snapsheet has raised $47.6 million in funding, according to CrunchBase, and was named one of the top fintech startups of 2018 by CB Insights. 
Each week, GOBankingRates sets out to discover what makes the people behind top companies tick. We like to call this series "Best in Business" — and Weisberg really is one of the best. He told us why time management is so vital when starting a company, how he keeps his employees engaged and motivated (gift baskets are involved!) and ways that you can find (or build) your own dream job, too. Below, find our favorite moments from the story of how Weisberg launched his business.
Be Aware: 7 Surprising Costs That Come With Starting a Business
It All Started With a Car Accident
Years ago, I got into a car wreck. I took my car to three body shops, which resulted in three different estimates for the same damage to my car. All the body shops did was look at the damage and quickly put a number on a piece of paper. It took so much time and frustration to get the damage assessed, and there was no technology used throughout the process. It dawned on me that submitting a photo of the damage to the body shops through the use of technology would save time, costs and frustration. The result would be the same — a cost estimate to fix the car. This was the moment that Snapsheet was created. I knew then that a picture was worth a thousand words.
Make Your Money Work Better for You
See: 50 Businesses That Are Changing the World Today
He Put His Life Savings on the Line
Failure was my biggest fear. My life savings were invested, and I jumped headfirst into Snapsheet. Once I had the initial idea, I spent time researching the market and the industry, as well as talking with body shops, friends and family to identify the challenges and the opportunities. I believed then, and I still believe now, that the harder you work, the more successful you can be.
It takes three times as much time and money as you would initially think. There is no such thing as an overnight success. If you perceive someone to have had quick success, you likely aren't familiar with their backstory. So many business owners have been working at it for more than 10 years, hitting many challenges and roadblocks along the way, until they are externally perceived as successful.
Find Out: 6 Lessons I Learned Starting My Own Business
Time management was the hardest part of going from the concept to actual business. In the early days of Snapsheet, I was working two jobs, selling real estate while I was getting Snapsheet off the ground. When you are the only employee at a founding company, there are so many roles you need to be focused on, such as raising money and building the product. It's important to prioritize your tasks but stay committed to each piece of the business puzzle. Once you can start hiring a team to put in functional roles, the time management piece gets easier.
He Built His Company Based on the Idea That You Can Always Do Better
In previous jobs, people that I worked with never pushed the envelope. They stuck to the same processes that turned into the same results. At Snapsheet, our motto is, "There has got to be a better way." I believe that there has to be a better way to do everything in life, and we should always be exploring other opportunities to do just that. We encourage innovation and challenge the status quo.
Make Your Money Work Better for You
The culture of a company is extremely important for the success of a company. I wanted to build a company where I was surrounded by passionate and motivated team members that enjoyed coming to work each day. Nearly 50% of Snapsheet employees work remotely. To keep the team engaged, we work hard at building a culture that makes them feel appreciated. Being transparent is one of my biggest priorities as a business leader. Snapsheet's entire executive team ensures that our colleagues understand what we are doing, why we are doing it and where we are going. Each person understands why they are important to our team, but also to helping us achieve our goals.
Related: 20 Companies With the Happiest Employees
We also make sure to add in a bit of fun for both the employees [that work] in the office and [those] that work remotely. On top of the lunches and happy hours, we send monthly themed gift baskets that keep up the excitement about being a part of Snapsheet.
He Views Success as an Ever-Moving Target
I consistently challenge myself against achieving success. Success to me is defined by many things. Success is bringing my team happiness and fulfillment when they come to work every day. I feel proud of creating more than 500 jobs for people, as we work together for one common mission and dream.
At Snapsheet, we set high targets and challenging goals. When we reach those, we celebrate together. The next morning, we roll up our sleeves and raise the bar. Fortunately, we have had many milestones to celebrate over the years. We look forward to many more achievements in our future.
Make Your Money Work Better for You
Keep reading to find out how to be an effective leader even when you're not in charge.
More on Entrepreneurship
This interview has been edited and condensed.