The Founder of Stash Wants to Make Saving and Investing Attainable for Everyone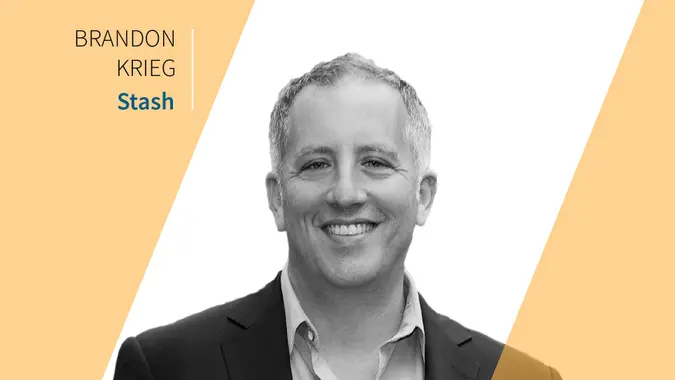 Brandon Krieg is the CEO and co-founder of Stash, a financial platform revolutionizing the way millions of Americans save and invest for their future. Prior to co-founding Stash, Krieg spent over 15 years in financial services, most recently as head of electronic execution for Macquarie Securities Group. He also co-founded EdgeTrade, one of the first and largest electronic trade execution and algorithmic software firms. Krieg has been recognized by Goldman Sachs as one of 2018's 100 Most Intriguing Entrepreneurs, and Stash was selected by the Wall Street Journal as one of the Top Tech Companies to Watch in 2018.
Each week, GOBankingRates sets out to discover what makes the people behind top companies tick. We like to call this series "Best in Business" — and Krieg really is one of the best. He shared the value of having patience, why he wants to diversify the financial services sector and ways that you can find (or build) your own dream job, too. Below, find our favorite moments from the story of how Krieg launched his business.
Tips: 16 Entrepreneurs Reveal How They Spend Their Lunch Hour (HInt: It Might Actually Involve Food) 
He Talked To Everyone From Teachers to Investors When Coming Up With His Business Plan
After over 20 years of financial services experience between my co-founder Ed [Robinson] and myself, we became acutely aware of the savings and financial literacy crisis there was — and is — in the U.S. From our former co-workers, who had years of experience working at financial firms, to people we met walking the streets of NYC — UPS delivery men, nurses, teachers, etc. — it was apparent that not only were the educational materials not readily available, but the entry barriers were just unrealistic for the masses, [especially for] the approximately 80% of Americans living paycheck to paycheck. So, we decided to do something about it and launched Stash in October 2015 with the pure mission of making investing and saving possible and attainable.
Make Your Money Work Better for You
See: 50 Businesses That Are Changing the World Today
At the risk of sounding self-serving, the most surprising part of the whole process has been the size of the actual problem we've set out to solve. Sure, we knew most of the investing platforms and vehicles in the U.S. typically catered to the wealthy, but when you layer on the fact that approximately 40% of Americans cannot afford an unexpected emergency expense of $400, it becomes clear the problem is beyond just availability of the tools, and is actually rooted in the lack of education and resources, perpetuating a cycle of bad financial habits.  
Like any startup founder, my biggest fear was whether the platform would generate massive traction. We knew from talking to people that there was a huge opportunity ahead of us, but whether or not we'd make it was something I hoped for but definitely wasn't sure of. It's been rewarding to see how Stash has impacted millions of lives in just three years since launch. We're constantly talking to customers to dissect the problem and how we can iterate on the product to help them even more. While we've accomplished a lot, we still have so much to do and so many more to help. Today, I am more optimistic about the future than ever, and look forward to tens of millions of people Stashing.
Find Out: Why You Need to Start Investing in Your 20s
He Learned the Value of Being Patient
As an entrepreneur, my natural inclination was to launch the product quickly and get it out into the market. What I swiftly learned is the value in having patience, and learning and testing before you actually code so you can launch with confidence and data behind you.
He Didn't Want His Company To Be Made Up of Only 'White Men in Suits'
Ed and I knew the day we launched Stash that we did not want our company to look like our previous companies. In no way would all of our employees be white men in suits. If we set out to launch a savings platform to help millions of Americans — of different ages, genders, races, etc. — it was imperative that we were representative of that population. Diversity and inclusion are huge requirements at Stash and are part of our hiring process and company culture.  
Make Your Money Work Better for You
My early experiences at EdgeTrade and Knight Capital proved the importance of encouraging a great culture at work and the importance of being able to think outside the box. Some of the best ideas come from freedom and creativity. Most importantly, however, putting the customer first is something that is so incredibly important, regardless of whether you're running a B2B or B2C business. It's one of the most important lessons I learned in my early career and mandated at Stash. You won't succeed without it.
Survey: What Americans Really Want Out of Their Job
His Wife Is His Biggest Cheerleader
I am definitely grateful for my wife. There's no way I would have had the courage to leave my job at Macquarie Security Group to take a bet and launch a startup without her by my side, encouraging me since day one.
He Strives for Success Daily — and Works To Ensure That Everything His Business Does Makes an Impact
It's hard to define success outright. A lot of it is, of course, finding product-market fit and seeing a strong customer growth trajectory, but I don't look at the world as black and white as that. Those factors don't mean you've crossed the finish line for good. You have to strive for success each day. At Stash, even with the big wins, we make it our mission to always try to do better for our clients. Our job, regardless of growth and revenue, is never done.
Read: These Company Mantras Are the Keys to Success
Make Your Money Work Better for You
While success is typically reflected in user growth and overall engagement, I think a big part of it is the impact you and your product have on your users and their lives. Success is just as much a measure of the difference you're making as it is the revenue you're generating.
Don't try to solve a problem that doesn't exist. With every new product or new business venture you launch, you should constantly ask yourself how you plan to be the "painkiller" to the "pain," whatever that "pain" you're solving for is. It's something we constantly asked ourselves from the prototype stage, to actually coding the product, to iterating today.
Keep reading to find out the surprising costs that come with starting a business.
More on Entrepreneurship
This interview has been edited and condensed.