Can't Work Until Full Retirement? Research Reveals 4 Social Security Reforms Would Be Massive Help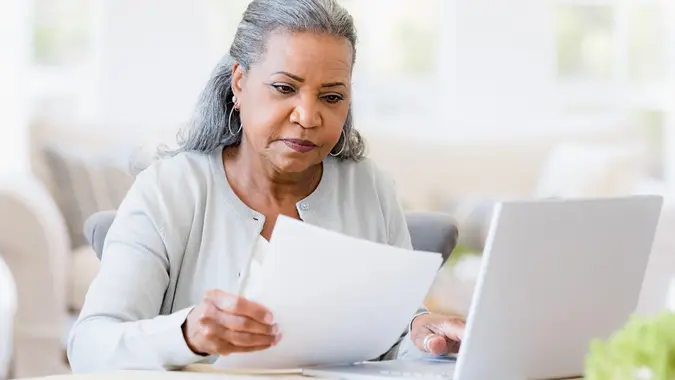 SDI Productions / iStock.com
The best way to maximize your Social Security retirement benefits is to wait as long as possible to apply for them — ideally until age 70, when you can get your highest possible monthly payment. Nearly three-quarters of non-retired Americans know this, according to the 2023 Schroders U.S. Retirement Survey. But at least 40% still plan to claim benefits between the ages of 62 and 65, when they haven't even reached full retirement age (67 for most non-retirees).
There are plenty of reasons for this. More than four in 10 respondents (44%) are afraid Social Security will run out of money — unlikely scenario, even as a major funding source is headed for depletion. A little more than one-third of respondents said they need the money, while a similar percentage said they wanted access to the money as soon as possible.
A separate analysis from the National Academy of Social Insurance (NASI) found that while older Americans are living longer and healthier lives now than in the past, more than 10 million are in physically demanding jobs that make it difficult to keep working to full retirement age or beyond. Many will have to retire early and claim Social Security early, meaning they could be sacrificing thousands of dollars a year in benefits.
This is a particular problem for workers of color, who are "far more likely than their White peers" to have physically challenging jobs, according to the NASI. Among workers 58 and older, just more than 40% of White older men had such jobs as of 2014. That compares to roughly half of older Black and Asian workers and more than 60% of older Latino workers.
Make Your Money Work Better for You
The NASI report, published in September 2023 by the Older Workers Retirement Security Task Force, explored the many challenges facing these "invisible" older workers and identified and assessed policy options to address the challenges. Some of the options require legislative action, but not all do.
Here are four Social Security reforms that could provide a boost to older Americans who can't work until full retirement age.
Raise the Social Security Minimum Benefit
The idea here is to bring the minimum benefit "into alignment" with both its original intent and with peer Organization for Economic Co-operation and Development nations while boosting financial security for "precarious" older workers, according to the NASI.
As CNBC reported, some lawmakers are already eyeing a change to the minimum benefit. One congressional proposal, the Social Security 2100 Act, would lift an estimated 5 million people out of poverty by raising the minimum benefit, according to U.S. Rep. John Larson (D-Conn.).
Create a Bridge Benefit
A bridge benefit would provide added income for certain workers and reduce the "lasting penalty" of lower monthly benefits, according to the NASI. It would start at age 62 — the earliest age you can claim Social Security — and last until the full retirement age of 67. Claimants would receive half the difference between what they would receive at full retirement age vs. age 62.
CNBC provided the following example: If someone is eligible for $1,000 a month in Social Security benefits at full retirement age, and a $700 reduced benefit at age 62, a bridge benefit would let them receive $850 at 62.
Revise the Social Security Earnings Test
If you receive Social Security benefits but still earn outside income by working, the Social Security Administration has an earnings test that reduces your benefits before you reach full retirement age.
Make Your Money Work Better for You
If you are under FRA for the entire year, the SSA deducts $1 from your benefit payment for every $2 you earn above the annual limit. The SSA counts your earnings only up to the month before you reach your FRA — not your earnings for the entire year. For 2023, the limit for recipients not reaching FRA is $21,240, but that will rise to $22,320 in 2024.
Changing the earnings test could reduce disincentives to work while simplifying the program's administrative processes, according to the NASI.
Let Workers Claim Partial Early Benefits
As the NASI noted, this proposal would "incentivize part-time work and reduce penalties at no cost to the program." It also would help certain beneficiaries make up for any lost income while also limiting the penalties for claiming before full retirement age.
More From GOBankingRates