I'm a Dietitian: These Are My 10 Favorite Grocery Deals at Target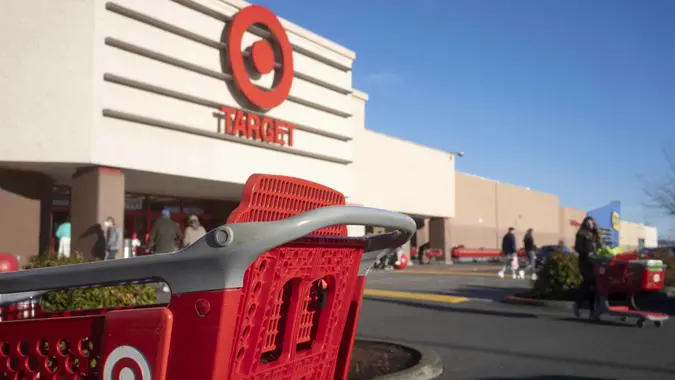 hapabapa / Getty Images
Eating healthy on a budget can be challenging, but dietitians know where to find deals on nutrient-dense foods.
Allison Tallman, MS, RD, registered dietitian and nutritionist, shared her favorite finds that make eating well affordable at Target. She scoured the aisles for bargains on items that can be grabbed for quick meals and snacks while on the go, and revealed that Target offers a variety of foods that provide convenience, portability and nutrition.
Here are Tallman's top 12 grocery deals at Target for healthy eating.
Nut Butter Packets
Tallman loves the on-the-go options like individual nut butter packets. "These individual packets are an excellent option for travel, work on-the-go, or even an easy option at your desk!" she said. Tallman recommends pairing them with fruit, crackers, or oatmeal for an energizing mini-meal. The portability and long shelf life are bonuses. 
Hummus Packs
"Individual hummus packets are small and great to keep in your break room or office fridge!" Tallman shared. She suggests dipping chopped veggies or crackers into the single-serve hummus cups for added flavor and healthy fats. Tossing hummus into wraps and salads boosts the nutrition factor as well.
Pre-Cut Fruit and Veggies
Purchasing pre-cut produce saves prep time while reducing waste, Tallman found. "Having fruit and veggies that are already cut up and ready to eat also makes you much more likely to reach for them," she said. She grabs favorites like melon cubes or cauliflower and broccoli florets that can be enjoyed on their own or added to meals.
Trail Mix and Nuts 
For an energizing snack, Tallman goes for trail mixes and nuts. "They are nutrient-dense snacks that provide healthy fats, protein, and fiber, as well as vitamins and minerals," she explained. She makes DIY combinations, or portions of store-bought mixes into grab-and-go containers. Trail mix provides a shelf-stable snack for her purse, car, or office drawer.
Make Your Money Work Better for You
Cheese and Jerky
"I love to buy pre-cut cheese and pair it with a jerky! This great, well-balanced snack will satisfy and give you good energy!" Tallman said. She looks for lower-sodium options and turkey jerky for a leaner protein choice. With crackers or fruit, these picks can even work for mini-meals when hunger strikes.
Frozen Fruit 
Tallman stocks up on frozen fruit, which she calls a time-saver. "If you have frozen fruit on hand, add it to a blender with liquid, nut butter, chia seeds, protein powder and any other ingredient of choice, and you have a well-balanced breakfast or snack!" she said. Frozen mangos, berries and pineapple help build quick, nourishing smoothies.
Frozen Quinoa or Rice
"One of my favorites- especially for when I know I won't be home for lunch or want a 5-minute dinner," Tallman said of frozen quinoa and rice. She makes grain bowls or stir-fries for easy meals with pre-cooked grains. They also work in salads or wrapped in collard greens or lettuce.
Individual Oatmeal Packs
For rushed mornings, Tallman keeps individual oatmeal cups on hand. "I recommend adding to your oatmeal to make a more balanced meal. A few topping options: chia seeds for fiber, fruit for added vitamins and minerals, nut butter for added protein," she suggested. The single-serve oats cook up in minutes.
Salad Kits
"Salad kits are great for an easy lunch or dinner!" Tallman said. She builds fuller meals by topping the pre-made salad mixes with extras like grilled chicken or chickpeas. They also work as veggie sides to complement heartier dishes. With so many flavors, the variety stays interesting.
Canned Tuna Packs
Tuna packs provide a convenient protein source while packing in Omega-3s. "Tuna packs are a great option for an on-the-go snack or lunch. They are also high in Omega-3s and come in various flavors to keep things fun," Tallman said. She pairs tuna with crackers, bread, veggies, or fruit for a well-rounded mini-meal.
Make Your Money Work Better for You
Eating healthfully on a budget takes insider knowledge. By sticking to Tallman's nutritious picks, Target shoppers can keep their kitchens stocked with convenient, affordable options for any occasion. Grab these dietitian-approved deals for good nutrition at great prices.
More From GOBankingRates