Even the Rich Get Scammed: Here's Why and How You Can Avoid Fraud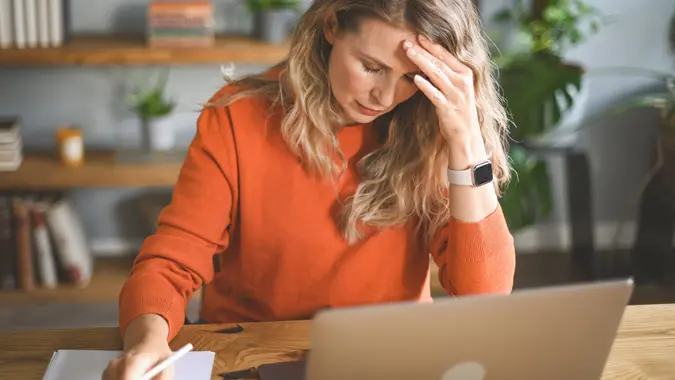 elenaleonova / iStock.com
Scams are an unfortunate reality in today's world, affecting individuals from all walks of life, including the wealthy. Contrary to popular belief, being affluent does not render one immune to being tricked.
Bernie Madoff orchestrated one of history's largest Ponzi schemes, defrauding numerous wealthy investors, celebrities and charitable organizations of billions. In the Fyre Festival fraud, Billy McFarland's promise of a luxurious music festival turned disastrous, with affluent attendees forced to stay in disaster relief tents, with no electricity or running water. Anna Sorokin, alias Anna Delvey, deceived associates into funding her extravagant lifestyle and businesses under the guise of a wealthy socialite, leading to her conviction for theft and grand larceny.
To shed light on this phenomenon of wealthy people being scammed, GOBankingRates gathered insights from experts in finance and cybersecurity. These experts reveal why the wealthy become victims of scams and offer invaluable takeaways for safeguarding your wealth and assets.
Why the Rich Get Scammed
Isla Sibanda, a cybersecurity specialist at Privacy Australia, offered the opinion that having money makes people overconfident. "Wealthy people generally have the perception that the authority they have owing to their knowledge and riches offers them protection against scams. They feel their monetary assets act as a shield."
Make Your Money Work Better for You
To protect yourself from this tendency, remember that your money makes you a target, and that makes you more susceptible to being scammed, not less.
Be Skeptical of Unsolicited Offers
If something feels too good to be true, it probably is.
Whether it's an offer to invest money, a request for donations or a business pitch that comes out of nowhere, it's smart to be cautious. Remember that legitimate organizations usually don't use pushy tactics or demand you make quick decisions.
Verify Contact Info
If you receive an unsolicited email, text or phone call from anyone saying they're from your bank, a retailer or tech support, always double check who they really are before communicating with them further. They might claim that you've been hacked, that you've made a large purchase or that you've won a contest. 
Always contact the organization directly using official contact information, not the information the possible scammer gives you. Don't click on any links in the emails or texts they send you. If you're on the phone with them, hang up and look up the right phone number to call.
Make Your Money Work Better for You
Slow Down
Brenna Baucum, founder of Collective Wealth Planning said, "Whenever faced with a large financial decision, do whatever you can to slow the process down. If the opportunity is legitimate, it can wait for a couple of days while you consider it from all angles and consult others."
Get a Second — or Third! — Opinion
Everyone can use a little solid advice to avoid falling for scams, even the wealthy. This is where your trusted circle comes into play. You can turn to a knowledgeable friend or family member and ask, "What do you think about this?" These reliable individuals are like your protective armor, shielding you from danger. They can offer insights on whether that seemingly fantastic deal is genuinely worth it or is just a scheme.
"One of the best parts of having a boutique practice is that I know all of my clients personally," said Baucum. "I know their preferences, perspectives and unique priorities. This allows me to identify red flags quickly. The same may be true of your partner, kids or best friend. Consult those individuals you trust before making a big financial decision."
Educate Yourself
It's important to remain well-informed about prevalent scams and the tactics deceptive people employ. If you proactively educate yourself about scams targeting the affluent, you can identify potential threats quickly and respond appropriately.
Make Your Money Work Better for You
"Countless scams are happening at any given time, with new ones popping up daily," said Baucum. "Signing up for AARP's Watchdog alerts updates you on the latest popular scams. Not sure if the call or email you received is legitimate? AARP's Fraud Watch Network has a staffed helpline to answer your questions about preventing financial exploitation. The weekly AARP podcast, 'The Perfect Scam,' tells the stories of people who find themselves the target of a scam. Listening to their stories can help you understand how scammers operate and what you can do to protect yourself."
More From GOBankingRates