Think You Have To Move To Afford Retirement? These Financial Steps Can Help You Stay Where You Are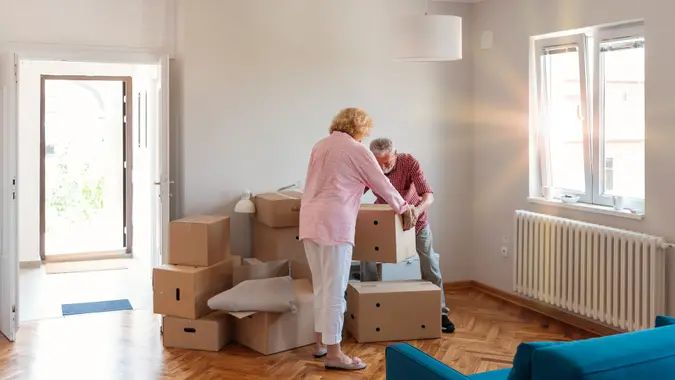 RealPeopleGroup / Getty Images
Retirement should be an exciting time in your life, but it can very easily become stressful, complicated and — unsurprisingly — expensive.
As they approach retirement, many people worry about their ability to continue to afford their current lifestyle. In some cases, relocating to somewhere cheaper might seem like the only feasible option.
This concern isn't uncommon. In fact, a recent GOBankingRates survey found that approximately 42.82% of people think that they'll have to move — or they actually did move — just to afford their retirement.
But having to move comes with its own challenges. Not only does moving cost money, but it can also be emotionally draining, especially if you love where you are and don't want to relocate.
Fortunately, even if it seems like you'll have to move when you retire, there are ways to avoid this. Here are the top financial steps you can take starting now to afford to live where you are now without having to relocate.
Budget Your Retirement Lifestyle
Planning out your retirement is one of the best financial moves you can make, and it starts with creating a budget of what life after retirement will cost.
Of course, retiring comes with many hypotheticals, such as healthcare costs and the need for long-term care. But still, having an estimate of these expenses can go a long way to ensuring you can afford to stay where you are.
Make Your Money Work Better for You
"I think many nearing retirement don't have a clue how much retirement will actually cost them," said Charlie Massimo, senior vice president and financial advisor with Wealth Enhancement Group.
"Once they put pen to paper and complete the difficult task of doing a budget, many realize that some sacrifices have to be made. One of the major ones is moving to a more affordable location."
If you don't want to move and need help budgeting for retirement, Massimo suggested speaking with a financial advisor. A professional can help you figure out the total cost of retirement.
Once you've got a budget, you can start looking for other ways to stay where you are — like contributing to your investment portfolio or creating another income stream to get you through your retirement years.
Start Downsizing
Many people downsize later in life. Doing this could cut down on your expenses, while ensuring you can live comfortably where you are.
"Staying where you are doesn't necessarily mean staying in the same home. Making the decision to downsize your house and buy a more affordable home in the same area can reduce housing costs and free up some of the equity you have built up in your house for your retirement portfolio," said Robert Rickey, CFP, CPC, and chief growth officer at StraightLine.
"If you know that you are going to want to stay in your area, making this decision to downsize a few years before retirement could allow you to also save the difference and further build your retirement portfolio," added Rickey. "An added benefit of this approach is that you can get a real sense of your actual costs before you retire."
Make Your Money Work Better for You
Learn To Live on Less
Even if you have additional sources of income, there's a good chance you'll still be bringing in less money every month. By getting used to living on less money, you can make retirement more affordable.
"Everyone must learn to live on less in order to save and invest more for their future, including their retirement," said Mark Charnet, CFF, founder and CEO of American Prosperity Group in Sparta, NJ.
"There are no other ways to accomplish this goal, with the exception of a huge inheritance that might come your way."
Start Saving Early
Natalie Warb, renowned financial expert at CouponBirds, said that the financial assets you've saved for retirement may not be enough to main the desired standard of living.
"Factors such as increasing living costs, rising medical expenses, unexpected family emergencies, and market volatility can necessitate additional retirement savings, investments, or alternative sources of income to mitigate these risks effectively," said Warb.
One way to mitigate expenses during retirement — and to afford your current home or neighborhood — is to focus on saving.
"Initiate savings early to capitalize on tax advantages and benefit from compounding interest," Warb said. "As a general guideline, aim to save an amount equal to your annual salary by the age of 30, three times your annual salary by 40, six times your annual salary by 50, and eight times your annual salary by 60."
As you get older and your income increases, you can also increase your savings contributions.
Make Your Money Work Better for You
"Save early and often," added Joe Buhrmann, CFP and senior financial planning consultant at eMoney Advisor.
"One of the best things an individual can do is commit to saving for their long-term goals such as retirement. Make time your friend and not your enemy. Small amounts, invested appropriately over time can dramatically improve your situation."
Review and Adjust Your Investment Portfolio
Your investments can go a long way toward ensuring you live comfortably during retirement, but if you haven't reviewed them for a while, now's a good time to do so. After all, your goals, risk tolerance, and the cost of living might have changed.
"Diversify real estate and investment portfolios to counteract the impact of inflation," suggested Warb. "Over the past decade (2012-2022), the average inflation rate in the US has hovered around 2.7%, according to The Bureau of Labor Statistics (BLS). Explore low-risk investment options such as certificates of deposit, government bonds, and high-yield savings accounts, which can potentially generate annual returns ranging from 1% to 6%."
You can also use an online financial or investment advisor to help you understand your current investments and any changes you might need to make.
"Many financial sites and advisors offer the ability to aggregate and connect various financial accounts including investment, banking, loans, and credit card accounts so you can see your finances from a 360-degree perspective," said Buhrmann.
"Many of these also build budgets (or even auto-budget) and provide insights to track your spending in various categories… Paired with financial planning software, you can see the impacts to your plan from the choices you make."
Delay Retirement
Sometimes, the best thing you can do is simply delay retirement by a couple of years. Just be sure to assess your own goals, lifestyle, health, and related factors when determining if this is the right decision for you.
Make Your Money Work Better for You
"Working an extra year or two can delay the drawdown of retirement assets, which can significantly reduce the pressure on your retirement budget," said Rickey. "That doesn't necessarily have to be full-time work; it could be part-time work doing something you love doing."
Prepare for Unexpected Costs
Even with a solid retirement plan, budget, and investment strategy, things happen that you might not expect. That's why it's important to be prepared for unexpected or emergency situations.
"Just because you're retired doesn't mean that every day is sunny; there will be rainy days," said Buhrmann. "It's still prudent to have funds set aside to cover everyday emergencies such as major car or home repairs."
Try to account for healthcare costs as well, as these can put a major dent in your finances.
"According to Fidelity, a 65-year-old retiring this year can expect to spend an average of $157,500 in health care and medical expenses throughout retirement (and that's not including long-term care costs). For a couple, you can double that figure," said Buhrmann.
"Funding a health savings account (HSA) during your working years, investing your contributions, and using the proceeds for retirement health care expenses can be a smart move. HSAs offer a trifecta of benefits: contributions are tax-deductible, funds grow tax-deferred, and withdrawals for qualified expenses are tax-free."
Plan Carefully
Making a plan goes beyond creating your retirement budget. It also means accounting for things like inflation and other changes to the economy that could affect your retirement savings or cost of living.
Make Your Money Work Better for You
"In my experience, if someone wants to stay put in retirement and they plan properly, then they can do it. On the other hand, people who failed to plan and anticipate the extreme costs of inflation, taxation, and cost of living in their home state and current location must move to a less costly locale because they have no other choices," said Charnet. "Those who are forced to move only have to because they refused to plan properly in advance."
Buhrmann added, "Consider working with a professional to help you assess your current situation, develop strategies to help you meet your goals and aspirations, monitor and review your situation, and ensure you're accounting for at least some of life's what-ifs. Many people don't plan to fail, but sadly, many fail to plan."
More From GOBankingRates