How To Make a Savings Plan: 6 Steps You Can Take
6 min Read
Brought to you by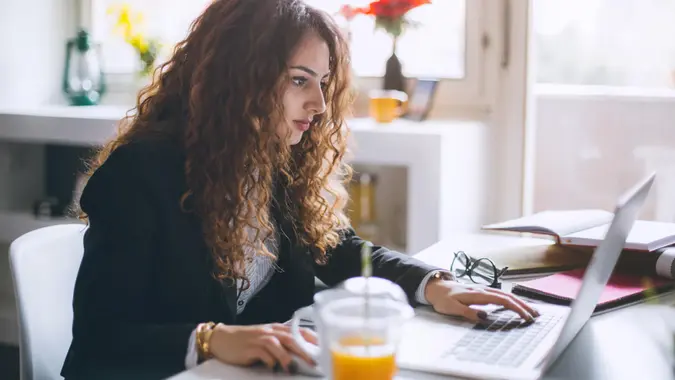 Pekic / iStock.com
Saving money is one of the most important financial habits to get into, and it should start at an early age and continue throughout your life. Unfortunately, many Americans fall short when it comes to adequate savings plans.
According to YouGov data, more than one in 10 American adults (12%) don't have any savings at all, while a similar percentage (13%) have less than $100 in their savings accounts. More than half (53%) have less than $5,000 in savings.
Those numbers lag well behind the savings goals recommended by most financial experts. For example, Fidelity Investments recommends the following savings guidelines, broken down by age:
Age 30: You should have the equivalent of your annual salary saved up, so that if you earn $50,000 a year, you should have at least $50,000 in savings.
Age 40: Three times your annual salary
Age 50: Six times your annual salary
Age 60: Eight times your annual salary
Age 67: 10 times your annual salary
Savings plans should begin with establishing an emergency fund to cover your bills in the event of an unexpected event such as a sudden job loss. As a general rule, you should have enough saved up to cover three to six months of expenses, though the exact amount will vary depending on factors such as income and family size.
You should also establish separate savings accounts for other categories, such as retirement, major purchases (e.g. a down payment on a home), and your kids' education, if applicable.
In terms of how much to set aside in total savings, many financial experts recommend the 50/30/20 rule. This means you will put half your income toward necessities such as housing, utilities and food. Thirty percent will go toward discretionary items, and the remaining 20% should go toward savings.
Make Your Money Work Better for You
The important thing is to get started on a savings plan and stick with it. Following are six steps you can take to make a savings plan.
1. Establish a Savings Goal
The first step to making a savings plan is determining why you are saving money. If you are just starting out as an adult in the working world, chances are your first priority will be on setting up an emergency fund. At the same time, it's never too early to begin saving for retirement.
At this stage of the process, you need to come up with a dollar figure on how much you want to save each month for each account, and budget accordingly. The term "budget" is key here, because you want your savings to be a regular part of your monthly budget — right up there with your rent payment, utility bills, and living expenses.
You can even break your savings goal down into weekly increments. The Consumer Financial Protection Bureau recommends figuring out how much money you'll need to save for your goal (such as an emergency fund) and then dividing that amount by the number of weeks you have to save it. That's your weekly savings target.
2. Choose a Checking Account That Pays You Back
Once you have established a savings goal, the next step is finding a checking account that helps you build wealth. A good option here is the Discover® Cashback Debit account, which lets you earn 1% cash back on up to $3,000 in debit card purchases each month. (See website for details.)
The Discover Cashback Debit account charges no monthly fees and offers plenty of other perks, including the following:
Access to more than 60,000 fee-free ATMs.
Mobile banking through the Discover app, which lets you handle a variety of transactions on your smartphone.
Money transfers through Zelle.
FDIC insurance up to the maximum allowed by law.
Direct deposit of paychecks.
Free Early Pay service that gives you access to funds from qualifying Automated Clearing House (ACH) direct deposits up to two days early.
Overdraft protection.
Make Your Money Work Better for You
Putting your money into a cashback, no-fee checking account means you have more left over at the end of each month to put toward your savings plan.
3. Make Room for Savings by Cutting Other Expenses
Setting aside money for savings means making sacrifices in other areas — especially if you are already operating on a tight budget. Certain expenses are baked in and have little if any wiggle room, such as rent payments, student loan payments and car payments. Utility bills tend to fall under the same category, though you can always reduce those bills by cutting down on the amount of electricity and water you use each month.
But some expenses are easy to cut back on, such as dining out, apparel purchases, vacations, entertainment — even that $5 cappuccino you buy every weekday on your way to work. A good habit to get into is to "pay" your savings account first before spending money on discretionary items.
4. Automate Your Savings
Now that you've set up a checking account that pays you back each month, you should also set up a savings account — preferably a high-yield account that pays a top interest rate. After that, set up automatic deposits each month, based on the savings goals you established earlier.
Automated savings has a dual benefit. First, it ensures you are putting money toward savings every month. Second, you don't have to think about it because the bank handles all the work.
5. Take Advantage of Employer-Sponsored Savings Plans
This is especially important when it comes to retirement savings. If your employer offers a 401(k) plan, you should sign up for it and start contributing immediately. The contributions are automatically deducted from your earnings, which means you don't have to make any special effort to start building a nest egg. And because all contributions are pretax, they lower your taxable income.
Make Your Money Work Better for You
A 401(k) is especially beneficial if your employer matches your contribution. In this case, you are essentially getting free money toward your retirement savings. Try to contribute the maximum allowed by law to take full advantage of employer contributions.
6. Put Financial Windfalls Toward Savings
These might include tax refunds, work bonuses, inheritances, contest winnings, salary increases and other funds you receive that are not part of your current income. Because these funds amount to extra money, you can put them toward your savings without having to cut into your regular budget.
More From GOBankingRates