How To Protect Your Paycheck From Fraud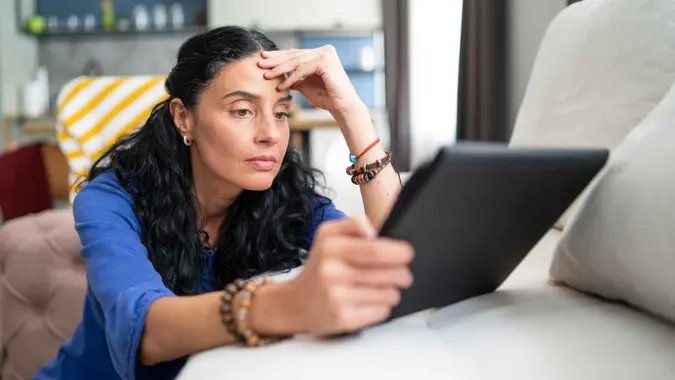 valentinrussanov / Getty Images
Scams that target your hard-earned money are more rampant than you might think. A recent GOBankingRates survey found that 39% of Americans have been the victim of identity theft, financial scams or financial fraud, and an additional 6% believe they could have been a victim but aren't sure.
As scammers become more sophisticated, it's more important than ever to take any steps that you can to protect your money from fraud. Here are some of the best ways to do it.
Pay With Credit Cards Whenever Possible
Regina Grogan, a cybersecurity vulnerability researcher, recommends using a credit card to pay for purchases, especially if it's from a person or vendor you're unfamiliar with.
"Credit has more protections," she said. "[With a] debit [card], it's harder to get your money back. Do not use ACH, Cash App, Western Union, crypto or wire [transers]. These are harder to get back [in the event of fraud]."
If you are making your purchases in person rather than online, opt for the "tap to pay" option, such as a contactless pay option or your smartphone's mobile wallet.
Make Your Money Work Better for You
"Your mobile device has digital wallet apps that can help keep your account data protected while also making purchases both easier and safer," said Cody Sparks, director of retail banking at UMB Bank. "'Tap to pay' options are much more difficult for fraudsters to tamper with or add skimmers to."
Use Unique Passwords and Enable Two-Factor Authentication
Keep your bank accounts and credit card accounts secure by using unique passwords for all of your logins and enabling two-factor authentication whenever possible.
"If you don't, it's relatively easy for hackers to break into your accounts and spend your hard-earned cash," said Rebecca Morris, founder of the online magazine Safe Not Scammed. "If you struggle to come up with or remember strong passwords, you can use a password manager to do it for you."
Sign Up for Alerts From Your Bank
"You can sign up for alerts from your bank that notify you via text or email when certain transactions are made on your accounts," Morris said. "For example, you can set up an alert for an online purchase, international transaction or a transaction over a certain limit. This can help you catch fraud early, making it easier to recover your funds."
Make Your Money Work Better for You
Install an Ad Blocker
Some of the ads you see online are set up by scammers, but it's hard to tell just by looking at them. It's best to install an ad blocker so you aren't even tempted to click on these "ads."
"Scammers purchase malicious ads to trick you into downloading malware," Morris said. "This malware gives the scammers access to your online accounts, allowing them to steal your money. Installing an ad blocker prevents ads from loading, meaning you won't see or be able to click on any malicious ads and won't have to worry about falling for this scam. Even the FBI recommends ad blockers."
Regularly Monitor Your Bank Accounts, Credit Card Statements and Credit Report
"Stay vigilant by reviewing your financial transactions frequently," said Harman Singh, director at Cyphere, a cybersecurity services company. "Report any suspicious or unauthorized activity to your bank or credit card company immediately."
Be Wary of Any Unsolicited Contact From Your Bank or Credit Card Issuer
If you receive a phone call, text or email claiming to be from one of your financial institutions, stay alert for signs that it could actually be a scammer.
Make Your Money Work Better for You
"Financial institutions will not typically ask for sensitive information, such as your passwords or Social Security number, via email or phone calls," Singh said. "Be wary of any communications that seem unusual or fishy, and never share personal details unless you initiate the contact."
If you receive an email, "double-check the sender's email address, avoid clicking on suspicious links and verify the legitimacy of any requests with the organization directly," Singh added.
Keep Your Devices and Software Up-to-Date
"Regularly update your operating system, antivirus software and applications to protect against the latest security threats," Singh said. "Enable automatic updates whenever possible."
Use Secure Networks
Avoid logging into your bank or credit card accounts when connected to public Wi-Fi networks, Singh said.
"Whenever possible, use a secure and private network, such as a virtual private network (VPN), to encrypt your data," he added.
Survey methodology: GOBankingRates surveyed 1,141 Americans ages 18 and older from across the country between Aug. 2 and Aug. 6, 2023, asking 20 different questions: (1) Have you ever been the victim of identity theft, a financial scam or financial fraud?; (2) If you have been a victim of identity theft, which type of theft did you experience?; (3) If you have been a victim of a financial scam, which type of scam did you experience? (Select all that apply.); (4) If you have been a victim of financial fraud, what type of fraud did you experience? (Select all that apply.); (5) Have you ever been scammed making any of the following purchases?; (6) How much money have you lost due to identity theft, financial scams and/or financial fraud?; (7) If you lost money due to identity theft, a financial scam or financial fraud, were you reimbursed for it?; (8) What is the most common way you are contacted by scammers?; (9) How often do you change your bank account passwords?; (10) How do you keep your money safe while traveling? (Select all that apply.); (11) Where do you think is the safest place to keep your money?; (12) How much physical cash do you keep at home?; (13) If you have been scammed out of money when shopping online, how much did you lose?; (14) If you are retired, have you ever experienced these common retirement scams? (Select all that apply.); (15) Have you, or any of your family members, experienced a Social Security scam?; (16) If you have lost money from a tax scam, how much did you lose?; (17) Have you ever experienced a student loan forgiveness scam?; (18) What type of impact do you think identity theft has on its victims?; (19) What are some ways you protect yourself from identity theft today? (Select all that apply.); and (20) Do you have antivirus software installed on your computer? GOBankingRates used PureSpectrum's survey platform to conduct the poll.
Make Your Money Work Better for You
More From GOBankingRates