How To Set up Cash App on Your Mobile Phone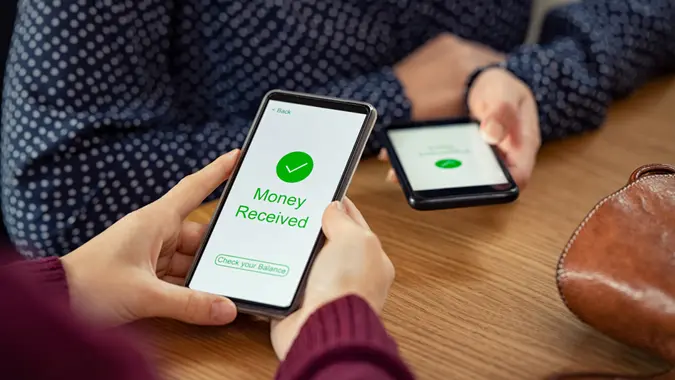 Ridofranz / Getty Images/iStockphoto
Cash App is a mobile payment service where users can send money to friends and family or pay vendors and merchants.
What Does Cash App Do?
With Cash App, you have many tools in your grasp to help you not only save money but also invest it. Stay connected with your friends or family, as well, in case you ever need to send cash their way. Here are some of the best features that Cash App offers:
Buy bitcoin
Buy or sell stocks
Earn rewards
Send and receive funds instantly
Sign up with your existing bank card
Receive payments via direct deposit
Add recurring cash into your own account
You can also get a free debit card to use with Cash App.
How Does Cash App Work
Cash App is user-friendly. To start using it, you will have to download the app from Google Play or the App Store, register an account by following the prompts, and link your bank or debit card by entering the necessary details. To make transactions, enter the desired amount and select "Pay" or "Request."
You can transfer funds to any Cash App user, as long as you know their phone number, email address or $Cashtag. A $Cashtag is the unique Cash App username each person creates when setting up an account. You can add funds to your Cash App account using a linked bank account or a Visa, MasterCard, American Express or Discover debit card.
Make Your Money Work Better for You
How To Sign Up for an Account
Follow these step-by-step instructions to sign up for Cash App on your Android or iOS smartphone and send your first payment.
How To Sign Up

Download Cash App to your smartphone.
If this is your first time using the app, you will be required to enter a phone number or email login ID. Choose how you prefer to receive verification codes from Cash App. You will then be sent a code to verify your account.
Verify your account by entering the code that was sent to you.
After verification, choose whether to add a bank account immediately or skip it and do it later. To add a bank, you will need to enter your debit card number and name as it appears on the card.
Choose a $Cashtag, which is your unique identifier in Cash App — it can be used to get paid by someone. A $Cashtag must include at least one letter and a maximum of 20 characters.
Once you sign in to your Cash App, you can manage your account, view transaction history and send payments.
When you first open a Cash App account, it will be a "restricted account." This account has all features and functionality, but you cannot make a payment to another Cash App customer. With a restricted account you may link an external, U.S.-issued bank account to make a payment to another Cash App customer and you may transfer money from your Cash App balance to your bank.
If you have a restricted account and you attempt to make a payment to another Cash App customer, you will be given the option of upgrading your to an "unrestricted account." To upgrade, you will need to provide certain personal information so that Cash App can verify your identity.
Make Your Money Work Better for You
How To Use Cash App
Before you make payments using your app, you need to have already set up a debit card or other type of funding source. To load money on Cash App, tap the Banking tab in your app and input how much cash you'd like to add from your linked bank account.
To send a payment, follow these steps:
Open Cash App.
Enter the amount.
Select "Pay."
Enter an email address, phone number or $Cashtag.
Enter what the payment is for.
Select "Pay."
Ensure you get everything right, as Cash App to Cash App payments are instant and usually can't be canceled.
Can You Use Cash App On Your Computer?
Cash App works both from a computer and the mobile app. Your account is accessible wherever you log in, so sending money online from a computer is the same as sending it from your phone. However, most people prefer using the app on a phone.
To make a payment on Cash App from your computer, click "New" at the bottom of the screen to open a new window. Enter an amount and write out your recipient's email address, phone number or $Cashtag.
Use the "Pay" button to instantly transfer the money into their Cash App account. If you are requesting payment, use the "Request" button to ask the other person to send you a certain amount of money.
Do You Need a Bank Account for Cash App?
The Cash App sign-up process requires you to add a bank using your debit card. However, this is only for verification purposes, as you can receive money directly to your app and withdraw it at an ATM even if the bank account you used at sign-up is no longer in use. You don't need a bank account to receive funds via Cash App.
Make Your Money Work Better for You
What Are Cash App's Limits for Transferring and Receiving Money?
Cash App has a transfer limit for how much you can send and how much you can receive. Users are allowed to send up to $250 within any seven-day period and receive up to $1,000 within any 30-day period.
To enjoy Cash App without transfer limits, all you need to do is verify your identity using your full name, date of birth and the last four digits of your Social Security number.
Good To Know

Once you place the order for your Cash Card, you will have to wait 10 business days for your card to arrive. You also need to be 18 or over to order a Cash Card.
How To Use the Cash App Visa Card
The Cash App Cash Card is a Visa debit card that allows you to use Cash App balance to make purchases at retailers that accept Visa and to get your money out of an ATM.
Instant payments are a prerequisite for a hassle-free life, as you can get on top of a money situation whenever it arises. If you're not yet on board with Cash App, there is so much you're missing out on.
Information is accurate as of April 14, 2023.
The article above was refined via automated technology and then fine-tuned and verified for accuracy by a member of our editorial team.
Editorial Note: This content is not provided by any entity covered in this article. Any opinions, analyses, reviews, ratings or recommendations expressed in this article are those of the author alone and have not been reviewed, approved or otherwise endorsed by any entity named in this article.
Make Your Money Work Better for You