I Lost $4,000 to a Financial Scam: Here's How I Recovered the Full Amount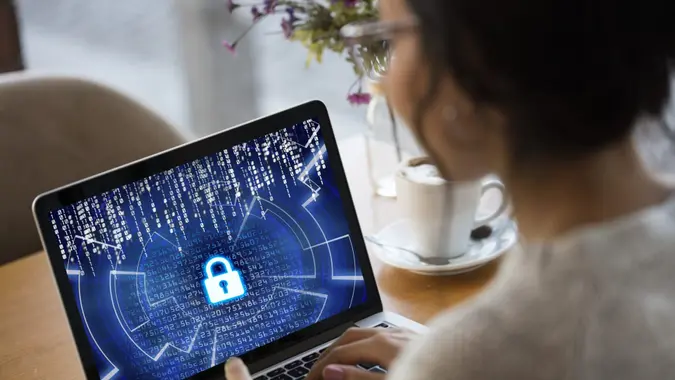 guvendemir / Getty Images/iStockphoto
Americans who lose money to scams are finding interesting ways to get their hard-earned dollars back. 
In August 2023, GOBankingRates polled 1,141 Americans about whether they were reimbursed after losing money to a financial scam. Of respondents who experienced a scam and lost money because of it, 45% have been able to get it back in full.
Sometimes scam victims are able to get their money back simply by filing a claim with their bank or payment service — but other times it's not that easy. In the case you are about to read, getting money back from a fraudster meant thinking like a fraudster and beating them at their own game.
GOBankingRates spoke to Destiny Khongraj, who shared a story of how her boyfriend was scammed for sneakers on Instagram, and how her decision to go down a calculated social media rabbit hole helped him get the full amount back.
Scammed Buying Sneakers
During the "Sneaker Hype" of 2021, Khongraj's boyfriend and his friend were persuaded into purchasing Nike Dunks in bulk to resell for a higher price. 
They found an Instagram page that looked legitimate to everyone, including Khongraj. The owner of the page had a decent amount of followers, lots of "customer reviews" and a number of likes per post that made sense for his following. He was seemingly selling a large amount of sneakers, including the Nike Dunks, for an insane deal.
Make Your Money Work Better for You
"I had a bad feeling, but he [my boyfriend] went through with the purchase via Cash App," Khongraj told us.
With his friend, Khongraj's boyfriend split a total of a little over $4,000 together, so each was scammed out of $2,000.
Playing Along in the Scheme
After Khongraj's boyfriend and his friend realized they had been scammed and would not receive the sneakers or money back, they tried to report it to his bank. Khongraj said the bank was no help.
Their next move was to start playing along with the scheme. They asked the Instagram scammer to make sure he got the payment by clicking a link. For this particular link, Khongraj said they used an IP tracking website that generates it so they could determine the scammer's location. 
Those familiar with fraud know better than to click any unusual links. In fact, 57% of respondents surveyed by GOBankingRates said they avoid these types of links to protect themselves from identity theft. 
The Instagram scammer was not that bright and fell for the link, which showed he was in Raleigh, North Carolina. 
Khongraj's boyfriend had been arguing with the scammer asking for information on the sneaker shipment. After being ignored multiple times, he let him know that they knew he was in Raleigh. This didn't scare the scammer enough.
So, Khongraj and her boyfriend found his personal Instagram account and were able to narrow down his location using a video posted on his Instagram Story highlight reel. Sharing this bit of information with the scammer scared him enough to block Khongraj's boyfriend on social media — but not enough to get his money back. After days of outreach, Khongraj's boyfriend gave up.
Make Your Money Work Better for You
"I was angry and decided to take matters into my own hands," said Khongraj.
Then one night at 2 a.m., after thinking through every possible scenario, she put her plan in motion.
Taking Drastic Measures
Khongraj knew the scammer's $Cashtag on Cash App. She also knew one of his emails and a few of his Instagram usernames. She started by attempting to log into Facebook with one of the scammer's emails and trying to connect a phone number. 
After clicking the forgot password option, the last four digits of a phone number popped up. It just so happened that these digits matched the phone number of his "friend" who had apparently worked with the scammer and assured Khongraj and her boyfriend that he was a great person to work with.
Since the phone number matched, Khongraj searched for it in Cash App. "A weird $Cashtag popped up under a username we had never heard of. I felt like I was getting somewhere."
Khongraj searched the same exact Cash App username on Instagram and found the profile of an older woman who sold jewelry. In the woman's Instagram Story highlights, Khongraj found her directions for purchasing jewelry. These directions included the same $Cashtag username. This confirmed it was the same woman.
From here, Khongraj searched for the woman's name on Facebook and found a public profile. After skimming her friends list for anyone with the same last name, she found four other profiles. Khongraj carefully reviewed the contenders and determined the scammer could be this woman's grandson.
Make Your Money Work Better for You
Big Risk, Bigger Reward
Did Khongraj know with 100% certainty that the scammer was this woman's grandson? Maybe not quite 100%, but she listened to her gut feeling — which told her she was right. 
The next morning, Khongraj called her boyfriend to share her theory. They decided to send the woman a message letting her know what was going on in hopes that it was really her grandson who scammed Khongraj's boyfriend. The scammer was also about to get a taste of his own medicine.
Khongraj and her boyfriend texted him from a different phone number with every detail they had at this point. The city the scammer lived in, his exit to work, the street he lived on, who his grandmother was, and his full name, which Khongraj found through Facebook. In their message to him, they demanded the full amount of money — $4,000 — reimbursed by the end of the day. Otherwise, they would tell his grandmother and get the police involved.
After sending the message, Khongraj said the suspense killed them because they didn't know if this theory was true. However, 30 minutes later — they were proven right.
"[The scammer] begged us not to involve the police and promised to send the full amount of money back by EOD," said Khongraj. "After a few different payments, we had the full amount back by the end of the day."
What Should You Do If You're Scammed? 
Many people who experience a scam or are victims of a scam cannot afford to lose big amounts of money. For some people, even $20 is a lot to lose, let alone $4,000. And obviously, not everyone has enough social media savvy to track down their scammer on their own.
Make Your Money Work Better for You
"I would still always recommend contacting your bank first and attempting to file a report," said Khongraj.
If you sent money through a money transfer app, the FTC also recommends reporting this fraudulent transaction to the company behind the app. Ask them to reverse the payment. Those who have the app linked to their credit or debit card can report the fraud to their credit card company or bank and ask them to reverse the charge.
More From GOBankingRates