8 In-Demand Jobs for Retirees and Seniors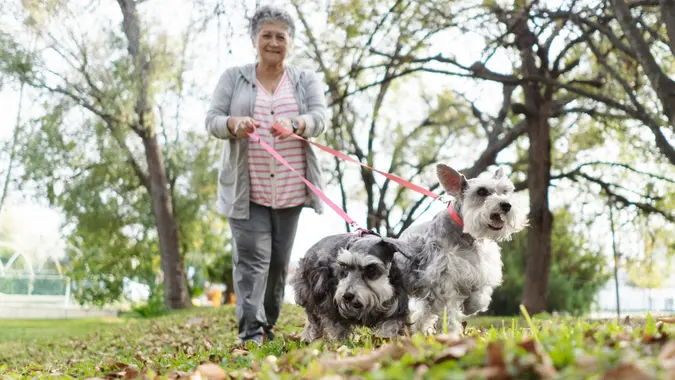 aldomurillo / iStock.com
Monthly Social Security checks only go so far, so if you're looking for extra income, there are plenty of in-demand part- or full-time opportunities for retirees and seniors.
The presence of older adults in the workforce has steadily increased in recent years. A study conducted by Paychex, a payroll services company, revealed that approximately one in six retired Americans is contemplating re-entering the workforce. According to the Bureau of Labor Statistics (BLS), the workforce participation rate for adults aged 65 to 74 was 26.6% in 2022 and is projected to rise to 29.9% by 2032.
For individuals contemplating a return to work, here are eight high-demand employment options for retirees and seniors:
Substitute Teacher or Teacher Assistant
If teaching has always been your passion, a career in education may be ideal. BLS data indicated the average annual wage for substitute teachers in 2022 was $42,680, or $20.52 per hour, while teacher's assistants earned an annual income of $30,920.
Real Estate Professional
Assisting individuals in buying or selling homes can yield substantial income, with real estate agents earning approximately $49,980 annually and brokers earning $62,190 per year, according to BLS data. Real estate professionals typically earn commissions from sales, and are often considered independent contractors, providing opportunities for a comfortable living.
Home Health or Personal Care Aide
As a home health or personal care aide, you can earn $30,180 annually, as reported by the BLS. Job outlook for home health aides is highly favorable, with a projected 22% growth from 2022 to 2032. Typically, a high school diploma or equivalent is the minimum education requirement, and short-term on-the-job training is often provided.
Make Your Money Work Better for You
Mediator
Legal industry experience can lead to a career as a mediator, assisting disputing parties in resolving conflicts outside of the courtroom. In May 2022, the median pay for mediators was $64,030 per year, and employment in this field is expected to grow 5% from 2022 to 2032, surpassing the average growth rate for all occupations, according to the BLS.
Dog Walker or Pet Sitter
If you have a passion for animals, consider becoming a dog walker or pet sitter. Animal care and service workers earn an annual income of $29,530, according to BLS data, and employment in this field is projected to increase by 16% from 2022 to 2032. The demand for dog walkers and pet sitters is rising as more individuals return to the office, with an estimated median pay of $18 per hour on Rover.com, per Glassdoor.
Walmart Greeter
For those who enjoy interacting with people, a position as a Walmart greeter is an option. Greeters welcome shoppers at store entrances and check customers' receipts as they exit. According to Indeed, the average wage for a Walmart greeter is $12.89 per hour. Walmart is one of the largest employers in the United States, making job opportunities readily available.
National Park Guide
If you possess knowledge about a particular area or attraction, consider working as a tour guide at national parks and recreational areas. Senior individuals are often hired as guides to provide information and ensure visitor safety. Some guides lead tour groups or assist with maintenance. While specific job duties vary, the average annual wage for this role is $32,200, as reported by the BLS.
Make Your Money Work Better for You
Library Assistant
Libraries frequently hire assistants to help visitors, organize books and provide information on library resources. According to the BLS, library assistants in small libraries typically handle a wide range of tasks, while those in larger libraries often have more specialized roles, such as user or technical services. As of May 2022, the median hourly wage for library assistants was $14.98.
More From GOBankingRates