Inflation in 2023 Is Coming Down — Here's Why Your Grocery Bill Isn't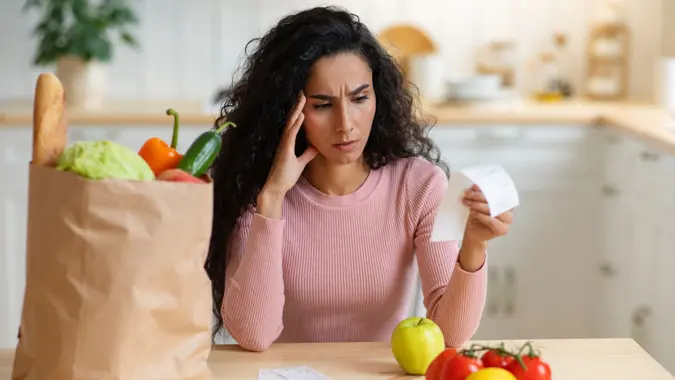 Prostock-Studio / Getty Images/iStockphoto
Compared to the panicked headlines of 2022, when inflation seemed to be a runaway train the Federal Reserve was scrambling to stop, the latest news has brought hints of cautious optimism and relief. In March, the consumer price index rose just 5%, the lowest 12-month increase since May 2021 and the ninth straight month of declining annual inflation growth. As for prices for the food we buy at the grocery store, the CPI saw its first decline since September 2020, with a 0.3% dip month-over-month.
Amid all this hopeful news, though, our shopping experiences seem to be at odds with the headlines. The eye-popping prices we've seen on grocery store shelves don't look that much different. Only now, the eye popping has turned to head shaking.
"Consumers have become more price sensitive," said Sofia Baig, an economist with Morning Consult, which regularly tracks consumers' "sticker shock" responses to rising prices. 
That has increasingly become true across income levels. According to a recent Morning Consult report, wealthier consumers have shown the highest increase in price sensitivity, narrowing the gap with low- and middle-income earners who walk away from purchases. "Income earners at all levels are starting to feel the pain," Baig said. 
Lower, but Not Low 
With people wondering why prices aren't falling along with the rate of inflation, Baig points out that it's important to look at the monthly inflation numbers within a longer-term context. "Even though we're decelerating, inflation is still 8% year over year, which is extremely high, and that will affect prices," Baig said. 
Make Your Money Work Better for You
What's more, she points out that grocery prices are a more complicated picture than just the wholesale cost of goods. "Labor and transportation costs are still quite high right now and those things feed into grocery prices that consumers see," she said. 
For its part, the USDA predicts that for 2023, grocery store prices will increase 6.6%. It expects increased prices for nine food categories to stick around, including poultry, dairy products, fats and oils, and cereal products. Prices of beef, pork and fresh fruits, on the other hand, should see modest declines.
Highly volatile items like eggs have been easing down since February, but are still 36% higher than they were a year ago. With the avian flu still wreaking havoc, the USDA predicts eggs could be anywhere from about 5% to 33% higher for the rest of this year. "This wide prediction interval reflects the volatility in retail egg prices," its recent 2023 outlook report said.
It Takes Time
Positive signs are appearing early in the supply chain that may help cool some inflationary factors, but that doesn't mean we should expect to see them reflected at the checkout stand yet, said Ricky Volpe, associate professor of agribusiness at Cal Poly.
"If you look upstream at the big picture indicators, we're looking at relative normalcy. Looking at ag commodity prices, the story there is stability," he said in a briefing with the Food Industry Association. "But if the pressure valve comes off at the very start of the food chain, it really takes time for that to transmit through the food supply chain and retail shelves."
Make Your Money Work Better for You
Volpe echoes the assessment that it's a complicated picture, and points to the structural challenges beyond commodity prices that are keeping costs up, including transportation and labor. "The cost of business has gone up and has become more challenging, and it's another reason why prices and inflation aren't really coming down in a meaningful way," he said. 
The Lure of Profits
Some have also suggested that retailers may be taking advantage of inflationary moments to raise prices — and keep them elevated beyond what's necessary. Profits are at record highs for many of the major food manufacturers whose various brands dominate grocery store shelves, while critics believe these manufacturers are banking on consumers getting used to higher prices for good.
But Baig thinks that the more consumers exercise their purchasing power and say no to expensive purchases or opt for lower-priced options, the more manufacturers and retailers will have to take notice. 
With the tech sector and other white-collar layoffs creating more job insecurity among higher earners, their reduced spending behavior now adds fuel to the fire. "If that keeps happening. grocery stores might need to pull back on their prices if consumers are refusing to buy things," Baig said. "The consumer is walking away more from purchases, which I think will have an effect on prices down the road."
More From GOBankingRates
Make Your Money Work Better for You