Millennials Are Most Worried About Running Out of Money in Retirement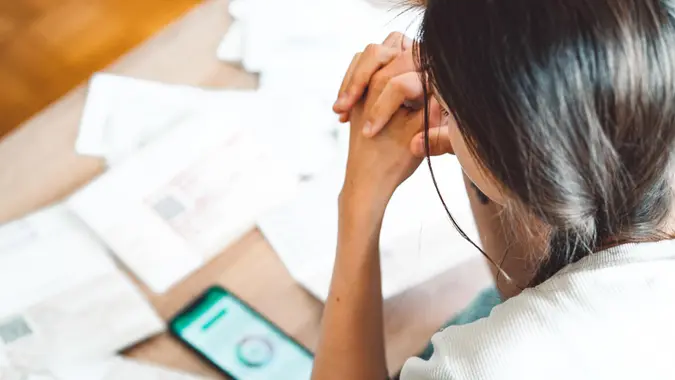 Ziga Plahutar / Getty Images
As the calendar pages turn and millennials approach retirement age, a palpable sense of anxiety looms over this generation. The question on their minds: Will I have enough money to retire comfortably? A recent survey conducted by GOBankingRates sought to shed light on this issue, surveying 1,037 Americans ages 18 and older across the nation between Sept. 5-7. This extensive survey delved into various aspects of retirement preparedness and revealed a mosaic of concerns and expectations.
In this article, we will analyze the survey data and take a deep dive into several key concerns, comparing and contrasting the findings to determine whether millennials' worries about running out of money in retirement are truly justified. Millennials were born between 1981 and 1996, according to the Pew Research Center. So as of 2023, the millennial age range is between 27 and 42.
Here's a look at how they're feeling and what the experts think.
About Two-Thirds of Millennials Think They'll Run Out of Money
It's no surprise that most millennials still have a long way to go when it comes to retirement, with some millennials still under the age of 30. According to the survey, 62% of those ages 25 to 34 and 67% of those ages 35 to 44 think that they'll run out of money before retirement age. The data shows that millennials are clearly apprehensive about running out of money in retirement. This is a crucial data point that underscores the magnitude of millennial financial worries.
Make Your Money Work Better for You
About Half of Millennials Think They'll Have an Unexpected Major Medical Expense
According to the survey, about 53% of those ages 25 to 34 and 50% of those ages 35 to 44 think that they'll have an unexpected major medical expense in retirement. With the rising cost of medical care, millennials' concerns about unexpected medical expenses in retirement are not unwarranted. By acknowledging these potential challenges and taking steps to mitigate them, millennials can better position themselves to navigate the complexities of healthcare costs in retirement.
Almost Half of Millennials Worry That Social Security Will End Before They Retire
According to the survey, 41% of those ages 25 to 34 and almost 50% of those ages 35 to 44 think that the Social Security system will end or be cut off completely by the time they retire. These percentages underscore the level of uncertainty and skepticism that millennials hold about the long-term sustainability of this vital social safety net that was signed into law in 1935.
Only About One-Tenth of Millennials Have No Financial Worries
According to the survey, just a mere 13% of those ages 25 to 34 and almost 10% of those ages 35 to 44 say they aren't worried about anything financial in regards to retirement. While the overwhelming majority of millennials grapple with various financial anxieties related to their retirement years, the minority without such worries serve as an inspiration for their peers, showcasing the benefits of diligent financial planning and stability.
Expert Opinions About Millennials and Retirement
I interviewed several financial experts and professionals and I posed the following question: "Should millennials be concerned about running out of money in retirement, why or why not?" They each had their own interesting perspective on the matter.
Make Your Money Work Better for You
Jessica C. McDonald, CFP® and founding advisor at Southern Wealth Builders in Birmingham, Alabama, said that as the millennial generation is most affected by student loans, millennials should be very concerned about running out of money.
"The most valuable asset in the stock market is time. If someone waits until they are debt-free, then they could potentially miss out on 20 years' worth of growth of their assets. Plus, more and more millennials are working side hustles, contractor jobs, and other gig-economy jobs, which easily excludes them from being eligible for a company retirement plan. While it's great to be in control of your time and work on your own schedule with gig jobs, it's not likely there's a plan in place for retirement."
As a millennial herself, she tells anyone she can to start saving more in their retirement plans immediately.
Khwan Hathai, CFP®, financial therapist and founder of Epiphany Financial Therapy in Denver, said that while it's natural for millennials to have concerns about depleting their retirement savings, it's essential to view this challenge as an opportunity rather than a source of constant anxiety.
"My focus on behavioral financial planning and money psychology emphasizes the role of mindset in how we plan for and experience retirement. Being concerned about retirement doesn't mean living in perpetual worry. Instead, this concern can serve as a motivational catalyst to engage in robust financial planning. The longer life expectancy for millennials actually gives them the gift of time, an invaluable asset when considering the compounding growth potential of retirement savings."
Make Your Money Work Better for You
Khwan emphasizes that merely saving isn't enough. Her philosophy is that there's a need for a "transformative money mindset shift" that allows individuals to recognize their emotional triggers and set life-enriching financial goals. She believes that a balanced perspective can guide millennials toward a retirement that is not just financially secure, but also emotionally fulfilling.
Lorenzo Nourfchan, partner and CEO at Northstar Financial Consulting, said that millennials should indeed have a measure of concern about running out of money in retirement, and he speaks from both professional expertise and personal experience.
"Professionally, I've seen the evolving landscape of retirement planning. The traditional pension system is fading, and the burden of securing a comfortable retirement increasingly falls on individuals. Millennials face the challenge of funding a potentially longer retirement, given their longer life expectancies. On a personal note, my own journey has taught me the value of early planning. I started saving for retirement in my twenties, taking advantage of compounding interest. This foresight has provided a sense of financial security as I approach retirement age."
However, Lorenzo said it's not just about early savings. Millennials should also focus on diversifying their investments, seeking professional guidance, and adapting to changing financial circumstances. By doing so, they can address their concerns and work towards a more secure retirement.
Methodology: GOBankingRates surveyed 1,037 Americans aged 18 and older from across the country between September 5 and September 7, 2023, asking fifteen different questions: (1) How much money do you currently have saved for retirement?; (2) How much money do you think you'll need in retirement?; (3) How much do you spend or expect to spend monthly during your retirement?; (4) If you aren't yet retired, how much do you expect to get from Social Security during your retirement?; (5) How much of your retirement do you plan to fund with Social Security?; (6) At what age did you or do you plan to claim Social Security benefits?; (7) Did you or do you think you will have to move to afford your retirement?; (8) Which of the following proposed Social Security solutions do you think would work best to prevent the trust fund from being depleted?; (9) What sources of income will you have in retirement? (Select all that apply); (10) How confident are you that you will have saved enough to afford retirement?; (11) If you retired early, at what age did you retire?; (12) Are you counting on help from your family (financial, housing, long-term care, etc.) to afford retirement?; (13) Do you think retiring around age 65 is financially possible for most Americans?; (14) What worries you financially about retirement? (Select all that apply); and (15) If you got a stimulus check in the last two years, how much of the money did you save for retirement?. GOBankingRates used PureSpectrum's survey platform to conduct the poll.
Make Your Money Work Better for You
More From GOBankingRates