Most Millennials Have Less Than $100K in Retirement Savings: Should You Be Concerned?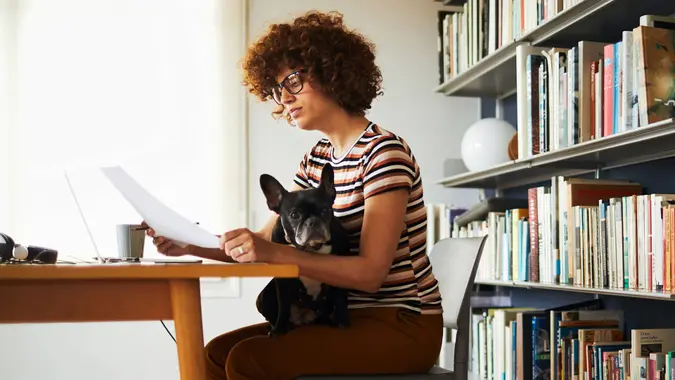 Tempura / iStock.com
The average retirement age is 61 years old, according to a 2022 Gallup survey. Millennials, meanwhile, are roughly between the ages of 27 and 42. What this means is that people born in this generation still have between 19 and 34 years left in the workforce, assuming they retire at the typical retirement age.
While this might seem like a lot of time, some experts are concerned that millennials are not financially prepared for retirement, particularly when it comes to how much they have in retirement savings. That said, how financially prepared someone is for retirement depends on a number of factors, such as lifestyle choices, cost of living and inflation, debt load, and expected longevity.
Not only does everyone have their own financial situation and goals, but there's also a major age gap within the generation, meaning that younger millennials have much more time to save for retirement than older ones. So should you be concerned if you're a millennial? Let's take a look.
How Much Millennials Have in Retirement Savings
GOBankingRates recently surveyed 1,091 American adults to see how much they have set aside for retirement purposes. Here's what those ages 25 to 34, or younger millennials, said:
54.24% have less than $10,000
19.92% have $10,001 to $50,000
11.44% have $50,001 to $100,000
2.54% have $100,001 to $200,000
4.66% have $200,001 to $350,000
1.69% have $350,001 to $500,000
3.81% have $500,001 to $750,000
1.69% have more than $750,000
And here are the results from those ages 35 to 44, or older millennials:
58.26% have less than $10,000
17.89% have $10,001 to $50,000
7.80% have $50,001 to $100,000
4.59% have $100,001 to $200,000
3.67% have $200,001 to $350,000
1.83% have $350,001 to $500,000
4.59% have $500,001 to $750,000
1.38% have more than $750,000
Make Your Money Work Better for You
Gauging from the survey results, 85.6% of younger millennials have less than $100,000 set aside for retirement. This is similar to the situation with older millennials, of which 83.95% have saved up less than $100,000 for retirement.
Do Millennials Have Enough in Retirement Savings?
Determining whether millennials are on track with their retirement savings is tricky as so many factors go into it, such as income and age.
"For those aged 30 to 40, having $100k in retirement savings is undoubtedly an achievement," said Eliza Arnold, founder at Arnie. "Yet, its sufficiency varies based on individual circumstances. For someone in their late 20s, this represents a promising start, but by 40, it could suggest the need for a more aggressive savings strategy."
Ronnie Cox, investment director at Human Interest Advisors, a subsidiary of Human Interest, added, "The goal of retirement savings is to replace a certain level of your pre-retirement income (i.e., 80% of your pre-retirement income). The difference between the savings of a 25-year-old should be drastically different from the savings of a 40-year-old. So, a 25-year-old who has $100,000 in retirement savings is probably doing very well, but someone who is 40 and only has $100,000 in retirement savings may want to consider saving more."
Retirement Savings: Considering Income and Age
While age is just one factor in determining whether someone is financially on track for retirement, it's still an important one.
"The general rule of thumb is to have your annual salary saved by 30. By 35 years of age, aim to have two times your salary saved. By 40, three times your salary saved. By 45, four times your salary saved," said Steve Sexton, CEO of Sexton Advisory Group. "Every five years, aim to have your salary saved by an additional time. By following this general guideline, you should have 10x your salary saved by age 67."
Make Your Money Work Better for You
Income levels can vary drastically, however, so the targeted retirement savings amount won't be the same for someone making, say, $60,000 a year versus someone earning $100,000 a year.
"Keep in mind, the median income for Americans between the ages of 25 and 34 is approximately $40,500, but this is highly dependent on the individual," said Sexton. "By the time you're 40, you should have three times your annual salary saved. Based on the median income for Americans in this age bracket, $100K between 25-30 years old is pretty good; but you would need to increase your savings to reach your age 40 benchmark."
"The current level of your income makes a big difference in determining if you're on track for retirement," added Cox. "A quick way to estimate if your retirement savings are on track is to consult some of the free online tools that allow you to quickly calculate whether your current contributions are helping you achieve your goal."
Investing Early Can Make a Major Difference
How and when someone invests can also make a difference when it comes to determining whether they have enough money to comfortably retire when the time comes. Generally, the earlier you start investing, the more you'll have during retirement.
In the case of millennials who've saved up $100,000, it really comes down to timing.
"Everyone has different situations. But for a 25-year-old that stays single, that $100,000 will grow to approximately $608,000 in 37 years if it grows at a 5% increase per year. That will take the 25-year-old to the age of 62, the first year eligible to take Social Security benefits (at a reduced rate)," said Rafael Rubio, president at Stable Retirement Planners.
Make Your Money Work Better for You
On the other hand, a 40-year-old with $100,000 to invest could expect an approximate return of $293,000 by the time they're old enough to collect Social Security. Again, this is assuming a 5% yearly increase.
"Given those numbers, each individual would need to know their budget and calculate if they need to invest more, work longer, or think of a new budget strategy," said Rubio, "Remember, with pensions going away, your investments are going to be key to your retirement income."
Unique Financial Challenges Might Have Made Saving Up Difficult
For many millennials, saving up even $100,000 for retirement is a major achievement. After all, many people in this generation have faced some unique financial challenges that make saving and investing difficult.
"Many millennials were graduating from school during a difficult time in the economy. Today, they face the challenges of inflation, student loans, saving to buy their first home in a more challenging lending environment, as well as Social Security uncertainty," said Tammy Trenta, founder and CEO of Family Financial. "Having $100k in savings can erode pretty quickly with some of these headwinds if not invested properly."
"Millennials, in particular, have navigated a unique set of economic challenges that have impacted their savings potential," added Arnold. "Many started their careers just after the 2008 recession, grappling with stagnant wages and reduced job opportunities. Additionally, the student debt crisis has disproportionately affected this generation, often diverting funds that might otherwise go towards retirement. The increasing costs of housing and healthcare further strain their ability to save consistently."
Make Your Money Work Better for You
Ultimately, millennials still have time to reassess their retirement saving and investment strategies. Even those who haven't saved up as much as they might need to live their ideal lifestyle during retirement can turn things around by taking advantage of other opportunities now. This includes taking on a side gig, continually improving their income, honing their skills, and adding to their savings as much as possible over time.
More From GOBankingRates