8 Reasons You Don't Want To Retire in Canada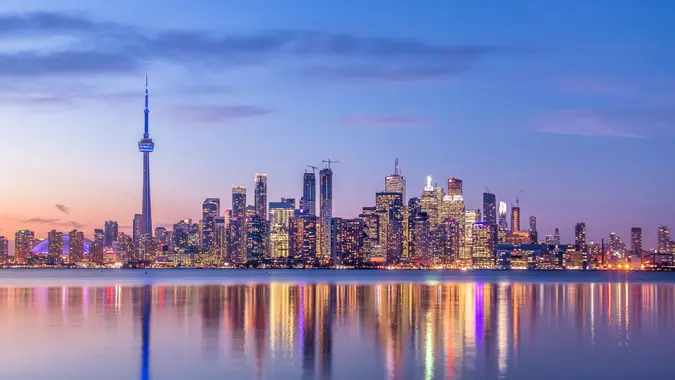 diegograndi / Getty Images/iStockphoto
If you're looking into possible destinations for your retirement, you've possibly explored the idea of retiring in Canada. After all, you want to find the ideal place to spend your golden years, so why not up north?
However, Canada may not be the best location for American retirees. Here are the eight main right reasons to look elsewhere.
There Are Better Retirement Options
"If you want more sun, affordable private healthcare, lower taxes, supportive expat communities, and to tackle a new adventure, then you should consider moving abroad for at least part of your retirement," according to Kyle Prevost, a Canadian personal finance expert and retirement specialist.
There are various better alternatives for retirement where your money would go further while you get to enjoy a warm climate year-round. Prevost shared options for Canadians who are debating their retirement choices, but these apply to Americans too. "Canadian retirees can simply get more bang for their buck outside of Canada. You can become a resident of Portugal, Spain, Panama, Thailand, or Malaysia."
Expensive Real Estate Prices
Many retirees will tap into their homes from retirement savings. The basic premise here is that you can sell your home and use your equity to fund your retirement by moving to a location with a lower cost of living. The only issue with this plan is that it may not work out if you try to retire in Canada. 
Make Your Money Work Better for You
For example, if you sell your primary residence in a rural town or a small city in the U.S., then this won't transfer over to Canada as many cities have experienced surges in housing prices. This means that your retirement nest egg would be much lower, and you wouldn't be able to capitalize on your home's equity.
As of the third quarter of 2023, the national median price for a single-family detached home is $833,600, while the national median price for a condominium is $587,400. The astronomical real estate prices in Canada may require you to think twice about residing up north during your retirement.
You Need More Money To Retire
A survey from the Bank of Montreal revealed that Canadians believe they need about $1.7 million (in Canadian currency) to retire. With the cost of living going up and expensive real estate, you'll want to think twice if you're coming over to save on the currency exchange.
Even though the U.S. dollar is significantly worth more than the Canadian dollar, the prices aren't as low as you may think. 
Complicated Taxes
As an American citizen, you have to file an annual tax return with the U.S. no matter where you're living. So, even if you retire to Canada, you still have to file taxes. This means that you could end up in a scenario where you're spending more in taxes, or you have a complicated tax system. 
Your tax situation with Canada will then depend on how you plan on living in the country. You have to decide between living as a visitor or trying to become a resident. As a Canadian resident, it's important to note that the country has a progressive tax system. You'll pay more in taxes if you have a high income in retirement. Every province also has its own set of tax laws, so you will have to work with a professional. 
Make Your Money Work Better for You
Healthcare Isn't Free for Everyone
While it's known that Canadians have universal health care, it's essential to state that this is only accessible to permanent residents and citizens. Until you become a permanent resident, you may have to spend the money on private health insurance. 
If you become a resident of Canada, it's worth mentioning that some provinces have longer wait times, and prescriptions won't always be fully covered. There have been cases of American citizens being sent back to the U.S. for the more complex procedures they needed. If you want to move solely for healthcare, you're going to want to look into the process. 
Less Retirement Living Options
While in the U.S., you can choose from multiple options when it comes to retiring — the culture isn't the same in Canada. There are many states where retirees flock to communities of like-minded seniors and community living. This isn't as common in Canada since so many residents travel down to Florida in the winter months instead of staying at home.
Cost of Living
The cost of living varies depending on where you want to live in Canada. There are rural communities in territories and provinces where everything's more expensive due to accessibility issues. If you're thinking about moving to Canada because of the value of the currency, it's critical that you run some calculations to see if it's worth it based on the cost of living. 
Weather Isn't Ideal
You can't write an article about Canada without discussing the weather. When you retire to a place like Florida or California, you're guaranteed sunshine. When you come to Canada, you can expect an extended winter of up to six months. 
Make Your Money Work Better for You
If you want to avoid the winter climate in your golden years, then you will want to avoid Canada. Everyone has different goals for their ideal retirement lifestyle, and it's crucial that you understand what you're getting yourself into. 
Closing Thoughts
If you want to retire to a different country, you may want to steer clear of Canada. As always, we suggest that you take the time to visit possible retirement locations in advance. You're also going to want to work with a tax professional to ensure that you're aware of the implications of retiring in Canada.
More From GOBankingRates