Retirement Savings: Why Baby Boomer Portfolios Are Too Risky — And What To Do About It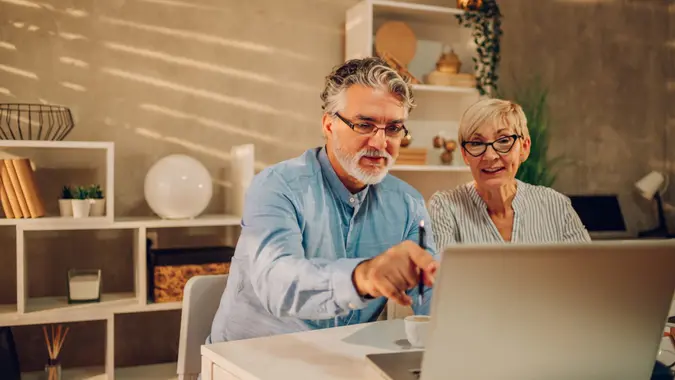 As you age, many financial experts recommend reducing investment risk, such as by shifting away from stocks and more toward fixed income.
A target-date retirement fund, for example, will often start with a nearly 100% allocation to stocks for investors in their 20s. As the target year of retirement nears, the fund will have transition to a more bond-heavy ratio to reduce risk. That way, when a retiree has less time to navigate the ups and downs of the stock market, they can rely on more stable retirement income.


However, many Baby Boomers are taking considerably more risk within their retirement portfolios.
According to Fidelity, over one-third of Baby Boomers have too high equity allocations in their portfolios, as CNBC reported.
The ideal allocation can vary based on factors such as your risk tolerance, but one way to get a sense of how much risk to take is to look at the asset allocation of a target-date fund, which might have, say, a roughly 50% allocation to stocks at the target retirement year and then gradually drop to around 20-30% equities later in retirement.
Here's how to avoid making mistakes with your retirement investments.
How Boomers Can Reduce Risk
Investing in stocks isn't necessarily overly risky. But the extent to which Boomers invest in stocks could be troublesome.
Make Your Money Work Better for You
"I do agree with the notion that many Baby Boomer retirement portfolios are taking on too much risk," said Jim Penna, senior manager of retirement services and investment strategy at VectorVest. "It is not too risky to hold stocks in your retirement account. The risk comes from the type of stocks in the portfolio, the allocation sizing of those positions as it relates to the overall value of the portfolio and the diversity of those investments."
So, to reduce risk, consider factors beyond just the overall asset class. Also, consider areas like sector or size.
"Make sure your investment choices are diversified so that you do not put all your eggs in one basket. Don't have all your investments in technology stocks or small-cap stocks," said Amy Colton, founder at Your Divorce Made Simple.
Taxes can also create risk, as you might not be able to spend as much as what's in your retirement portfolio, depending on the account structure. Withdrawals from a qualified retirement plan like a traditional 401(k), for example, can face ordinary income tax rates.
"With the expectation that tax rates will be increasing, it directly affects the amount of net income after taxes a qualified plan recipient gets to keep," said Joe Di Gangi, president, Elana Financial.
The Risk of Running Out of Money
Some Baby Boomers hold too high of an allocation to stocks because they're worried about not having enough money in retirement, so they try to grow their investments more. A recent GOBankingRates survey found that 41% of respondents ages 65 and older are not confident they'll have saved enough for retirement.
Make Your Money Work Better for You
Rather than potentially digging yourself a bigger hole with overly aggressive investing, however, it could help to build a more realistic retirement plan.
"My first suggestion would be to better understand what your retirement will look like," Di Gangi said. "Work with a planner who can evaluate your situation and ask the right, and sometimes tough, questions that lead to a retirement game plan. Evaluate investments, income potential, Social Security, and available programs if needed to paint the picture and improve it where possible."
You can also potentially shift the types of stocks you invest in to meet your retirement income needs.
"While lowering the growth stock portion of your portfolio to achieve a more risk-averse scenario, you can then add quality dividend-paying stocks to increase your income," explained Penna.
Some Baby Boomers also prefer to de-risk further via annuities.
"If you really want to ensure income, you may want to consider putting your retirement portfolio into an annuity that has income benefits. This way, you continue to invest in the market and ensure that when you are ready to start taking income, you know how much income the annuity will yield each year," said Colton.
That said, annuities can be complex and carry fees and possible penalties, so you should be aware of what you put your money into and compare your options.
Baby Boomers portfolios can also be too risky in terms of how they're managed. While some know what they're doing, others might overestimate their capabilities, or they could walk into financial situations without much consideration.
Make Your Money Work Better for You
"Most retirees who manage their own assets fail right from the start because while they may set goals for the returns they look for; they have no real plan in place," said Penna. "The words that I have stuck with, and I always relay to those I work with is 'A goal without a plan is just a wish.'"
More From GOBankingRates