Retirement Savings: 7 Things To Do Once You Officially Hit Your Retirement Goals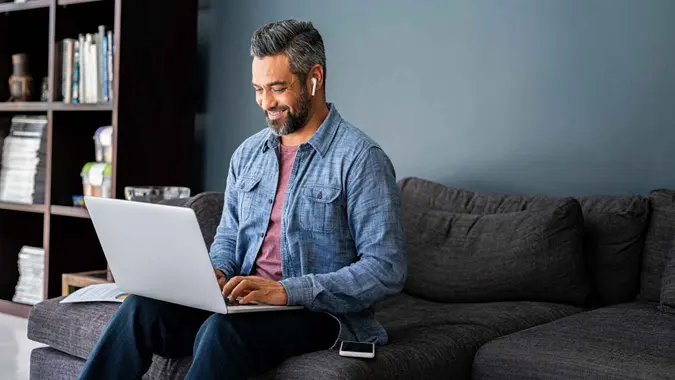 Ridofranz / Getty Images/iStockphoto
No matter your age, experts recommend that planning and saving consistently, as well as starting as early as possible, is the way to secure a comfortable retirement and ease your way into your golden years.
But if you have already hit your retirement goals, you're in luck — and you should take a moment to celebrate and open a bottle of champagne.
But then, several experts said that even if you believe your nest egg is ready, there are still a few financial moves you should make and steps you should take to avoid any pitfalls.
Having attained your retirement savings goal means that you have accumulated sufficient assets to support you — and potentially dependents — for the rest of your life, said Jay Pelham, president of Kaufman Rossin Wealth and Kaufman Rossin Insurance Services.
And according to Paul Brahim, senior vice president and financial advisor at Wealth Enhancement Group, "Retirement, like everything else wonderful in life, requires planning and execution. So, a little work upfront creates something extraordinary down the road."
In turn, Brahim said, successful retirement requires several major actions.
Change Your Mindset
There are several things one should do to not mess up what is, these days, a wonderful achievement, said Jim Penna, manager of retirement services at VectorVest.
Make Your Money Work Better for You
The first thing should be, now that you have grown your retirement nest egg, to change your mindsetto protecting and properly managing your net worth, he added.
"This includes proper financial planning when it comes to spending and other potential liabilities," said Penna. "Always have a plan in place and be ready to adjust that plan as circumstances change. For instance, staying diversified and considering more prudent types of investments, like quality dividend stocks and/or bonds."
According to Penna, while it is a great achievement to reach your goals, the work is not really done.
"The difference is once you follow [some] steps, you can actually take the time to enjoy your retirement and enjoy the peace of mind you worked so hard to achieve," he added.
Establish a Comprehensive Withdrawal Plan
Eliza Arnold, founder at Arnie, recommended that once you reach your goal, aim to determine a sustainable withdrawal rate, often cited as 3%-4% annually, depending on market conditions and your personal circumstances.
"Creating a system that accounts for tax implications — like taking distributions from taxable accounts first — can optimize your post-retirement income," she said.
Diversify Income Streams
Relying solely on your retirement accounts can be risky, so consider diversifying your retirement income with other revenue streams, such as rental income, dividends, annuities or even part-time work or consultancy.
"This reduces dependency on a single source and provides a buffer against market downturns," said Arnold.
Make Your Money Work Better for You
Brahim echoed the sentiment, recommending you structure your investment portfolio to own asset classes that behave differently in the set of economic and market conditions.
"This is true diversification focused on reducing risk without compromising return," he said, adding that along with diversifying, be sure you have enough cash and short-term investments to weather market volatility and sequence of return risk.
"Think about it! What happens if you pick the wrong year to retire and the market doesn't cooperate? A year or two of cash can really help you weather the storm," he said.
Prepare for Long-Term Care Needs
With longer life expectancy, planning for long-term care needs for you and your dependents is of utmost importance.
"Unexpected healthcare expenses can jeopardize your financial security and compromise the other retirement goals you saved for in the first place," said Heath Hampton, lead wealth advisor at wealth manager NDVR. "Allocating funds for healthcare expenses, including long-term care insurance, can help investors ensure their retirement savings last."
Plan Your Estate
Another aspect is planning your estate to ensure your wealth will be passed down.
"Once you've saved enough to have a comfortable retirement, investors can consider passing on generational wealth to their heirs," said Hampton. "Generational wealth can help provide financial stability to your family in the future and allow you to leave a legacy."
Arnold added that if you already have an estate plan in place, it's important to review it and update it to ensure that all beneficiary designations — such as on IRAs, 401(k)s and life insurance — are current.
Make Your Money Work Better for You
"These steps will help ensure that once retirement goals are met, the wealth is not only preserved but also efficiently used and passed on," she said.
Continue Saving
The first thing someone should do when they reach their retirement savings goal is to continue saving — just because you have met your goal does not mean you need to suddenly turn off your current savings, said Misty Garza, CFP, vice president and financial advisor at Bogart Wealth.
"Having a cushion can help in case of unexpected or unplanned situations, should they arise. This could be unexpected expenses, market downturns or simply the desire to spend more," said Garza.
Consider Social Security Elections and Roth Conversions Simultaneously
According to Brahim, the average American family leaves about $111,000 of Social Security benefits on the table. Why is this important to Roth conversions?
"Delaying Social Security benefits could mean less ordinary income in the early years of retirement. Increase your benefit and your surviving spouse's benefit and create 'room' in your tax bracket for Roth conversions," said Brahim. Ultimately, he added, this could mean tax-free income later in life and no income tax on your Social Security benefit.
"By the way, this could also help you avoid the dreaded IRMAA [Income-Related Monthly Adjustment Amount] premium adjustment on your Medicare insurance!" he said.
More From GOBankingRates
Make Your Money Work Better for You