Social Security: 4 Predictions for Retirement Income Before 2025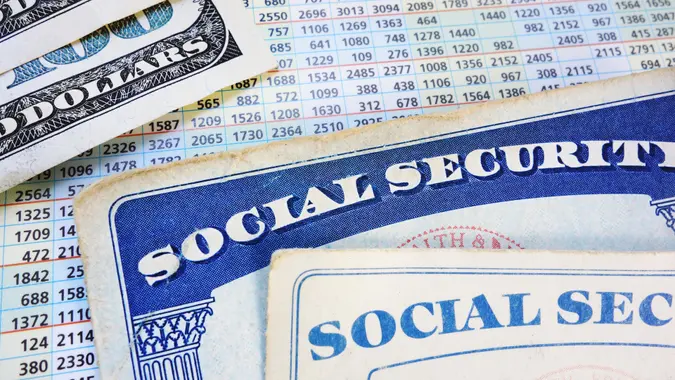 zimmytws / Getty Images/iStockphoto
Social Security retirement benefits don't stay stagnant from one year to the next. A number of factors can cause them to change, ranging from economic and political forces to shifts in workforce trends.
In about a decade or so, all Social Security beneficiaries could see a major change in monthly payments — in the wrong direction. That's when the program's Old Age and Survivors Insurance (OASI) Trust Fund is expected to run out of money. When that happens, the program will be solely reliant on payroll taxes for funding — and those taxes only cover about 77% of current benefits.
But other changes to retirement income could also happen before 2025. Here's a look at four of them.
Change in COLA
The one change you can depend on ahead of 2025 is that your monthly Social Security payment will be different thanks to the annual cost-of-living adjustment (COLA), which increases payments based on inflation. This year's COLA of 8.7% is the highest in more than 40 years.
The planned adjustment for 2024 is much lower, at 3.2% — though not as low as estimates placed it earlier this year.
Women Will See Benefits Change
The proportion of women who receive Social Security retirement benefits based on their own work — as opposed to their spouses' work — continues to increase, according to the Social Security Administration. This means some women could see a change in their payments as early as 2025 — especially women who no longer depend solely or mostly on spousal benefits.
Make Your Money Work Better for You
The SSA projects that the following trends will occur by 2025 and later:
Over half of female beneficiaries over age 60 will receive benefits based only on their own work in 2025. By 2095, over 70% of women will receive such benefits.
More than one-third of women will be dually entitled — meaning they will receive a benefit based both on their own and their spouse's work — to benefits in 2025. By 2095, this proportion will be less than one-quarter.
From 2025 through 2095, 6% to 7% of women will receive benefits based only on their spouses' earnings.
Higher Maximum Benefit
Social Security recipients are getting a higher maximum monthly payout at full retirement age (FRA) this year thanks to rising inflation. In 2022, the maximum monthly payout a retired worker could receive at FRA was $3,345. In 2023, that figure has risen by $282 to $3,627. About 2% of retired workers get the maximum benefit each month, The Motley Fool reported.
Maximum benefits are also higher at other Social Security claiming ages, from 62 years old (the earliest you can claim) to 70 years old, which is the last year you get a financial advantage by waiting to claim. The maximum benefit, like the COLA, could get another boost before 2025 based on current inflation. Just keep in mind that to get the maximum benefit, you need to contribute the maximum through payroll taxes while you are working.
Improved Customer Service
The SSA's Vision 2025 program has outlined three goals to make things easier for Social Security beneficiaries: "superior" customer service, "exceptional" employees and innovation.
Make Your Money Work Better for You
"In 2025, we are focused on understanding the customer's experience over their lifetime," the SSA said on its website. "Through this understanding, we respond to and anticipate our customers' needs, and thoughtfully craft appropriate service options."
The agency has a ways to go in terms of customer service. As previously reported by GOBankingRates, the SSA has been referred to as an "agency in crisis" and "dangerously inadequate" due to problems ranging from budget cuts and staffing shortages to a faulty temporary phone platform that has created service disruptions and long hold times.
Until these problems are ironed out, Social Security recipients could see their retirement benefits delayed or even reduced because they can't get important questions answered. Fixing the issues by 2025 should lead to better information and quicker responses.
More From GOBankingRates