Social Security: 5 Ways Recipients Should Protect Themselves From Overpayments and Clawbacks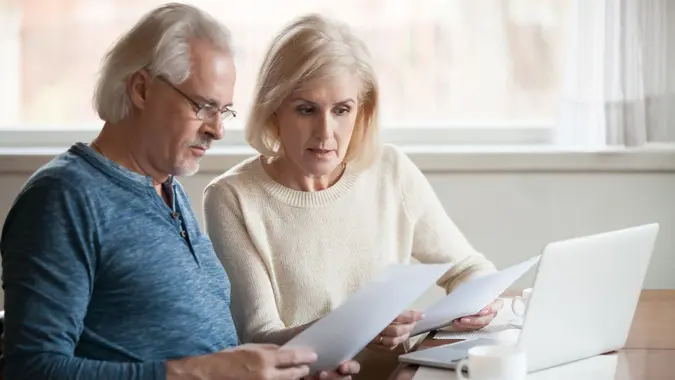 fizkes / iStock.com
It might be a long time before the Social Security Administration gets out from under the cloud of an overpayment crisis that has plagued the agency for a couple of years now. The SSA has angered Social Security recipients, U.S. lawmakers and the general public for making tens of billions of dollars in overpayments to beneficiaries and then demanding that they repay the money.
As GOBankingRates previously reported, the SSA has already "clawed back" about $4.7 billion in overpayments, while another $21.6 billion remains outstanding. In October, SSA Acting Commissioner Kilolo Kijakazi told a congressional hearing that the agency has been sending about 1 million people a year notices that they were paid benefits they weren't entitled to.
Many of those impacted by clawbacks are poor and disabled — and many of the mistakes run into very high dollar figures. One woman had to repay more than $300,000 because of a mistake the SSA made.
"Ordinary citizens are being punished for a government failure," U.S. Rep. Greg Steube (R-Fla.) said at the hearing.
While the SSA has laid much of the blame on years of underfunding and staffing shortages, it continues to take heat for the crisis. CBS's "60 Minutes" recently did a story on overpayments that took the SSA to task for waiting years to let beneficiaries know they might owe money on overpayments that weren't their fault.
Meanwhile, a new book takes a deeper dive into clawbacks and other "scams," which a press release said are "perpetrated by an agency that often deliberately misleads claimants into taking the wrong benefits at the wrong time." The book, titled "Social Security Horror Stories — Protect Yourself from the System and Avoid Clawbacks," was co-written by economics professor and best-selling author Laurence Kotlikoff and nationally syndicated personal finance columnist Terry Savage.
Make Your Money Work Better for You
Kotlikoff, Savage and other experts spoke with "60 Minutes" and offered the following five ways Social Security recipients can protect themselves from overpayments and clawbacks.
Check your earnings history. Social Security benefits are determined by how much you earn and contribute to the program through payroll taxes during your career. You can find information about your earnings through annual Social Security statements or on the my Social Security website. The AARP also has a free Social Security calculator to determine how much you should be getting from the program. Finding out how much you are due in benefits before you retire is a good way to avoid overpayments (and underpayments). If you notice a mistake, contact the SSA immediately by visiting your local field office or calling the national hotline at 800-772-1213.
Let the SSA know if you are covered under a pension plan. As CBS News reported, if you work in the public sector (e.g. as a teacher or government employee) you need to find out whether you're part of a non-covered pension plan. If so, you will pay into that plan rather than the Social Security system. At retirement, be sure to contact the SSA and let them know about the pension. Otherwise, you might get sent Social Security payments by mistake.
Review your disability benefits. This applies if you receive Social Security Disability Insurance benefits and then decide to go back to work. After the initial trial work period is over, you are no longer eligible for disability if you earn more than a set amount per month. If you receive both Social Security disability benefits and worker's compensation, you must report the worker's comp or you might end up owing Social Security "a lot of money," according to CBS News.
Review your Supplemental Security Income (SSI) benefits: Similarly, SSI beneficiaries sometimes get overpayments because of the complex rules governing eligibility guidelines. If you qualify for SSI and get an overpayment notice, be sure to contact the SSA immediately to prevent your payments from stopping altogether.
Get legal aid. If you want legal help with overpayments or clawbacks, get in touch with The National Organization of Social Security Claimant Representatives, which is staffed with attorneys who handle Social Security cases. Some beneficiaries might also qualify for free legal help from federally financed protection and advocacy programs. 
More From GOBankingRates