4 Ways Smart People Save Money When Shopping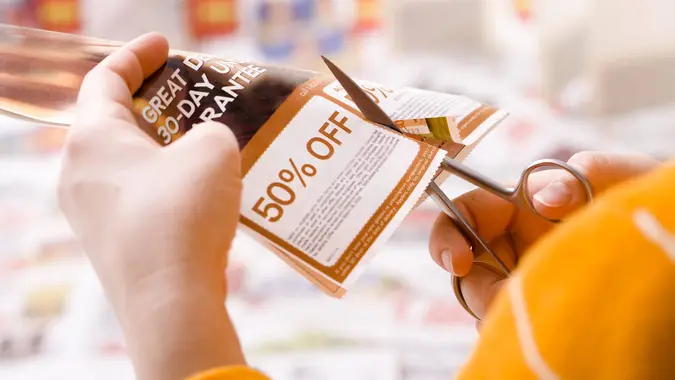 ©Shutterstock.com
The next time you think you're ready to go shopping, consider waiting a little longer until it's the best possible sales date. Rebecca Gramuglia, former consumer expert at TopCashback, said to GOBankingRates, "Stores often follow the same calendar of sales each year, so make note of any sales for your favorite retailers and save your shopping trip until then (if you can wait)."
Aside from saving the sales date, how else can savvy shoppers save extra money, no matter what they're buying?
Here are four ways smart people save money when shopping.
Look for Used Options First
If you're shopping for specific clothing, sports equipment or kitchen gadgets, it may be wise to look online first and see if you can find the same gently used items with cheaper price tags.
To find what you're looking for, money saving expert Andrea Woroch recommends exploring these listing and resale sites.
Clothing: Check local listing sites like OfferUp or Facebook Marketplace or resale sites like Poshmark.
Sporting goods: Woroch recommends visiting Sideline Swap.
Small kitchen appliances: If you're shopping for certified refurbished gadgets, Woroch recommends exploring Amazon Renewed.
Compare Prices
Pause for a moment and use your smartphone to compare prices. Trae Bodge, smart shopping expert at TrueTrae.com, said you might find the best price is where you're currently shopping — or it might be at another store or on the retailer's website.
Make Your Money Work Better for You
Many retailers, including Target and Walmart, also price match. If you find a lower price, Bodge recommends asking the cashier if they will honor it. These rules differ at every retailer, but it never hurts to ask.
Stack Deals, Rewards and Loyalty Points
"Layering your purchases with deals and promotions, particularly those which provide you with a reward, helps make every dollar count," said Brett Narlinger, global shopping and retail expert at Blackhawk Network. 
On the lookout for even more deals? Bodge recommends checking out your favorite deal platforms for savings opportunities. 
"Some of my favorites are CouponCabin, PayPal Honey and Slickdeals," said Bodge. "They offer a combination of coupons and cash back, and they will even test coupons for you at checkout if you're shopping online." 
Pay the Right Way
One of the simplest ways people can save money as they shop is by paying with the right credit card.
How do you know if you have the "right" credit card? Bodge recommends Googling each credit card in your wallet. See if any of your cards allow you to earn cash back or points and which cards offer more generous benefits for purchases on items like groceries or apparel. If none of your credit cards pay you back in this way, Bodge said you can consider a general cash-back card.
More From GOBankingRates
Make Your Money Work Better for You