8 Ways To Retire Rich on a Single Income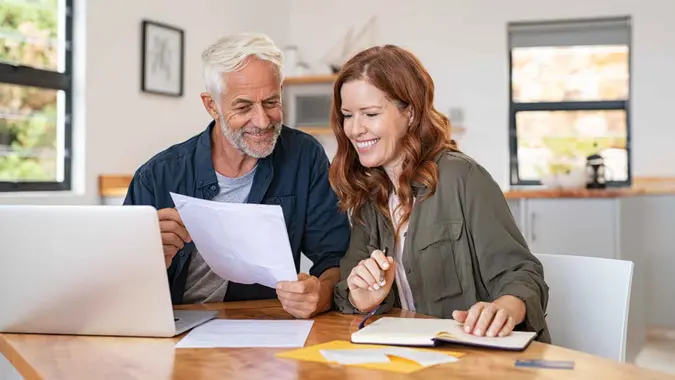 Ridofranz / Getty Images/iStockphoto
These days, many people — individuals and couples alike — live on more than one income. Having multiple incomes can make it easier to combat the high cost of living while taking care of family and preparing for retirement and other short- and long-term financial goals.
But not everyone can or even wants to live on multiple incomes. In some households, it might actually make more sense to have one person work while the other handles important affairs both within and outside the house.
Whether you're planning for yourself or with a partner, retiring rich — or at least comfortably — on a single income is feasible. It will require some careful planning and smart financial moves, however. Here are eight ways to get started.
Increase Your Income
You might have heard this one before, but there's something to be said for taking advantage of opportunities that let you increase your income. One option is to continually develop your professional skills and keep an eye out for promotions and raises.
Another is to add a secondary source of income to your regular income. Some options will even provide you with passive income, so you won't have to dedicate much time to them.
"Find something you enjoy and monetize it," said Jeff Rose, CFP and founder of Good Financial Cents. "Be it freelancing, consulting, or selling products, that extra income can be funneled straight into your retirement savings."
Make Your Money Work Better for You
Establish a Household Budget
If you don't already have a budget, now's the time to create one. Even if you do have one, it's generally a good idea to review and adjust it every so often, or whenever you've experienced a significant change in your financial situation.
This is something you can do on your own, but you can also do it with your partner. "The non-working spouse can be a budgeting pro, ensuring the household runs smoothly and maximizing savings," said Rose.
As you establish your budget, you should also be looking into ways to cut down on expenses now and for after you retire.
"I've also seen people retire rich by drastically lowering their expenses," said Todd Stearn, founder of The Money Manual. "If you retire with 1 million dollars in the US, you might not feel rich. But if you take that money and move to a country with a much lower cost of living, you can live in a much nicer home, afford more activities, and so on. For people who want to stay in the US, consider states and towns that are very affordable compared to where you live now."
Be sure to account for long-term living expenses and healthcare costs as well, as these can majorly impact your retirement income.
Pay Off Debt
If you currently have debt, whether it's an auto loan, a mortgage, credit cards, or otherwise, focus on paying that off. The sooner you become debt-free, the sooner you can start increasing your savings or investments and preparing for retirement.
"Prioritize paying down high-interest debts to free up more money for savings and investments," said Bryan Cannon, CEO at Cannon Advisors. If you have a partner, they can help here as well when it comes to ensuring financial wellness for the household.
"By taking on responsibilities such as debt reduction and helping the working spouse advance in their career, the non-working spouse can contribute to the family's financial well-being," said Cannon.
Make Your Money Work Better for You
Max Out Your Retirement Plans
One way to make sure you can retire rich is to max out your retirement plans each year. Start as soon as possible and, if possible, do this for any employer-sponsored retirement plans — like a 401(k) — and individual retirement accounts (IRAs) you might have.
For your employer-sponsored plan, see if you have employer-matching contributions and take advantage of those. "If your employer matches your contributions, try to contribute enough to snag the full match — it's essentially free money," said Rose. "According to the U.S. Bureau of Labor Statistics, the average employer 401(k) match is 3.5%."
In 2023, the 401(k) contribution limit for individuals is $22,500 — excluding employer contributions. Once you reach 50, you can put in an additional $7,500 each year as a type of catch-up contribution.
Be sure to maximize your contributions for any IRAs as well. The annual contribution limit is $6,500 — or $7,500 for those aged 50 and older.
"Even with a 401(k), contributing to an IRA can offer additional tax advantages and help you squirrel away even more for retirement," added Rose.
Diversify Your Portfolio
Chances are that the investments you make now will constitute a significant portion of your retirement income. Given this, it's wise to start investing as soon as possible and to make adjustments as you go.
"Develop a diversified investment strategy that aligns with your risk tolerance and timeframes, while regularly reviewing and adjusting your portfolio as needed," suggested Cannon.
Invest in Existing Businesses
If you've got some extra cash, you could use it to invest in an existing business and generate wealth and financial security that way.
Make Your Money Work Better for You
"Another way to retire rich is to make investments in small businesses," said Stearn. "A common business is rental properties. Another common investment is in a franchise of a popular chain business such as a fast food restaurant or fitness center."
And if you have a partner, you could do this together.
"Your life partner may even become your business partner, in the sense that they can help you organize your life and calendar and take care of the many tasks that you're unable to do while you're working to earn as much as you can," said Stearn.
Delay Retirement
Most people live on a fixed income once they retire. One way to ensure you're ready to retire on the income you desire is to delay retirement and wait to collect Social Security.
Even if you wait an additional year or two, your benefits amount could be significantly higher than if you were to collect too soon.
Discuss Your Finances Together
If you have a partner, financial planning should be a team effort — even if you live on a single income.
"Actively participating in financial planning and decision-making is crucial, ensuring the team moves steadily towards those retirement goals," said Rose.
"Effective communication, shared financial planning, and a collaborative approach to achieving [your] retirement objectives are key to a successful journey toward a comfortable retirement on a single income," added Cannon. "Exploring opportunities for additional income, continuing financial education, and focusing on health and wellness are also important steps that both partners can take."
Make Your Money Work Better for You
More From GOBankingRates