5 Steps You Need To Take After Winning the Lottery, According to a Financial Executive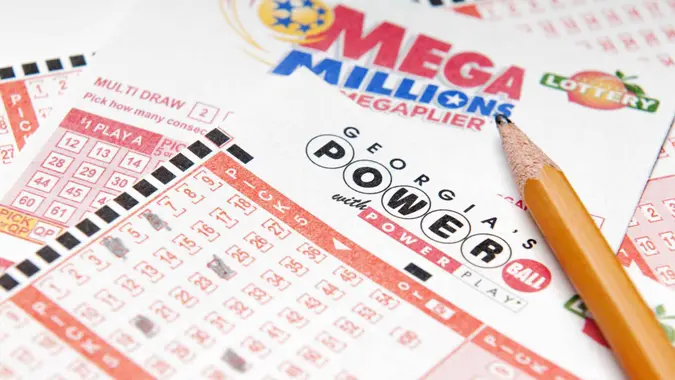 mphillips007 / Getty Images
The Powerball jackpot has reached $1 billion, which is the third-largest prize in its history, the New York Daily News reported. Winning that kind of money can certainly be life-changing, but whoever wins needs to take the appropriate steps to ensure they don't end up falling victim to the lottery curse that leaves many winners bankrupt.
Andrew Lokenauth aka @FluentInFinance, a financial executive who has worked at Goldman Sachs, Citi and JPMorgan Asset Management and now reaches millions through his newsletter and social media, took to Twitter to share the five steps every lottery winner should take.
1. Hire the Appropriate Professionals
Lokenauth said that lottery winners need to hire seven different types of professionals to help them manage their newfound wealth — a lawyer, a security professional, an accountant, a tax attorney, a financial advisor, an estate planning attorney and a personal assistant.
"[Hiring a lawyer is] essential to provide legal advice and protect your interests," Lokenauth tweeted. "They will help you understand the fine print and navigate any legal issues with your win. They can also assist with setting up trusts, maintaining privacy and providing advice on legal obligations."
Next, Lokenauth recommends hiring a security professional or firm.
"With a large amount of wealth comes the potential for threats to your personal safety. You might be a target of crime or scams," he tweeted. "A security professional or firm can help protect you, your family and your assets."
Make Your Money Work Better for You
An accountant is also an essential hire when you come into a large sum of money.
"The amount of money you've won will likely have significant implications for your finances," Lokenauth tweeted. "An accountant can help you manage these funds, making sure your money is in the right places, and help you understand the potential impact of your financial decisions."
A tax attorney can help you navigate through the tax implications of your win.
"Taxes on lottery winnings can be incredibly complicated and vary widely depending on where you live," Lokenauth tweeted. "A tax attorney can help you navigate these complexities and ensure you are abiding by all relevant laws, potentially saving you significant amounts of money."
A financial advisor can help you figure out how to stretch your winnings to last you over the long term.
"[They] can provide advice on how to invest and grow your wealth," Lokenauth tweeted. "They can [also] help you develop a long-term financial plan, navigate the complexities of investing and manage your money effectively."
An estate planning attorney can help you plan for the future.
"This includes creating a will, setting up trusts, planning for estate taxes and making decisions about the distribution of your assets in the event of your death," he tweeted.
Make Your Money Work Better for You
Finally, a personal assistant is a worthy hire simply because they can make your life easier.
"A personal assistant can help you with your day-to-day tasks," Lokenauth tweeted. "They can help manage many aspects of your life — scheduling appointments, running errands, travel arrangements, restaurant bookings, event planning and personal shopping."
2. Make Copies of Your Winning Ticket
You don't want to risk losing your winning ticket, so it's a good idea to make copies of it immediately.
"Make copies of the ticket and hide it somewhere safe," Lokenauth tweeted. "Make both digital and print copies of the ticket. Protect the ticket somewhere safe in case you lose the original. Keep digital copies of the ticket in encrypted cloud storage and an external drive."
3. Claim Your Winnings Anonymously or Through a Trust If Possible
Not every state will allow you to claim your winnings anonymously, but if your state allows this, this is a great option. According to Lokenauth, the following states allow you to claim anonymously:
Arizona
Delaware
Georgia
Kansas
Maryland
Michigan
Mississippi
North Dakota
New Jersey
South Carolina
Texas
Ohio
In addition, Colorado, Connecticut, Massachusetts and Vermont allow you to claim through a trust.
"Never sign the ticket until you get up a trust to protect your assets, and confirm that you can accept the millions anonymously," Lokenauth tweeted.
4. Don't Tell Anyone You Won the Lottery
This might be a hard rule to follow, but resist telling everyone you know that you won the lottery, as this could put you in danger.
Make Your Money Work Better for You
"Never tell anyone so you don't become a victim of robbery, extortion or death," Lokenauth tweeted.
5. Become as Private as Possible
Even if you followed all of the steps above, Lokenauth advises taking extra steps to protect your privacy and identity.
"Do these three things to go private, because 70% of lottery winners end up broke and 33% declare bankruptcy," he tweeted. "(1) Delete social media. (2) Change your address. (3) Get a new phone number and e-mail address."
More From GOBankingRates