Will Cash App Refund My Money if I Get Scammed?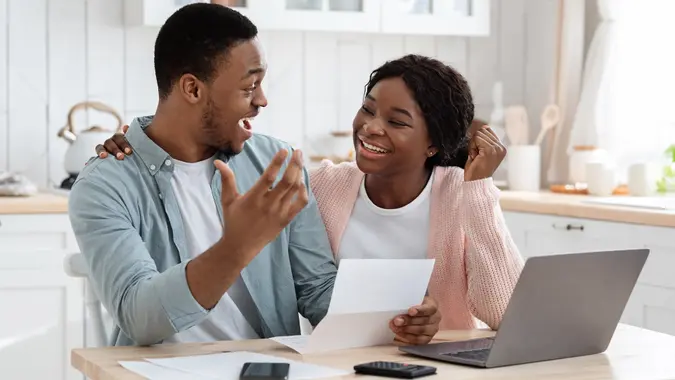 Prostock-Studio / iStock.com
Cash App is a great convenience, allowing people to send money to each other quickly and easily. You can even use the app to pay for online purchases at brick-and-mortar stores, trade Bitcoin, invest in stocks, and even withdraw cash at an ATM.  But like any new technology, not everyone uses it the way it's intended. Unfortunately, Cash App scams happen all the time.
See: What To Do if You Owe Back Taxes to the IRS
Getting scammed is a worry that haunts everyone who uses digital payment platforms. It's only natural to be concerned about falling victim to fraudulent activities on Cash App, and if you're scammed, whether you'll be able to get your money back.
Cash App has security measures in place, but ultimately you have to exercise caution while transacting online. In the unfortunate event that you're scammed, recovery isn't always guaranteed. While Cash App has certain user protection policies, it's crucial to understand that getting a refund isn't a straightforward task. Let's take a closer look at the subject to help you understand your options.
Will Cash App Refund Money If I Get Scammed?
Should you find yourself scammed on Cash App, there's a possibility you might get a refund, but it's going to hinge on several important considerations:
The nature of the scam you were exposed to
How much money you've lost
Your transaction history on Cash App
The information you can provide to help their investigation
Make Your Money Work Better for You
Generally speaking, your chances of getting a refund increase if you get scammed by a new user or if you can provide substantial evidence of fraud. It's important to remember a refund is not always promised, and it's best to exercise caution before you send money to someone rather than to count on being able to get that money back.
If you suspect you've been duped, your initial approach should be to request a refund from the scammer. When that fails, your next move can be to contact Cash App's support team and explain your predicament. They'll look into it, and if they conclude you were indeed on the receiving end of a scam, they might refund your money.
How Do I Get My Money Back From Cash App If I Was Scammed?
If you believe you've been scammed on Cash App, follow these steps to report the issue linked to a payment:
Click on the profile icon located at the top right corner
Once you're there, select "Support"
Then, choose "Report a Payment Issue"
You'll find the payment you're having a problem with listed there. Select it and follow the prompts.
If you think the scam is linked to a user account rather than to a specific payment, report and block the suspicious account like this:
Open Cash App and select the "Customer Avatar" of the profile you suspect of scamming. You can also look for a profile through a name, $Cashtag, phone number, or email address.
Once you've selected the right profile, scroll down to the bottom and select "Report" or "Block."
Pick an option and proceed with the next steps.
Make Your Money Work Better for You
If you need direct assistance, contact Cash App Support either through the app or via phone at 1-800-969-1940. While waiting for a response, gather evidence of the scam. This could be screenshots of the scammer's conversation, the ID of your Cash App transaction, or any relevant documentation you have.
How Long Does It Take For Cash App to Refund Scammed Money?
When contacted by Cash App's customer support, give them all of the information you have and answer any questions they may have for you. They'll conduct an investigation based on your report and the evidence you've collected. If they can prove you've fallen prey to a scam, there's a good chance you'll get a refund.
However, it's important to remember that if the scam is associated with a new user or if you fail to provide sufficient evidence, Cash App might not be able to refund you. You'll also need to be patient, as the refund process can take time — sometimes several days, but investigations may take longer.
Even if Cash App doesn't issue a refund, you may still have other options, such as filing a police report or initiating a credit card dispute.
What Happens if You Give Your Cash App Information to a Scammer?
You should never give anyone your Cash App sign-in code or PIN, which are common methods Cash App scammers use to gain unauthorized access to other users' accounts. Scammers may pose as Cash App customer support, but it's important to remember customer support will never ask you for those kinds of details.
Make Your Money Work Better for You
If you have been tricked into disclosing your Cash App details to a scammer, they can do some pretty nasty things. They could gain unauthorized access to your account and siphon off your money by modifying your password, changing your PIN, or making withdrawals. They might even commit identity theft, using your personal details to set up new accounts, secure loans, or make purchases under your name.
How To Stay Safe While Using Cash App
Only reveal your Cash App information to people you're familiar with. Never respond to unsolicited requests for your Cash App details, and remember that Cash App support will never ask you for these details.
Avoid clicking links sent through email or text messages from unfamiliar senders. Always keep your Cash App password and PIN to yourself and enable two-factor authentication for added security. Also, remember to regularly check your Cash App account for any suspicious activities.
If you believe you've fallen victim to a scam, reach out to Cash App support right away and follow the steps outlined above. They can help you secure your account and investigate any potential scams. And don't hesitate to file a police report — scamming on Cash App is just as illegal as other forms of theft.
Editorial Note: This content is not provided by any entity covered in this article. Any opinions, analyses, reviews, ratings or recommendations expressed in this article are those of the author alone and have not been reviewed, approved or otherwise endorsed by any entity named in this article.