Zelle Begins Refunding Impostor Scam Victims — How To Get Your Money Back If Scammed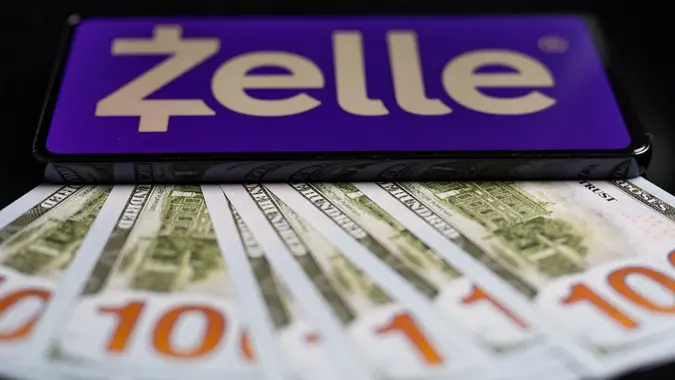 Jonathan Raa / NurPhoto / Shutterstock.com
It's easy to fall victim to the ever-changing scams threatening to rob you of your hard-earned money. With the rise of peer-to-peer payment systems like Cash App, Zelle, Venmo and Paypal, fraudsters have more options than ever to trick people out of their cash. One of the most prevalent is the imposter scam that accounted for $2.6 billion in consumer losses in 2022– an increase from $2.4 billion in 2021 according to the Federal Trade Commission (FTC). 
High Losses and Low Reimbursements
Zelle's peer-to-peer financial network is owned by seven major banks including JP Morgan Chase, Bank of America, Capital One, PNC Bank, Truist, US Bank and Wells Fargo. The alarming amount of losses and rare instances of refunds in these situations triggered an investigation by U.S. lawmakers and consumer watchdog, the Consumer Financial Protection Bureau (CFPB). 
In September 2022, Sen. Elizabeth Warren and other lawmakers launched an investigation that estimated in 2021 alone, Zelle users lost approximately $440 million to various scams. In Warren's October 2022 report, the three banks that provided full data in the investigation reimbursed less than 10% of all scam claims. 
Blurred Lines on Scam Reimbursements
Historically banks have avoided issuing refunds for transfer-related scams where consumers authorize payment to fraudsters posing as government agencies, banks, medicare providers or law enforcement. However, banks and credit unions are held to federal rules requiring them to reimburse unauthorized payments such as ones conducted through card skimming. 
The lines become blurred when scammers trick consumers into authorizing a transfer through payment apps like Zelle. During last year's congressional hearings on the matter, Jamie Dimon, the CEO of JP Morgan Chase, shared concerns that a requirement for banks to issue refunds on authorized transfers would be unreasonable. The other banks involved also expressed worry that being responsible for authorized transfers would encourage fraudsters and cost banks billions in the process. 
Make Your Money Work Better for You
Remedies and Refunds
Rather than being reimbursed directly from the banks, a method was developed for banks to pull money back from recipient accounts to refund defrauded Zelle users. After significant pressure from lawmakers and the CFPB, Zelle also made several changes to their policies announced in their August 2023 press release. 
All of the 2,100 banks and credit unions within Zelle's network must implement Risk Insights with Zelle which helps identify high-risk transactions. 
Consumer reimbursement benefits for specific scam types.
Developing and publishing educational content about avoiding scams. 
Zelle began the process of reversing fraudulent transfers on June 30 for consumers fooled by scammers. So if you've filed a claim with them you may have already received your money back. The changes to Zelle's policies include reimbursement benefits for certain types of scams, but the details of what qualifies for reimbursement under the program are being kept under wraps to avoid dishonest scam claims. 
A senior attorney at the National Consumer Law Center, Carla Sanchez-Adams, calls the policy change a "good first step" in an interview with Reuters, but also shared a critical perspective on the lack of policy transparency.
"The one thing that I think is problematic is that the consumer really wouldn't know that they have that option, and if they do know, and if the bank fails to reimburse them, there is no private remedy," she said.
How to Get Your Money Back
Zelle is processing each scam claim they receive on a case-by-case basis. If you haven't already done so, file a claim directly with Zelle through their app or by phone (844-428-8542). You'll also need to file a claim with the bank or credit union your funds were taken. If Zelle reverses the charges related to your claim, the reimbursement will follow your bank's policy.
Make Your Money Work Better for You
More From GOBankingRates