45% of Americans Have Moved During the Pandemic, New Study Finds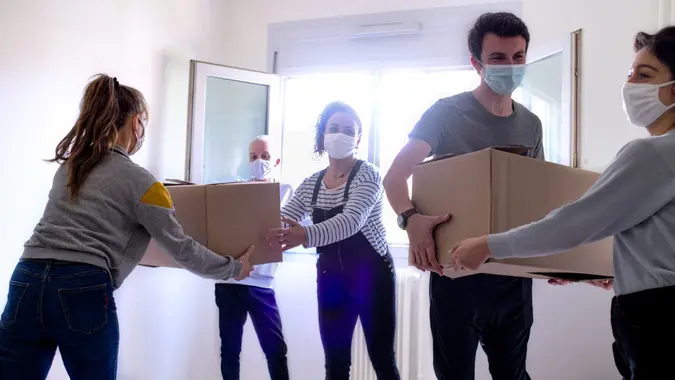 frédéric Michel / Getty Images/iStockphoto
The pandemic has not only taken an economic and financial toll, but it's also triggered many Americans to make various lifestyle changes.
From moving out of state, to choosing to live a nomadic life or becoming a DIY home improvement expert, COVID-19 has affected the way Americans live.
COVID's Financial Impact After 1 Year: See All Our Coverage
A new GOBankingRates survey finds that 45% of Americans have moved since the start of the pandemic, with the majority of the respondents being in the younger generations.
Breaking down this figure further, the survey notes that out of this 45%, 8% moved to a different state, 15% moved in the same city and 16% moved within the same state.
In addition, only 5% of the respondents say they moved internationally.
Related: Nearly Half of All Americans Missed Rent or Mortgage Payments Due to COVID-19, New Study Reveals
In terms of age brackets, 24% of those aged 18 to 24 moved within the same state during COVID compared to only 3% of those aged 55 to 64.
Dr. Bob Castaneda, program director at Walden University's MS in Finance program, tells GOBankingRates that Gallup recently reported that millennials are flourishing in the new remote work environment and will bail on a company that doesn't meet their flexibility demands.
"The pandemic has changed the way people think about work. Once many organizations moved to work-from-home initiatives, people began taking advantage of the opportunity to relocate," Castaneda says. "A Move.org 2020 survey reported that 61% of movers last year were renters, indicating that relocation was fueled by the pandemic and movers had more flexibility in relocating to areas with lower cost-of-living, lower state taxes and warmer climates."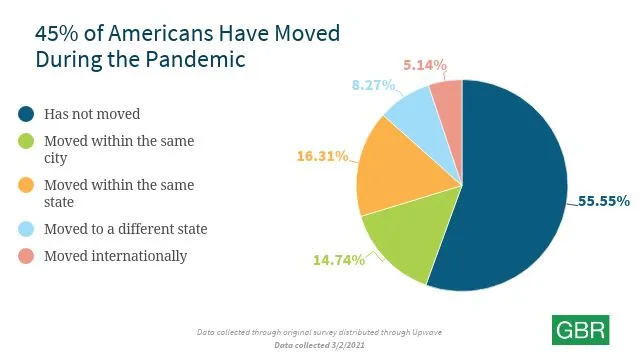 GOBankingRates content data researcher Andrew Murray also noted the trend of younger respondents taking advantage of the flexibility to move.
"When you are younger and you have less "roots" –family, career, etc.– it might feel easier to move around," Murray said. "The 15% of respondents who moved within the same city is interesting as there were anecdotes of falling rent within some cities, so maybe people used COVID to move into a place that was once out of their budget. But moving is already stressful and I can't imagine how it was moving during a global pandemic."
Another key finding of the survey in that same vein notes that 11% of respondents say they bought an RV, a tent or a camper since the pandemic started. The majority of this 11% are respondents in the 18 to 24 age group, at 18%. The figure then decreases to 13% for the 25 to 34 age group;  8% for the 35 to 44 age group; 4% for the 45 to 54 age group and the 65+ age group;  and 3% the 55 to 64 age group.
Joel Holland, CEO of Harvest Hosts, a membership program "that allows self-contained RVers to access unique overnight stays," tells GOBankingRates that after a lot of time in lockdown over the past year, people cannot wait to travel.
Read More: 22% of Americans Who Lost Their Jobs During the Pandemic Remain Unemployed, Survey Reveals
"For many, it can feel like a necessity, so it's no surprise that 11% of people bought RVs, especially because data we collected at Harvest Hosts shows that 69% of people do not feel comfortable getting on an airplane, but 99% feel safe in an RV," Holland says.  "People still need to scratch that travel itch, but are finding new ways to do it that make them feel safe without breaking the bank. The pandemic has led to many lifestyle changes, including more time at home and more time spent with family, and the continued growth of RV travel is something I expect we'll continue to see further into 2021."
Castaneda says that in addition to  health concerns of flying, this consumer trend was also influenced by low fuel costs across the country amid the pandemic, which made road travel more affordable and offered a controlled environment for dining and lodging.
The GOBankingRates survey also notes that 30% of respondents say they have done some kind of home improvement.
"Home improvement was the most popular activity people had done during the pandemic," GOBankingRates associate researcher Julia O'Brien says. "It makes sense, we as a society were stuck at home more than ever before. It is natural people saw projects around their house they always wanted to complete but 'never had the time' to. With COVID most of us had more time at home than we ever could have imagined. So why not take on the project of cleaning out the garage, re-doing the backyard, or converting the extra bedroom to your work from home office," O'Brien adds.
Castaneda echoes the sentiment, saying that the 30% figure is not surprising as home improvement consumer trending has increased in renovations, bathroom and kitchen repairs, landscaping and home offices.
"With COVID-lockdowns and travel restrictions in 2020, many Americans enjoyed staycations, which may have encouraged them to enhance their surroundings. Staycations save you money and time on travel expenses, and consumers have reallocated those funds for home improvement projects," he adds.
The survey also finds that the increased staying at home due to lockdowns and travel restrictions has prompted 18% of Americans to either adopt or foster a "quarantine pet."
The percentage is higher for the younger generation with 25% of those 18 to 24 saying they adopted a pet, according to the survey.
In terms of gender, 19% of women say they adopted a pet, compared to 17% of men.
"During the pandemic, many animal shelters have reported running out of pets for people to adopt. The surge in pet adoption reflects that people are trying to fill the void of companionship from social isolation and that remote work offers more time," Castaneda says.
Find Out: 5 Ways Our Finances Changed Over the Past Year — And Why That's Both Good and Bad
Finally, a key finding of the survey is that 73% of respondents say their expenses decreased or stayed the same, with 41% saying their expenses decreased.
"This on its face might seem confounding, but if you were lucky enough to keep your job and given the opportunity to work from home you now spent 90% of your time in your house and during lockdowns could no longer go out to do anything besides the grocery store," Murray says." It will be interesting when we all go back to pre-COVID normal to see if people still feel the urge to spend the way they did before COVID. After a year of forming new spending habits it will be interesting to see what people have decided they can live without," he adds.
Castaneda adds that almost half of Americans have reported that either they or someone they know has lost their job due to COVID, which has made them limit their spending. "As a result, consumer household spending has cooled due to a heightened fear of job loss or income reduction, safety concerns of shopping in stores, and remote work, which has alleviated commuting and related expenses," he says.
Do You Think the Minimum Wage Should Be $15? Take Our Poll
Some experts say that these lifestyle changes triggered by the pandemic might not last much longer.
"For example, consumer spending is likely to rebound in the second half of 2021 as the travel and entertainment sectors recover," Brian Martucci, financial expert at Money Crashers tells GOBankingRates. "But we do expect that the permanent or long-lasting changes to come from the pandemic will render some of them durable. In particular, many younger and middle-age consumers whose jobs allow it will continue to work remotely, with profound implications for the housing market and home improvement industry as people seek and add more living and home-officing space."
More from GOBankingRates