The Average Uber and Lyft Prices Then vs. Now — Is the Cost Still Worth It?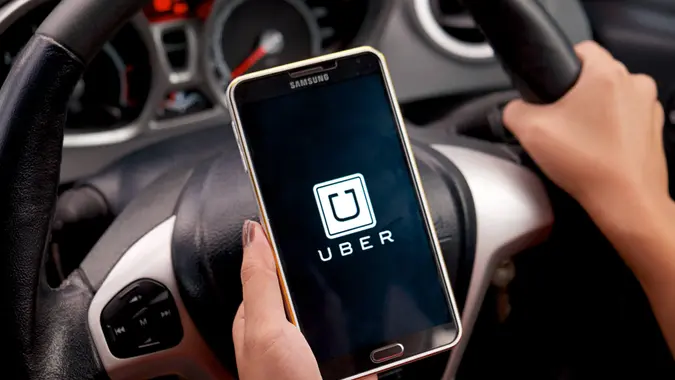 ©Shutterstock.com
The average Uber or Lyft fare used to be predictable and steady — about $25-$26 from mid-2018 through the runup to the virus, according to Statista.
More Rising Costs: The Cost of Living Is Quickly Rising in These 20 US Cities
Saving Money: 57 Items That Have Been Getting Cheaper Over the Last Year
But anyone who has opened their app lately only to see not a single driver in sight knows that those were the good old days. Fast and affordable are not the buzzwords of the current ride-share experience. Instead, riders are facing long waits or no available cars and a whole lot of sticker shock if they are lucky enough to catch a driver nearby. The industry is digging out of a hole, and it has so far been caught flat-footed trying to keep up with soaring post-lockdown demand. 
In fairness, Uber and Lyft have been through a lot.
Considering a Rideshare Gig? Lyft Drivers See Record Earnings Amid High Demand and Shortage of Drivers
Ride-Share Switched to Delivery — Now It's Struggling to Switch Back
For Uber and Lyft, coronavirus was a three-headed crisis. It killed the travel/tourism industry that drives so much ridership. It killed the equally important bar/restaurant/hospitality industries. And finally, it made people scared of germs in tight quarters with strangers — like in cars. 
But the industry's heavyweights were wily. When traditional ridership cratered by 70%-80% early on in the pandemic, according to Forbes, Uber adapted by switching its focus to delivery through Uber Eats, Uber Freight and the grocery delivery service it launched in 2020. Lyft, too, made up for lost riders with a pivot toward delivery. The gambles paid off and revenues from those ventures soared.
Driving for Lyft: Is It Worth Your Time?
How Much Do Uber Drivers Make? Is It Worth Your Time?
But it was no cakewalk. During the early months of the pandemic, Lyft laid off 17% of its workforce, according to Forbes. Uber laid off 14% — 3,700 people — and the CEO had to forfeit his $1 million salary.
With America now mostly open for business and in need of a ride, both companies are having a painfully hard time convincing drivers to return to hauling people instead of stuff. Despite spending millions of dollars to incentivize contractors back to their routes, a stubborn driver shortage still refuses to budge.
Other Expenses: Goods and Services That Will Be More Expensive in 2021
Yeah, the Virus Was Hard on Everyone — So How Much for a Ride?
The point is not for you to feel bad for Uber, Lyft or even for their contractors. The point is that way too many people need rides right now from way too few drivers. That bottleneck has predictably caused price inflation, shortages and volatility — but the situation has a lot of moving parts and is evolving quickly. Here's what's fairly certain right now:
Prices are high and waits are long nationwide:

Rakuten Intelligence conducted a study that found the cost of a ride was up as much as 40% compared to last year as we head into summer. Business Insider reported that prices were 50% above normal during surge times. That means you can now expect what used to be a $10 ride to cost $14 or $15.

The situation is especially bad in New York City:

The pandemic slaughtered New York City's already struggling taxi industry, slashing the number of yellow cabs from 20,000 to 2,200 to about 6,000 now, according to The New York Times. Combined with the shortage of Ubers and Lyfts, the privilege of paying for a ride is an almost nonexistent luxury in some parts of the Big Apple.

Big cities, in general, are faring the worst:

It's not just New York. LA Mag reported on widespread driver shortages and sky-high prices in Los Angeles, too.

The New York Times did the same about the situation in Miami. Chicago Business reported the same situation in its namesake city. The list goes on — literally, no major city is enjoying smooth sailing.

The carpooling trend is on an indefinite hiatus:

Before the virus, Lyft and Uber hailed multi-rider fares as cheaper for customers and better for the environment — and the public agreed. According to Bloomberg, however, COVID-19 stopped that trend in its tracks. All evidence indicates that when ride-sharing does return, the masses will want private rides.

Hang tight — relief might be imminent:

Both companies believe that today's artificially high fares and company incentives will bring enough drivers back into the fold to ease the pressure by the second half of 2021, according to MarketWatch.
Check Out: Coke Joins Other Consumer Brands in Raising Prices to Offset Higher Costs
Going Up: Fast-Food & Chain Restaurants That Are Raising Prices
Expect No Reprieve If You Live Where Uber Is Doing Battle
If you live in a city where the government is challenging the ride-share industry, you can expect higher fares and fewer services.
The best example came in November 2020 when Uber, Lyft, Postmates, InstaCart and DoorDash combined to spend $200 million to defeat Proposition 22 in California. The most expensive ballot measure in American history, Prop 22 would have forced Uber and Lyft to treat drivers as employees and give them all the pay and protection that came with that special classification. 
When Uber took its $25-a-month subscription service nationwide, it launched the program in every state — except California. 
When Seattle ordered ride-share companies to pay drivers the city's minimum wage of $16.69 an hour in 2021, Uber flexed its muscles again. It telegraphed its intention to fight by increasing fares by 24% with the intent to eventually raise them by 50%. According to Crosscut, the move was intended to recoup costs, but also to punish regulators by stirring public sentiment against the Seattle City Council.
More From GOBankingRates
Last updated: July 21, 2021