DoorDash vs. Instacart: Which Earns More Cash?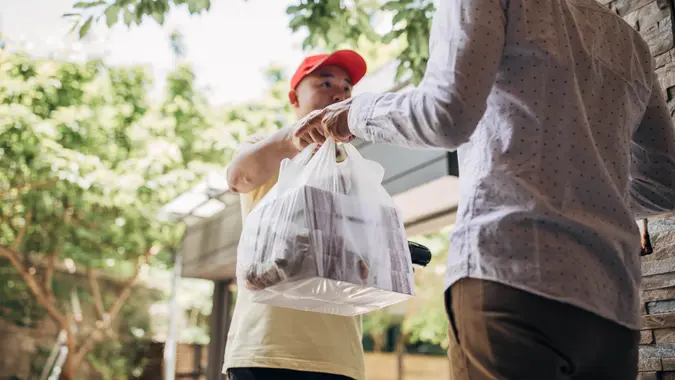 South_agency / Getty Images
Increasingly, the economy is moving more and more towards a gig economy. Customers want to be able to outsource their basic needs like ride hailing, grocery shopping and food delivery. In turn, an estimated 60 million or so gig economy workers want or need flexible work schedules and the ability to make a living or earn additional income. One study predicts that the gig economy will reach $455 billion in sales by 2023.
Two of the most common gig economy services, and thus employers, are DoorDash and Instacart. Here's a look at the business model for each and a comparison of their benefits for workers.
What Is the Opportunity Working for DoorDash or Instacart?
Although both DoorDash and Instacart specialize in-home deliveries, their operating models are different. DoorDash specializes in the delivery of restaurant meals, while Instacart focuses on the delivery of groceries and other household staples. The kinds of roles that are available vary by service.
At DoorDash, workers are called Dashers. The goal is to pick up restaurant orders and deliver them to the customer promptly.
At Instacart, you can be a full-service shopper — meaning that you handle the shopping, checkout and delivery by yourself. In this type of role, you're operating as an independent contractor. You can take orders as you see fit, around the clock, with no limit on the business you take on.
Make Your Money Work Better for You
In some markets — but not all, you can also be an in-store shopper for Instacart. You don't need a car for this position, but you'll have less freedom because you'll be operating as a part-time Instacart employee. You'll work scheduled shifts, as much as 29 hours per week.
DoorDash vs. Instacart: Requirements
What do you need to work for DoorDash or Instacart? Here's a look at their requirements:
| Doordash Delivery Driver | Instacart Full-Service Shopper | Instacart In-Store Shopper |
| --- | --- | --- |
| Must be 18 years or older | Must be 18 years or older | Must be 18 years or older |
| Driver's License number | Work-eligible in U.S. or Canada | Work-eligible in U.S. or Canada |
| Social Security number (U.S. only) | Smartphone with Android 5.0 or later or iOS 9 or later | Smartphone with Android 5.0 or later or iOS 9 or later |
| Consent for background check | A functional, registered vehicle | Ability to lift 30+ pounds |
| Any car, scooter or bicycle | Auto insurance, per local laws | Commitment to following Instacart's safety policies |
| | Ability to lift 30+ pounds | |
| | Commitment to following Instacart's safety policies | |
Where Is DoorDash Available?
DoorDash is available in more than 4,000 cities throughout the U.S., Canada and Australia. If you're working for DoorDash in your hometown but you happen to be traveling and you'd like to earn extra money during your trip, you can accept and handle orders in your current location.
Where Is Instacart Available?
Instacart maintains operations in all 50 U.S. states. Before signing up, be sure to check your location to find out whether the available opportunity is full-service shopper, in-store shopper or both.
Make Your Money Work Better for You
How To Time Your Shift Correctly
When a customer awaiting delivery submits their order, a time window is provided — for example, it might be 6 p.m. – 8 p.m. local time. General guidance is that it tends to bode well to show up on the early side — so as close to 6 p.m. as possible in this case. That means that your activity for that job will likely start in the 4 p.m. or 5 p.m. hour, depending on how much time it will take to service the order.
Many shoppers find that early on, they must handle one order at a time — but as their shopping and/or delivery skills progress, they're able to build their earnings up by handling multiple orders at once.
How Much Money Can You Make?
Base Pay for a Dasher is between $2 – $10 and up, depending on the specifics of the order. During certain promotions, such as peak pay or challenges issued by DoorDash, you can earn more. You're also able to earn tips for each delivery, which are entirely yours to keep.
Make Your Money Work Better for You
Although Instacart doesn't offer an estimate of potential earnings for full-time shoppers, Glassdoor reviews indicate that, on average, a shopper can expect to earn a base pay of $11 – $17 per order. You'll keep 100% of customer tips as well.
What Is Tip-Baiting?

One potential downside is that with both services, customers can adjust tips after the delivery happens. For some shoppers, that can be a difficult reality to grapple with since it's impossible to know upfront whether a customer may be tip-baiting, or offering a large tip to entice someone to pick up their job only to withdraw that incentive later. Instacart has handled this by forcing customers to leave feedback about their experience when removing a tip and mandating that any changes to tips occur within 24 hours of delivery.

At DoorDash, the issue seems to be getting customers to leave a tip at all. Many Dashers have complained that without a tip, they're left with $2 – $3 per order — and many are refusing to engage with such orders.
How the Pay for Doordash and Instacart Works
Both DoorDash and Instacart pay their workers weekly. However, Instacart has partnered with Stripe to offer its shoppers the option of Instant Cashout, which allows for same-day payments for a small fee. Those working for DoorDash also have the option to cash their balance out daily — for free via direct deposit or for a fee of $1.99 via debit card.
What Doordash vs. Instacart Workers Have To Say
Overall, according to employee reviews on Indeed.com, Doordash earns 3 out of 5 stars for personnel satisfaction. Dashers like that they have invigorating work tasks, a sense of purpose and flexibility about when and where they work. Downsides include a perceived lack of support from management and a lack of appreciation at the individual level.
Make Your Money Work Better for You
At Instacart, the story is much the same. Instacart employees give their experience 3 out of 5 stars as well. They tend to like the autonomy they have in meeting personal goals, flexibility in terms of when and where they work and a sense of purpose. Like Dashers, they also feel there's room for improvement in terms of creating a supportive environment and they'd like a stronger sense of belonging.
DoorDash vs. Instacart: Which One Is Better?
The answer to that question depends on what your goals are as a gig economy worker. If you're looking for speed in terms of getting started and getting paid, then DoorDash is your best option. It has fewer requirements out of the gate and provides the option of daily payments. On the other hand, if you want to work on bigger, more expensive orders and potentially larger tips, Instacart may be worth the time it takes to submit an in-app interview and get established on the platform.
All Signs Point to a Future Full of Freelance

Before the pandemic, it was estimated that more than one-third of U.S. workers had a role of some kind in the gig economy. Since then, side hustles have been on the rise and corporate jobs have been falling by the wayside in what has been termed The Great Resignation. This much is clear — the gig economy is here to stay.
Cynthia Measom contributed to the reporting for this article.
Information is accurate as of May 18, 2022.
Make Your Money Work Better for You