The Many Benefits of Financial Planning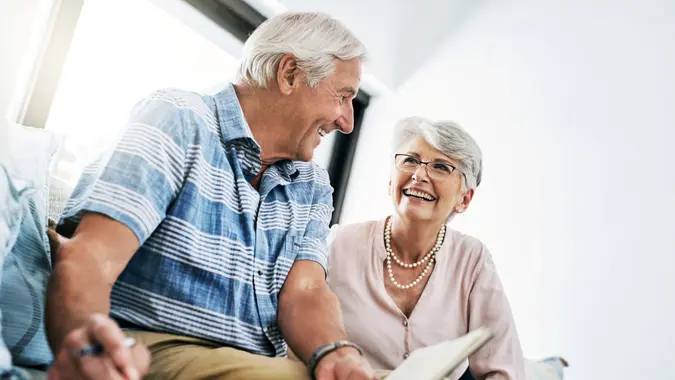 gradyreese / Getty Images/iStockphoto
Whether you are planning to retire or looking to start a family, a common piece of advice is to work alongside a financial planner. But do you really need to?
Why should you work with a financial planner? How does having a financial plan, with or without an advisor, work in your favor and toward the greater good of your future? How can you start working with a financial planner to reach your life goals? 
Here are some of the many benefits of financial planning.
What Financial Planning Is All About
Before digging into financial planning and its benefits, you should know the answer to this question: What is financial planning? 
Brent Weiss — CFP, co-founder and head of financial wellness at Facet — said financial planning should look at everything money touches in your life. This helps you craft a personalized and constantly evolving strategy to live well today and plan well for tomorrow.
Financial planning will always be able to help with tangible benefits such as creating strategies to lower your taxes, optimizing your investments, saving more money and protecting yourself from unforeseen circumstances with insurance and estate planning.
However, Weiss said financial planning is more than the specifically financial aspects of your life. It also helps you navigate major life events, like getting married, starting a family, buying a dream home, elevating or changing your career and transitioning to retirement with greater clarity and confidence.
Are You Truly Ready for the Different Stages of Life?
Many tend to think about the uplifting stages of life and positive events, like getting married or preparing for retirement. But what about more morose life events like managing a long-term disability or an extended stay in a long-term care facility? Are you as financially prepared for these unexpected challenges as you would be for the moments to anticipate?
Guy Clanton, senior financial planner and shareholder at Truepoint Wealth Counsel, said a financial plan could model different life events to assess one's overall readiness. If a parent is thinking about sending a child to college, for example, their financial plan would be able to evaluate if they have enough funds saved. Difficult topics, like those mentioned above, may also be modeled in a financial plan. Good financial plans, Clanton said, will run these stress tests because without preparation, the onset of one of these events may derail even the best of financial plans.
Attaining Goals: Now and in the Future
Do you have a goal for the future? You might be able to make it a reality soon using a financial plan. Or it may become more attainable later. One of the benefits of financial planning is it can help you reach your goals and not keep them perpetually shelved for "someday."
"A thoughtful financial plan will reflect in great detail the various spending goals desired by an individual and assess whether those goals are attainable," said Clanton. "If the goals are not attainable in the present moment, the financial plan will reveal ways to make expressed goals a reality."
Building Wealth
Another benefit to having a financial plan is being able to confidently and carefully spend and enjoy your wealth.
Cody Lachner, CFP and director of financial planning at BBK Wealth, said a financial plan will help you create a path to building wealth and transitioning to a point where you can spend and enjoy your wealth later in life. Life stages, like accumulation and decumulation, present us with many decisions to make such as determining how much you need to save to reach the life you want and knowing when you've become financially independent and can retire.
Living Free From Financial Worry and Stress
Perhaps one of the greatest benefits of financial planning is how it gets you on the right track toward improving your financial health and leading a more fulfilling and enriched life.
"Financial planning can help you live free from financial worry and stress, align your financial decisions with your values and put you in control of the life you want today and tomorrow," said Clanton.
How Do I Get Started With Financial Planning?
If you like everything you're reading so far and want financial planning to have a space in your life, here's what you need to do to get started.
Define the Life You Want To Live
Many people start a financial plan by setting goals. Weiss, who has been a financial planner for 20 years, said this isn't a bad place to start, but recommends people get clarity on their personal values and the life they want to live first. 
"We need to reflect on who we are, who we want to become and the life we want to live, and then craft our goals and strategies around them," said Weiss. "When money is aligned with your values, you'll create the motivation and discipline needed to discover, create and constantly evolve your financial plan to help you achieve your full potential."
Starting with the basics also keeps you from overwhelming yourself. Unless there's a reason to, most people starting this plan don't need to focus on healthcare or estate planning right away.
Access Your Current Financial Situation
Once you have a better understanding of the life you want to live, it's time to look at your current lifestyle and its finances. You can use this time to consider the goals you want to reach in the short- and long-term like paying off any debt or buying a house. Weiss recommends taking stock of your income, expenses, assets and liabilities. Each one allows you to understand where you are today and identify areas where you may need improvement. 
Afterwards, you can start using a budget (or create a spending plan) to manage your money and achieve your financial goals. You will also want to create an emergency fund (or replenish an existing fund) for a strong foundation to ensure nothing details your progress.
Meet With a Qualified CFP
Ideally, the financial professional you decide to meet with is qualified and specializes in financial planning. Sit down with them and make sure your dialogue together addresses the following topics:
What do you hope to accomplish? While some of this conversation will touch on numbers, Clanton said a good financial plan always starts with a deep discussion about important qualitative aspects surrounding the individual. 
Do you have your financial data? You'll need to provide the CFP with this information to construct a financial plan. Clanton said it should include bank accounts, investment accounts, 401(k) plan information, IRAs, pay stubs and insurance policies
How is the CFP, or advisor, compensated? It's OK to ask this question! Lachner said you may find out some advisors are compensated through commissions while others operate on a fee-only basis. 
Once you have had this discussion together and provided the CFP with all the information they need, they can review their findings with you, make adjustments and monitor the plan's results on an ongoing basis.
More From GOBankingRates