7 Better Ways To Spend Your Lottery Ticket Money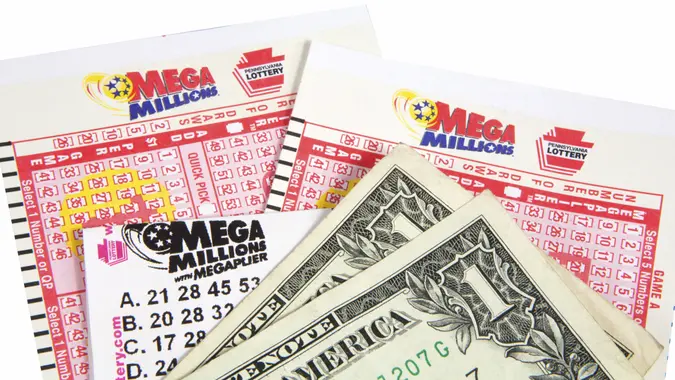 karenfoleyphotography / Shutterstock.com
On average, American adults spent about $320 annually on lottery tickets in 2019, according to a study by 24/7 Wall St. When you break it down, that's nearly $27 per month. That might not seem like a lot of money, but over time those funds will add up. And unfortunately, without a winning ticket, you'll have nothing to show for your expenditures in the end.
You might even spend more than $320 per year on lottery tickets, but no matter how much, one thing is for sure: your cash is highly likely to be worth more if placed elsewhere. After all, the most popular lottery game in the world offers a dismal one in 292,201,338 chance of winning the jackpot.
Here are seven more sensible ways to spend your lottery ticket money and increase your odds of living richer.
Pay Off Your Home Faster
"If you're a home owner, then you can pay a little extra on your mortgage," suggested Brian Rellihan, CFP(r), MBA, EA, senior financial advisor with Wise Wealth Partners. "With the increased standard deduction many households aren't able to take advantage of the mortgage interest deduction (Schedule A). Therefore, every extra payment towards the principle is a risk-free rate of return equal to the mortgage rate you are being charged. Additionally it's a forced savings by increasing the equity you have in your home."
If you pay an extra $320 per year toward a $300,000, 30-year mortgage with a 4% interest rate, you can shave off one year of payments and save $8,238.97 in interest.
Participate in Your Company's 401(k)/403(b) Match Program
"When you save for retirement with a 401(k)/403(b), you're automatically paying yourself first while setting aside money for your future," said Andrew Broughman CFP(r), CRPC(r) and vice president of wealth management at Fairwinds Credit Union. "Also contribute up to the full amount your employer will match every year. No game of chance needed for this one!"
By contributing an extra $320 per year, you could receive up to a 100% match on those funds as long as you don't exceed the match limit.
Start an Emergency Fund
"Consider saving three to six months of expenses after you've paid off all of your debt, except your house, instead of spending on those scratch off tickets," said Broughman. "Your three to six months of savings will cover food, housing, utilities, transportation, and other necessary expenses in case there is a loss of income. Automatically transferring a portion of your paycheck into your savings is a simple way to reach your goal faster."
While it would take decades to save three to six months of living expenses by saving just $320 per year, consider it seed money to get an emergency savings account open and started. 
Hire a Financial Advisor
"Once your debt is paid off and you have three to six months of expenses saved, connect with a financial advisor and meet at least once a year," said Broughman. "An advisor can take a look at your entire financial picture and discuss your short and long-term goals as well as your risk tolerance."
Find out how much a financial advisor costs to determine how far $320 will go each year. 
Set Financial Savings Goals for Large Future Purchases
"That way, you're not taking on any new debt or adding interest as a monthly expense," said Broughman. "You can also put a name to your savings account like, 'No Lottery Needed' or 'My Next Car' or 'Our Wedding.' This will keep your momentum going by having a visual of what you're working toward alongside your expenses."
Again, $320 per year adds up to only $3,200 in a decade before interest. But use the $320 per year as a starting amount. For example, if you do the 52-week money challenge, you can start saving with the $320 and then add to it. This challenge will help you save $1,378 in one year, which is over four times $320.
Invest in Stocks
"Investing in good quality dividend paying stocks has the double benefit of providing an income to the shareholder while offering the prospect of wealth creation over time," advised V. Henry Astarjian, founder of Waterstone Advisors, LLC.
"History shows that patiently investing in well-run companies that offer products and services of enduring value to consumers is a good way to generate and grow personal wealth. It also helps the investor to stay ahead of inflation in the long-run. Historical stock market returns are somewhere in the area of 7% per year, after inflation. If individual stocks are too much to handle because of the research and time commitment they require, then a mutual fund or exchange traded fund (ETF) could be a good second choice."
Start a Side Hustle
"If you're interested in taking a gamble, why not try to start a small business instead of buying lotto tickets?" said consumer analyst Julie Ramhold with DealNews. "It requires more work than just scratching off or picking numbers, yes, but it has the potential to be more rewarding and to offer more financial freedom down the road. In other words, this is a gamble that has a better chance of paying off than just buying ticket after ticket."
For example, you could use the $320 to purchase an online course that will teach you how to make $1,000 or more per month on the side.
More From GOBankingRates