Can You Trust ChatGPT With Your Financial Information?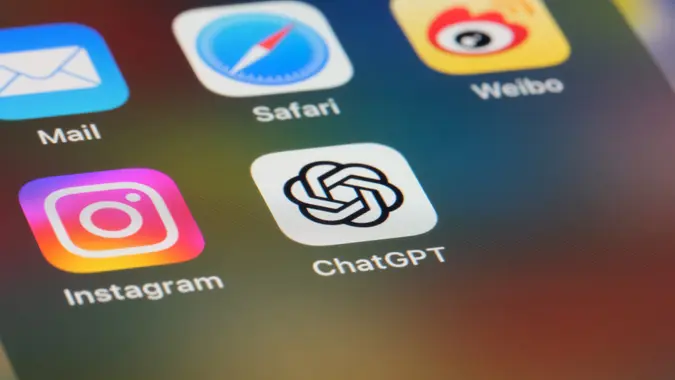 Robert Way / Getty Images
Since launching last year, ChatGPT has been blowing minds with its quick and seemingly effortless advancements. It can create a virtual assistant, write songs, design games and ace the bar exam, to name just a few of its capabilities. It also can help consumers save money on their utility bills, among other things.
AI enthusiasts may be beginning to wonder: Is there anything ChatGPT can't do? 
Well, yes, there is one thing ChatGPT can't do — at least not with any guarantees — and that is keep your financial information secure. 
"ChatGPT can be very efficient in helping with different areas of your day-to-day life," said Darren L. Colananni, CFP, wealth management advisor at Centurion Wealth. "With that being said, we do need to be cautious of sharing our personal financial information when it comes to AI." 
Also see how to make $1,000 per month with AI and ChatGPT.
ChatGPT Recommends You Don't Share Confidential Info 
In its FAQs, OpenAI's ChatGPT actually recommends that users don't share confidential information when using the program. This is for good reason. 
"Users have to remember that any information typed into ChatGPT is stored within the LLM (Large Language Model) that the program is trained on," said Doug Kuring, CFP, a vice president and financial advisor at Wealth Enhancement Group. "In English, your information is kept in OpenAI's database in order for the chatbot to learn from and improve its future performance. OpenAI's main priority is to improve the performance of the chatbot — not to safely and securely store your personal information."
How To Buy ChatGPT Stock: Your 2023 Guide to AI Investing
OpenAI Is Susceptible to Hacks and Data Breaches 
Like all things that live on the internet, OpenAI and its star program, ChatGPT, should be deemed vulnerable to hacking and data breaches. 
"If you share confidential information while using ChatGPT, then it is possible it can be stolen and used by nefarious actors to your detriment," Kuring said. "Use common sense on what you type into the prompt." 
AI Is Not Yet Mature Enough for Such Important Stuff
AI may be storming the world, but, relatively speaking, it's still very young. We need to be mindful of this when it comes to our finances. 
"AI is not nearly mature enough for your financial information," said Josh Richner, marketing director at National Legal Center, a law firm focused on helping people avoid financial scams and deal with their debt. "It is still incredibly young, and the general public doesn't yet understand how information is being communicated or collected. Some of the creators don't even know how it learns some of what it knows, so we have to recognize our lack of understanding."  
AI Should Not Replace Human Judgment 
Though AI and ChatGPT have made amazing strides in executing complex tasks, it's crucial to remember that these are tools designed to help, not replace, human judgment. 
"When it comes to sensitive financial information, they can provide valuable insights and automate routine tasks," said James Allen, CPA, CFI,  founder at Billpin.com. "However, they don't possess the human touch necessary for understanding the nuances of personal financial situations." 
To Mitigate Risk, Give ChaptGPT Minimal Info 
If you want to get the most out of your ChatGPT experience, without risking sensitive financial information, "stick to asking ChatGPT questions that you want answered, without including any names, addresses, account numbers, account balances, etc.," Kuring said. "Consider asking the program to answer hypothetical, non-specific questions that loosely relate to your situation." 
Use Strong and Unique Passwords and 2FA
Regardless of whether you're sharing financial information with ChatGPT, you need to continue to practice safe banking behaviors. This includes using strong passwords and two-factor authentication (2FA). 
"Instead of using your name or birthday, make use of more complicated passwords that make use of a combination of numbers, capital letters, small letters and symbols," said Raymond Quisumbing, MBA, registered financial planner at BizReport. "Only you should know your passwords, as AI does not need them." 
Monitor Your Bank and Credit Card Accounts
You already should be doing this, but Quisumbing advises that you keep an eye on your bank statements and credit card billings and immediately report any suspicious activity.   
Keep Up With New Scams in the Cybersecurity Realm 
Malicious actors are constantly coming up with new ways to dupe and con innocent consumers. Be one step ahead of them by knowing what they're up to. 
"Keep up with the new scams happening in the cybersecurity industry," Colananni said. "It sounds crazy, but we are hearing stories where hackers use AI to call a person and AI is able to mimic their child or grandchild's voice saying they've been kidnapped and they need their parent or grandparent to pay the kidnappers immediately." 
Remember That ChatGPT Is Not a Financial Institution 
Above all, keep in mind that ChatGPT is not a bank or a financial institution of any kind. It bears no responsibility and should not be trusted as such in this regard. 
"Remember," Kuring said, "ChatGPT is not subject to the rules and regulations that banks and other wealth management institutions are when it comes to protection of data."
More From GOBankingRates